At least 40 vehicles have gathered at the Brussels Expo in a protest against coronavirus measures that mirrors the "Freedom Convoy" taking place in Canada, which has suffered a severe economic blow by the barricading of major trade routes.
The original plan for the European version of the Freedom Convoy was to flood the main arteries into the Belgian capital, causing massive traffic jams and an economic blockade of the city, but such a procession was banned and federal police were deployed to Belgium's borders in an effort to intervene and reroute truckers.
That ban only hardened protesters' intent to go through with their plans, and Bruzz reported that small groups of trucks are on their way to the city, expected to arrive later in the day. Drivers from Germany and The Netherlands are said to be among them.
In the meantime, cars, buses and camper vans are slowly filtering into the Brussels Expo parking lot, where a static demonstration has been authorised. It remains forbidden for drivers to use their vehicles to blockade roads.
Protesting where they can be seen
"This is the Union," one supporter from France, Sharley, told The Brussels Times, gesturing to a row of vehicles decorated with flags from a variety of EU countries. "We are the European Union, and we are here where they can see us."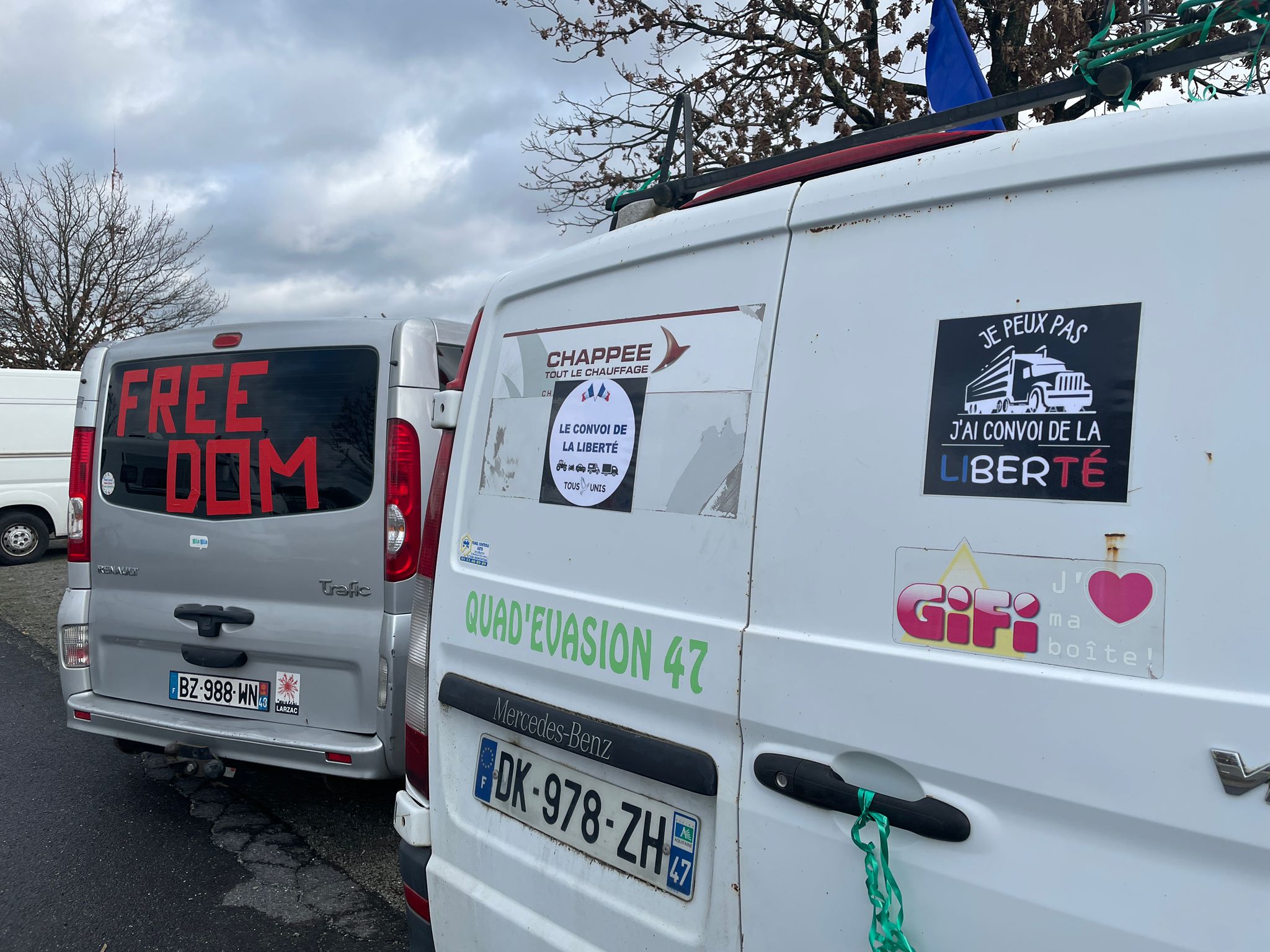 The drivers and supporters are a diverse mix of people backing multiple causes, but the main reason they've gathered is to express opposition to Covid-19 related measures, in particular vaccine mandates and travel restrictions which impede their ability to move freely between countries in the performing of their job.
Many of the vehicles filling the parking lot bear the French flag, but other countries are represented among the mix, as well. Ingrid's family lives in Germany but has roots in former Czechoslovakia.
She made the trek to Brussels because she believes the recent Covid-19 related measures are a slippery slope to the sort of communism her ancestors fled from.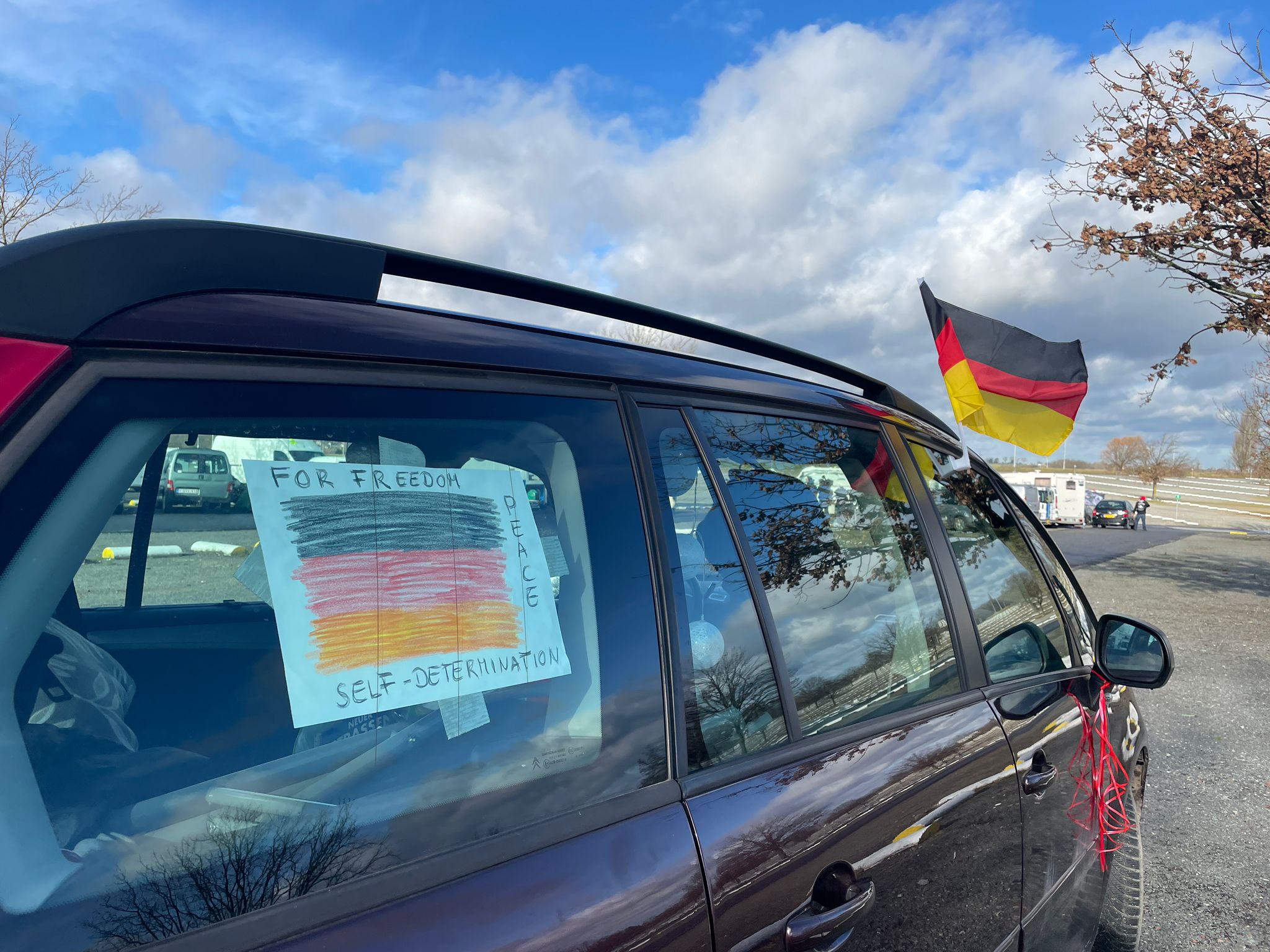 "We love our freedom. We fled communism to Germany, which used to be the best country in the EU. But now, it's going downhill," she told The Brussels Times.
Related News
"It's pre-fascist Germany. There's not much missing - the difference between 1932, 1933, is not big. It's marginal."
Police rerouting convoy participants to the Expo Centre
Ingrid and others had intended to process through Brussels with truck drivers but were among the traffic diverted by police.
"We thought we were sly by leaving at midnight," she said, but police spotted the flags on vehicles and pulled them over, saying they could either be escorted to the designated protest spot or spend a day in prison.
Various blockades along Belgian highways are causing traffic delays of around 25 minutes in the suburbs and up to 45 minutes on the ring road surrounding Brussels. Police are checking trucks and giving their drivers fliers that detail what actions are permissible for the protest.
Arrests elsewhere in Brussels
Various satellite protests throughout Brussels have resulted in 15-20 arrests. Police found and confiscated weapons from some protestors.
Vandaag namen we deze voorwerpen in beslag. Deze horen niet thuis op een vreedzame betoging. We blijven waakzaam op het hele grondgebied.#demonstration #Brussels pic.twitter.com/pR2fBFZBq7

— PolBru (@zpz_polbru) February 14, 2022
Translation: Today we confiscated these objects. They do not belong on a peaceful demonstration. We will remain vigilant throughout the territory.