Not long after storm Eunice made itself known across Belgium, a second storm has prompted a warning of Code Orange along the coast and yellow everywhere else in the country, according to the Royal Meteorological Institute (RMI).
RMI has put out a wind warning from Monday morning 05:00 until 21:00. "Today will once again be stormy with showers and gusts of 80 to 100 km/h inland and up to 110 km/h or a bit more at the coast, it said on Twitter.
Waarschuwing voor wind van 21/02 05u tot 21/02 21u: Vandaag wordt het opnieuw onstuimig met buien en rukwinden van 80 tot 100 km/u in het binnenland en tot 110 km/u of iets meer aan de kust. Er is ... (https://t.co/sPNybMQZwU) pic.twitter.com/UNATJfowAn

— KMI (@meteobenl) February 21, 2022
Weather reporter David Dehenauw meanwhile announced that at 10:30 on Monday morning, wind force 9 Beaufort was reached again on the Westhinder, meaning that a storm is once again in the country.
Om 10u30 werd opnieuw windkracht 9 Bf bereikt op de Westhinder, dus ook vandaag storm.

— David Dehenauw (@DDehenauw) February 21, 2022
He warned that, for the late afternoon, the RMI is predicting a high tide in Oostende of 5m75. "The warning 'Stormtij Kust' (Storm tide coast) is maintained," and that high water levels are expected along the Zeeschelde later tonight.
While Eunice brought winds but the days were fairly sunny, Franklin is expected to bring intense rain and lots of it. In the Ardennes, snow is expected to fall throughout the day, while heavy rain is expected for the eastern part of the country.
Damage so far
As was the case with Storm Eunice, this latest storm is already causing severe damage in the most affected areas. In Deinze, in East Flanders, six houses were deemed uninhabitable after the heavy gusts of wind destroyed the roofs of three homes.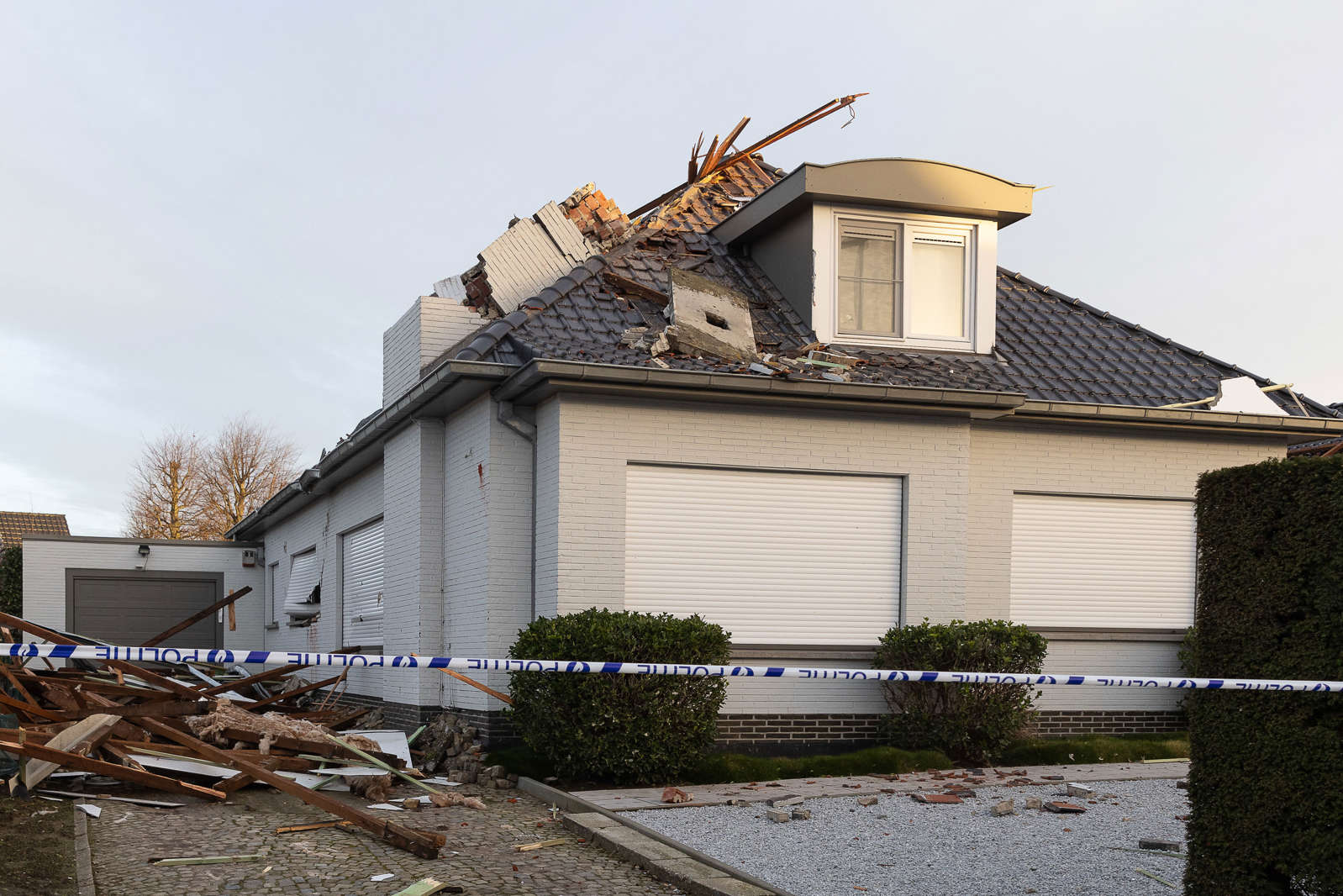 An apartment building in Meerhout, in the province of Antwerp, was also severely damaged, as the heavy wind created a large crack in its exterior.
Meanwhile, in the north of the province of Limburg, several municipalities were without power around 23:30 on Sunday night. According to grid operator Fluvius, the power failure was caused by a lightning strike.
In Brussels, the fire brigade carried out 424 interventions during the weekend. Another 200 interventions are still to be carried out, according to its spokesperson.
Closures in coastal cities
In Blankenberge, mayor Björn Prasse announced multiple closures of public spaces on Sunday: "This afternoon at midday we will close the low walk around the marina. Also, the pier and the breakwaters that run into the sea will not be accessible. In the centre, we will keep a street closed where a wall on a wharf was not quite stable."
Ostend mayor Bart Tommelein stressed that people should avoid beaches. "On Friday we saw that many people still go, but it's dangerous. We advise against it because our emergency services have their hands more than full. So don't take extra risks, and have some patience when trying to reach the emergency services."
Opnieuw stormtij voorspeld. 🌬️

Brandweer en stadsdiensten sluiten de waterkeringspoorten op zondag 20/2. Parkeer niet op de kaaien van 20/2 om 22 uur tot en met 21/2 om 21 uur.https://t.co/BE5tP1qIeM #springtij #storm — Stad Antwerpen (@Stad_Antwerpen) February 20, 2022
The city of Antwerp has also taken precautionary measures. Tweet translation: Storm tide predicted again. Fire brigade and city services close the water gates on Sunday 20/2. Do not park on the quays from 20/2 at 10pm until 21/2 at 9pm.
In Nieuwpoort, mayor Geert Vanden Broucke announced: "We're closing the pier, closing the parks and advising people not to walk on the seafront. Our technical staff and the fire brigade are on standby. We're monitoring everything closely."
Shipping is prohibited on the coast
In addition to the preventive measures against flooding on the coast, shipping will also be affected from 16:00 Sunday onwards.
"There is a general ban on all shipping. This means that all vessels must remain in the harbours or at sea in the anchorage area. Even the ferry services do not sail here, all as a precaution," said Steve Timmermans of the Agency for Maritime Services and Coast.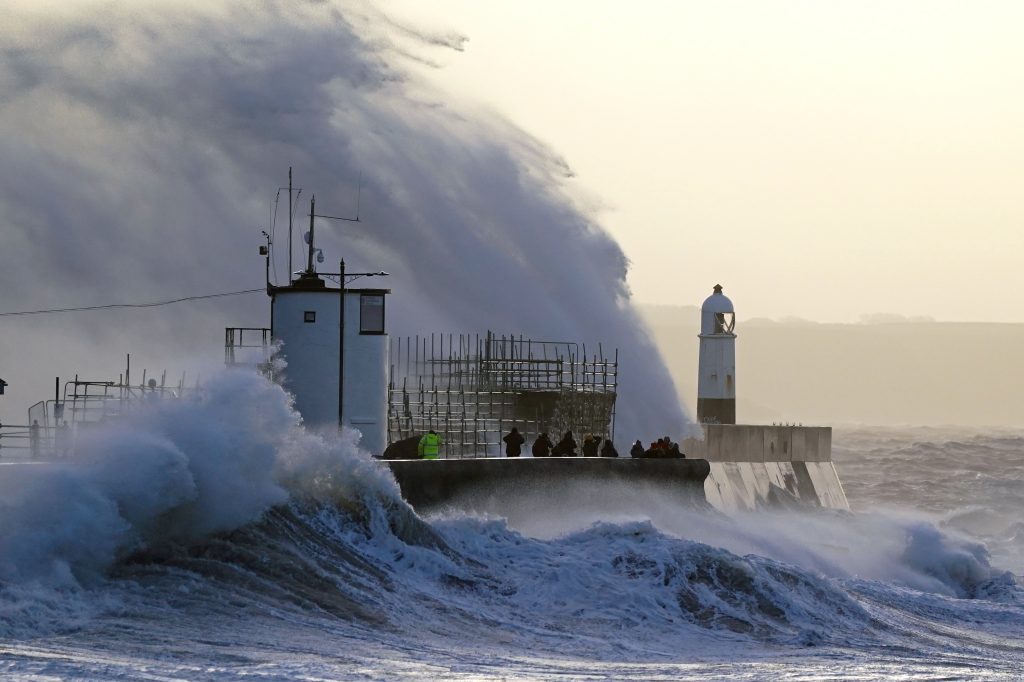 Timmermans stresses that on the coast, Franklin will be quite similar to storm Eunice, in terms of wind speeds.
"Now there is an increased water level on top of that, and that is why we are taking these extra measures. We don't want to run any risks to the coast or shipping," he said.
Commuting issues expected
Storm Eunice proved to be a disaster for underprepared Belgian transport agencies, and national railway company SNCB has already warned that disruptions may be possible on Monday.
🔴 Avis de tempête: ce dimanche 20 février en soirée et lundi 21 février, en raison des grands vents annoncés, des perturbations sont possibles sur l'ensemble du réseau et particulièrement à la Côte. #SNCB

— SNCB (@SNCB) February 20, 2022
Tweet translation: "Stormy weather: due to the expected stormy weather, disturbances are possible on the entire network and especially at the coast on Sunday evening 20 February and Monday 21 February."
The coastal tram of De Lijn will no longer be running between Oostende and Westende from 18:00 Sunday onwards, because the heavy gusts of wind may cause sand to be deposited on the tracks. Replacement buses will be put in place.
The week's forecast
On Tuesday, most places will be cloudy and rain can be expected in the afternoon. The wind will be moderate to quite strong and at sea powerful to sometimes very powerful.
On Wednesday, a high-pressure wedge will provide slightly better weather. It will be slightly cloudy in some parts of the countries, but overall, occasional sunny spells are forecasted. The maxima fluctuate between 6 and 11 degrees with a mostly moderate southwest wind.
Following a slightly brighter day, another rain zone is expected to pass over the country from the west on Thursday. The southwestern wind will gradually increase to become more powerful, at sea sometimes very powerful. Friday, it will be alternately cloudy with showers.