Flemish Minister of Education Ben Weyts announced in a press release on Monday that schools in Flanders will receive an extra €20 million to expand special education services, with the total funds now reaching the sum of €45 million.
€35 million will go toward 20 projects that altogether will add 1,000 extra structural places for special education in schools starting next year. 579 of these places will be in primary education and 482 in secondary.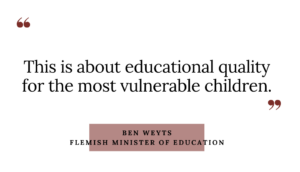 The largest expansion of special education services will be at the De Leerexpert school in Antwerp and the BuBaO Sint-Elisabeth in Peer and will receive 209 and 100 extra spaces respectively. This budget increase comes after 5,000 extra special education spaces have recently been added to the Flemish education system.
"For many pupils with special needs, special education remains the most appropriate place, with the best support and the highest educational quality," Weyts said in the press release. "I am well aware that we will not be able to meet all needs right away, but we are raising the budgets substantially and we are working on both the short and the long term."
Related News
Another €5 million will be used to fund temporary projects to account for the growing need for special education services ahead of the start of the next school year. This could be seen in the form of renting temporary classroom spaces or other support projects like a funding increase for emergency capacity in Antwerp schools, which receive funds to expand their capacity structurally over time, but would like to offer extra places sooner.
Finally, the remaining €5 million will be used to recruit and hire teachers to accommodate the increase of pupils. Schools are encouraged to prioritise specialists and other resources for groups currently in the highest need of expanded resources— pupils with intellectual disabilities and pupils with emotional and behavioural disabilities.
However, since the start of the Covid-19 pandemic, Flanders has experienced a critical teacher shortage.