As with many cities on the continent, café culture is a core part of how we unwind and socialise in Brussels, with the terraces popular with tourists and locals alike. Exactly why we have a propensity to prefer outdoors to indoors isn't immediately clear.
Could it be the questionable décor inside some of the city's establishments? Or perhaps the irresistible allure of une clope with your apéro. In southern Europe the appeal of sitting outside is obvious. Yet in Brussels, the terraces remain full long after the summer salad days turn grey.
Even in the depths of winter, patrons seem willing to withstand the elements with a drink. Do Belgians have thicker skins or are we a nation of masochists? Whatever the reason, the will to sit outside withstands inclement conditions.
Yet for all the resilience that residents display in the biting cold, small gestures to keep customers from freezing are much appreciated. To this end, terrace heaters are undeniably the most effective remedy, with the seats underneath being particularly prized. This may now end, with a regional ban on the devices likely to come into effect.
In light of energy-saving efforts and environmental commitments, this seems a no-brainer. France has already implemented a national ban on heaters and it seems probable that Belgium will follow suit. But some within the sector point to the investments they made just recently so that they could serve people outdoors during the pandemic.
Was their investment wasted? And will the throngs that used to congregate beneath these showers of warmth decide this winter to stay indoors? Many Brussels venues lack the floor space to bring all their clientele inside.
How about you? Will you be vying for that seat by the bar or simply accept the chill? Let @Orlando_tbt know.
Belgium in Brief is a free daily roundup of the top stories to get you through your coffee break conversations. To receive it straight to your inbox every day, sign up below:
The remains found more than two weeks ago in a canyon in Peru have been confirmed as those of Natacha de Crombrugghe a 28-year-old Belgian tourist who went missing in the country at the end of January. Read more.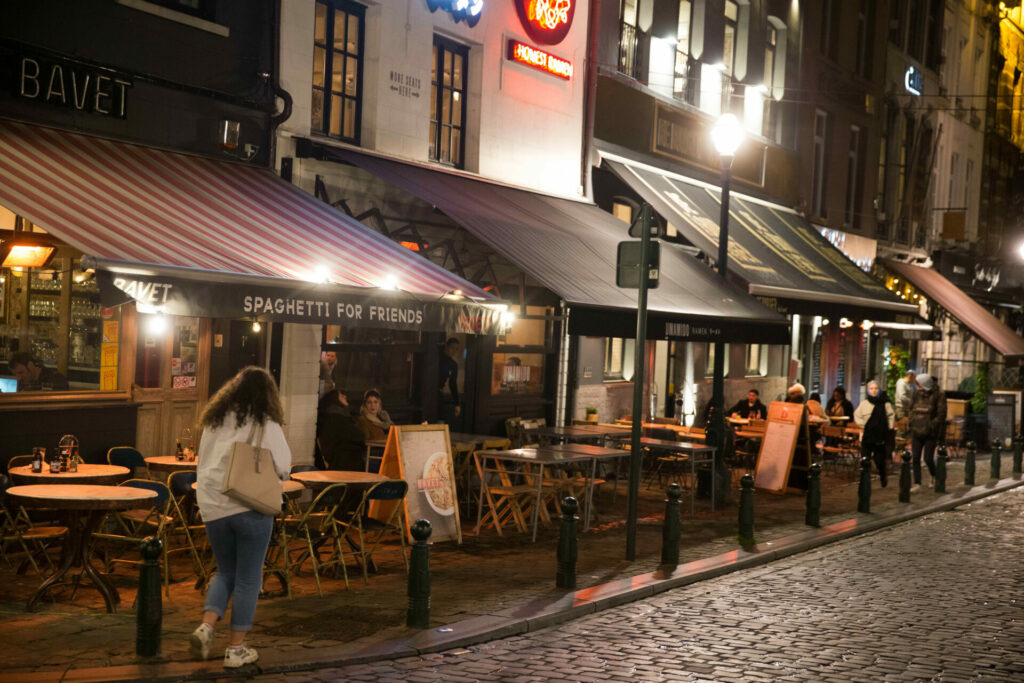 Sitting outdoors at a café or restaurant this winter promises to be a chilly affair after the Brussels government announced on Wednesday plans to ban patio heaters in its 19 municipalities. Read more.
Not sure what to do in Brussels this weekend? No worries, take a look at this selection of events happening this weekend, from funky nights on the C12 dancefloor to a drawing festival in the city centre, as well as an exploration of Etterbeek's finest artists. Have a great weekend! Read more.
Union Saint-Gilloise are not ceasing to amaze on the European stage after beating the Portuguese side Braga 1-2 on Thursday night with two late goals by substitute Gustaf Nilsson. Read more.
Cyclist safety and tram tracks have long been seen as antagonistic. Though new approaches and infrastructure interventions are being tested in Flanders, an ideal solution still seems far off and perhaps impossible. Read more.
After its third reading, the Brussels Regional Government has given the controversial Taxi Plan its final and official green light. It will take effect on 21 October, announced Brussels Minister-President Rudi Vervoort on Thursday. Read more.
For more than a century, the Jean Massart botanical garden in Brussels was almost unknown. Founded by the botanist Jean Massart in 1922, this secluded garden near Herrmann-Debroux metro station mainly served to educate university students about plants and trees. Read more.