With its tranquil canals and appealing brick façades, the quaint Flemish city of Bruges has attracted visitors and trade through the centuries. Once a vibrant trading city in the Middle Ages that was favoured for its connections to the North Sea via its well-maintained canals, the city is now a renowned tourist destination.
Often dubbed an "open-air museum" for its beautiful architecture, markets, and vibrant culture, the city is a perfect destination for a short stay. It was further popularised by the 2008 motion picture "In Bruges", starring Irish actors Colin Farrell and Brendan Gleeson.
The compact city boasts an array of restaurants, historical sights, and cafés. It is also easy to access, reachable from Brussels in just over an hour, and two from Antwerp.
For those unfamiliar with the shining jewel of West Flanders, or planning a return to the ancient city, The Brussels Times has prepared a list of must-see locations to fit any budget. This list is not exhaustive and exploration is certainly encouraged. A map with a full list of locations listed in this article can be found below.
Morning
Arriving early in the morning at the Bruges rail station, ready for a packed schedule of sightseeing, it is time to fuel up for the day with a filling breakfast. Bruges is well known for having an excellent selection of brunch and breakfast eateries, often tucked away along the city's sumptuous canals.
Walking through the Minnewaterpark, a historic city park once home to a castle marking the entrance to the inner city of Bruges, our first stop takes us to Books and Brunch, a cosy library-cum-café situated in the city's Magdalena quarter.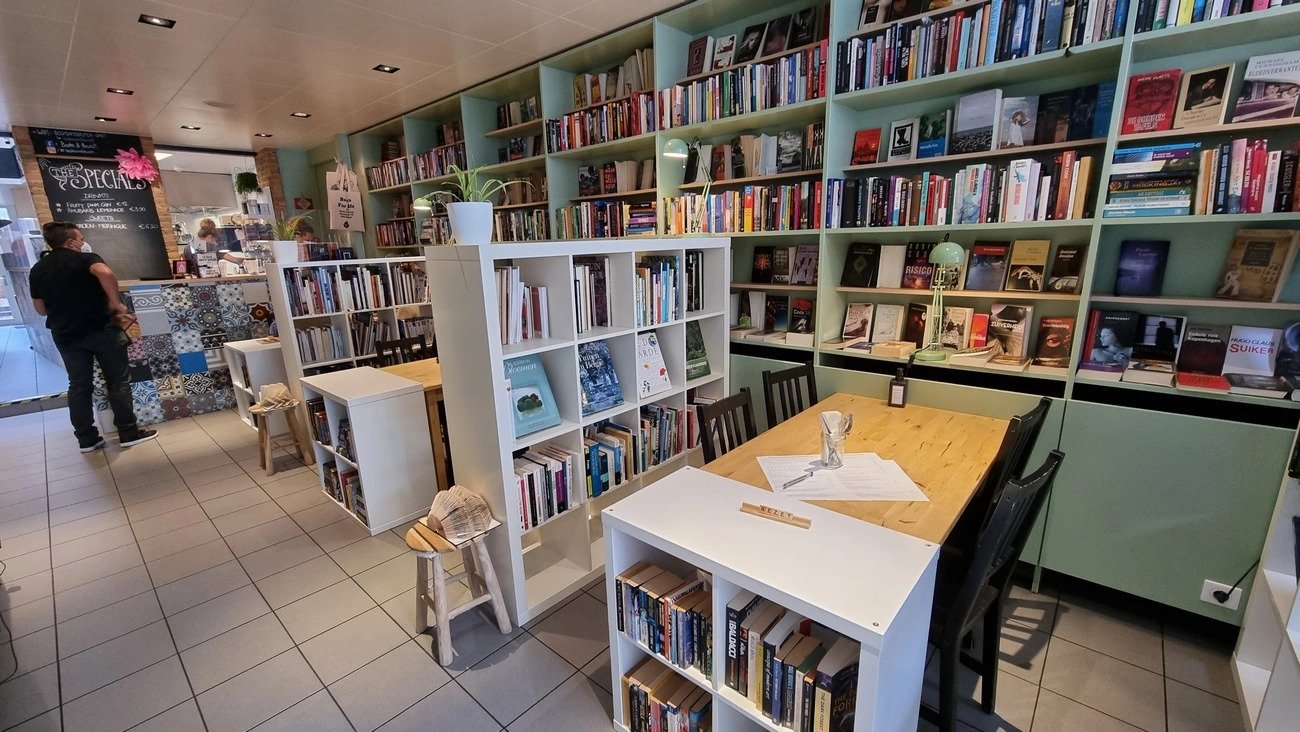 The café offers an array of healthy and filling breakfasts, as well as sandwiches, salads, omelettes, and sweet treats. It also serves excellent teas and coffees. The bookshelves of the café are filled with books to peruse in numerous languages, including English.
Alternatively, for a more hearty breakfast, walk north from the station into town to That's Toast in the Steenstraat Quarter. The understated restaurant, complete with its own terrace, serves an all-day breakfast with an emphasis on topped toast dishes. Their French toast should certainly not be missed.
With a belly full of eggs and toast, it is time to hit the town. Bruges' compact nature makes sightseeing a breeze and everything is within walking distance. An essential first stop is the Begijnhof, a 17th century nunnery just north of the Minnewaterpark.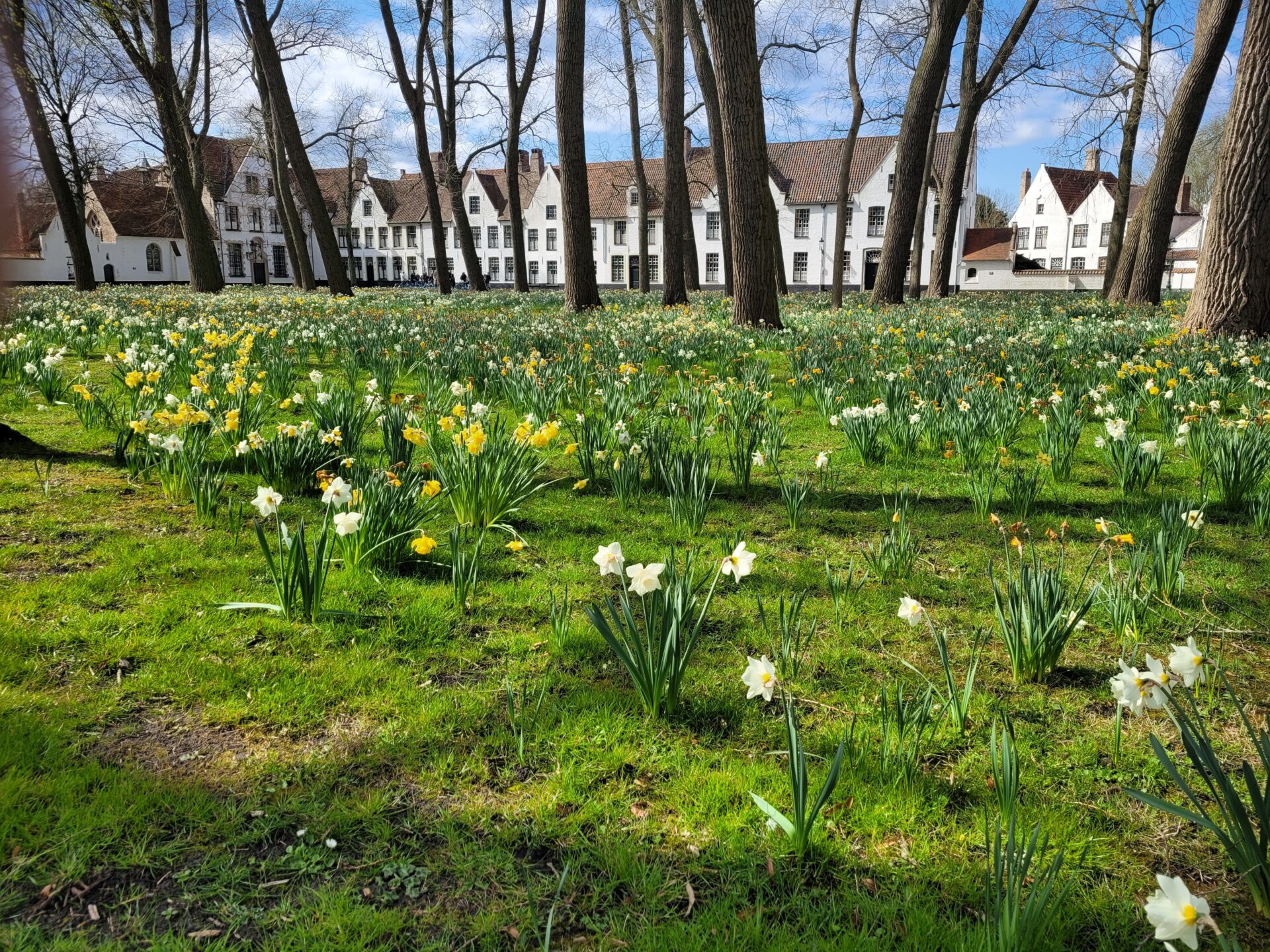 During the summer, the inner garden of the complex is decorated with a field of daffodils. The Begjin Hofkapel, the church on the site of the monastery, is an austere place of worship worth a quick visit.
Venturing further north into the town, we arrive at the Onze Lieve Vrouw Brugge (Church of our Lady Bruges).
This gothic church, founded in the 13th century, is known for its impressive church tower and Michelangelo statue. The church is one of the oldest places of worship in the city, one of the tallest structures in Belgium, and the second tallest brick building in the world.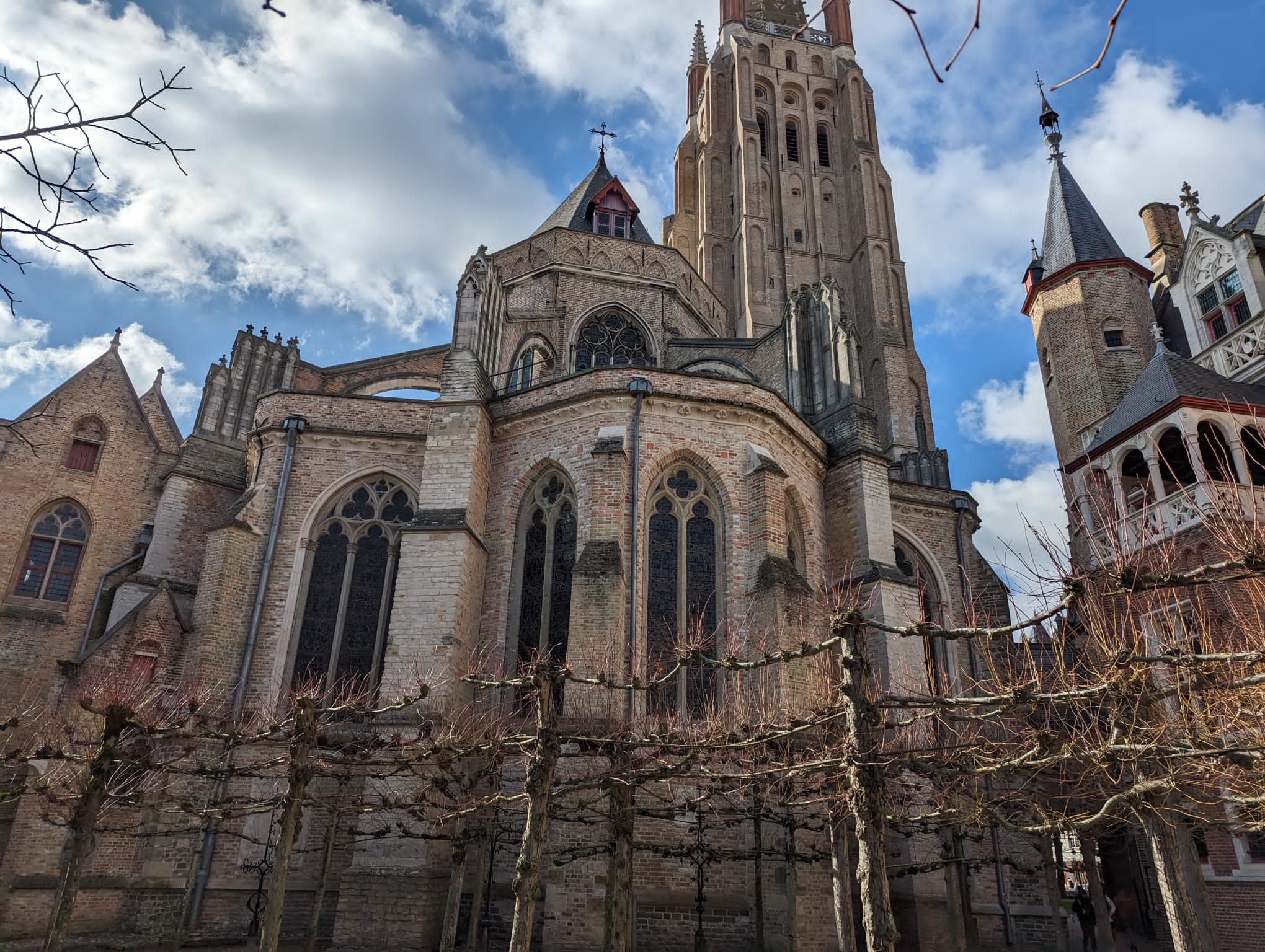 From the church, passing through the beautiful squares and streets of the city, we are just a few minutes by foot from the Grote Markt, the touristic centre of the city. This large square is surrounded by incredible sights, including the Gothic Provincial Court, the Belfort medieval bell tower (with 366 steps leading all the way to the top), and various picturesque buildings and cafés.
Beware! The cafés and restaurants on the square may look tempting, but reviews typically range from dreadful to awful, and are all certainly tourist traps. There are far better places to eat and drink.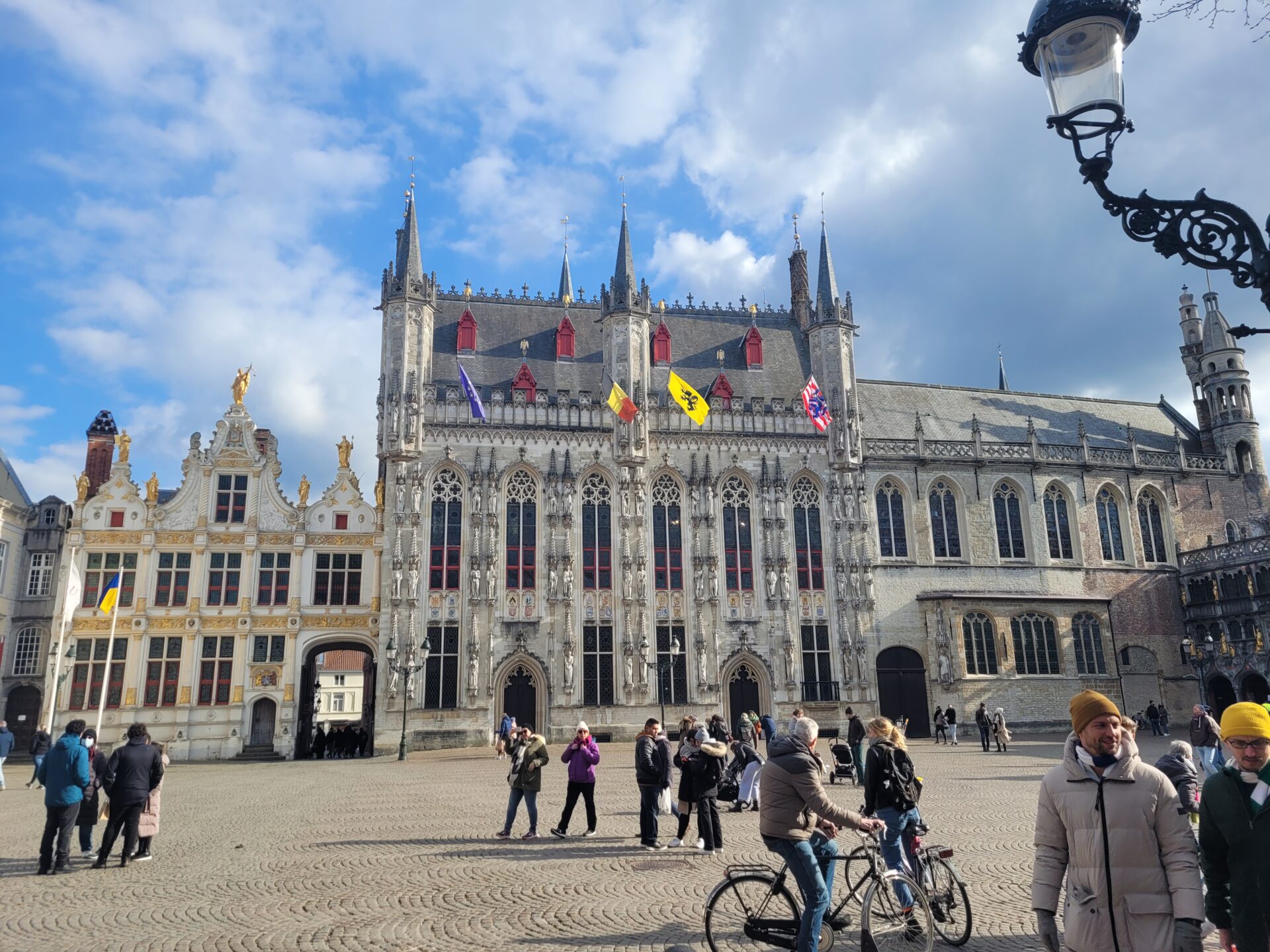 From the Grote Markt, plenty of other sites are easily visitable, including the Basiliek van het Heilig Bloed (which features a phial claiming to contain cloth stained with blood of Jesus Christ), the Groeninge Museum, and the Sint-Salvatorskathedraal.
Afternoon
After wandering through the city centre in the morning, it's time for lunch. Bruges has restaurants designed for a range of budgets.
For a light snack, The Potato Bar serves up authentic Belgian frietjes and croquettes. The snack bar has a comfortable rustic interior to enjoy your fries away from the wind. A medium portion of fries costs €4.50 and are cooked traditionally in beef dripping.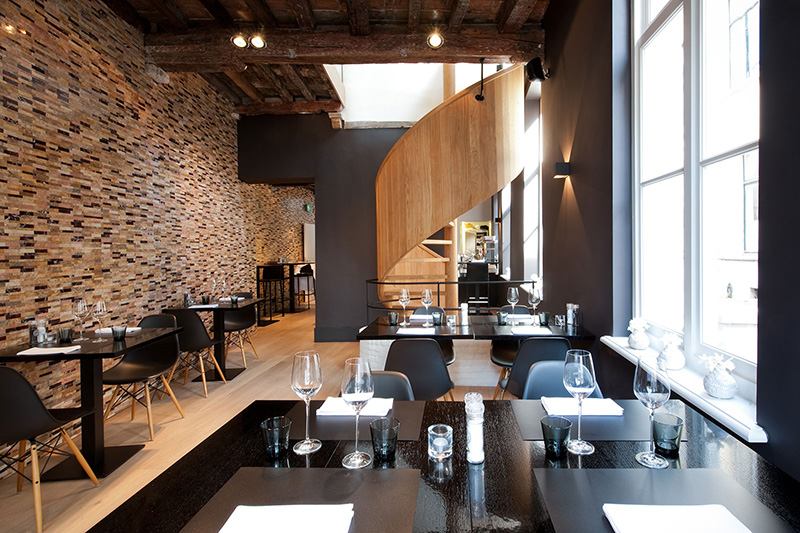 For those looking for a more substantial meal, we recommend Lieven, a modern restaurant combining Flemish classics, such as local seafood, with European and Asian influences. The restaurant features a classy and elegant interior and main courses costing between €24-36 per person.
Well sated, it's time to get back out into beautiful Bruges. The city has a long history of brewing, so it's essential to sample a half-pint or two of local beer. From dozens in years gone by, due to modern brewing techniques, unfortunately only two brewers actively make beer within the city today.
There are several options for beer-related excursions including the Bruges Beer Experience, which offers a sampling of four beers for €10, or the Huisbrouwerij De Halve Maan, brewer of the iconic Flemish blonde beer Brugse Zot. The brewery famously operates a beer pipeline which takes beer brewed from its central location to a bottling plant two miles away.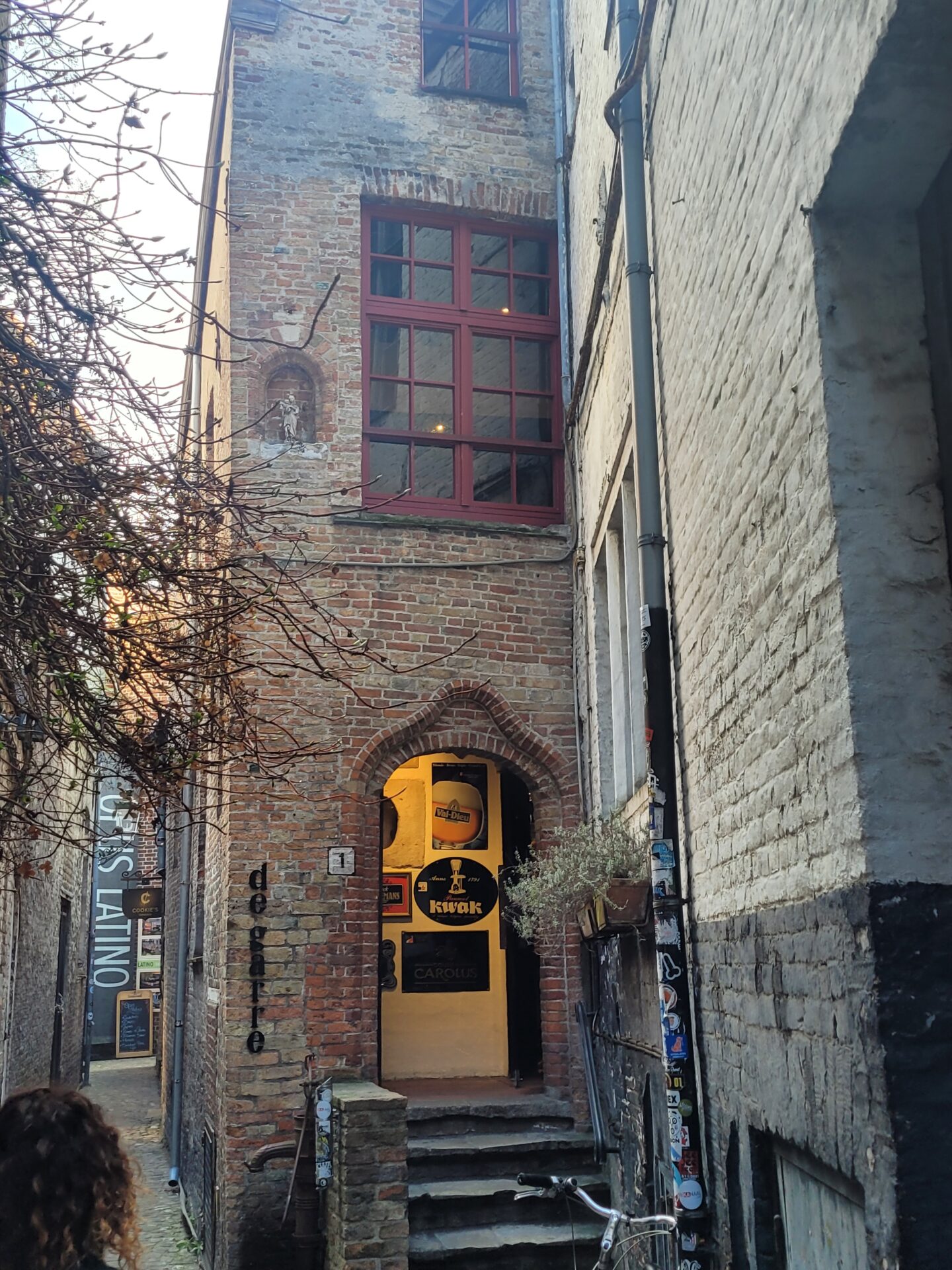 For true beer aficionados, there is De Garre, a cosy bar in a historical building, hidden down a small alley. The bar is famous for its Tripel, a strong pale ale commonly brewed in Belgium, which it serves only from its location in Bruges. The bar has limited seating and is often very busy on weekends, so it is best visited during the afternoon as opposed to during the evening.
Alternatively, for those who prefer to go teetotal, there are a plethora of excellent museums within the centre, such as the Frietmuseum, the Historium Bruges, or Arentshuis.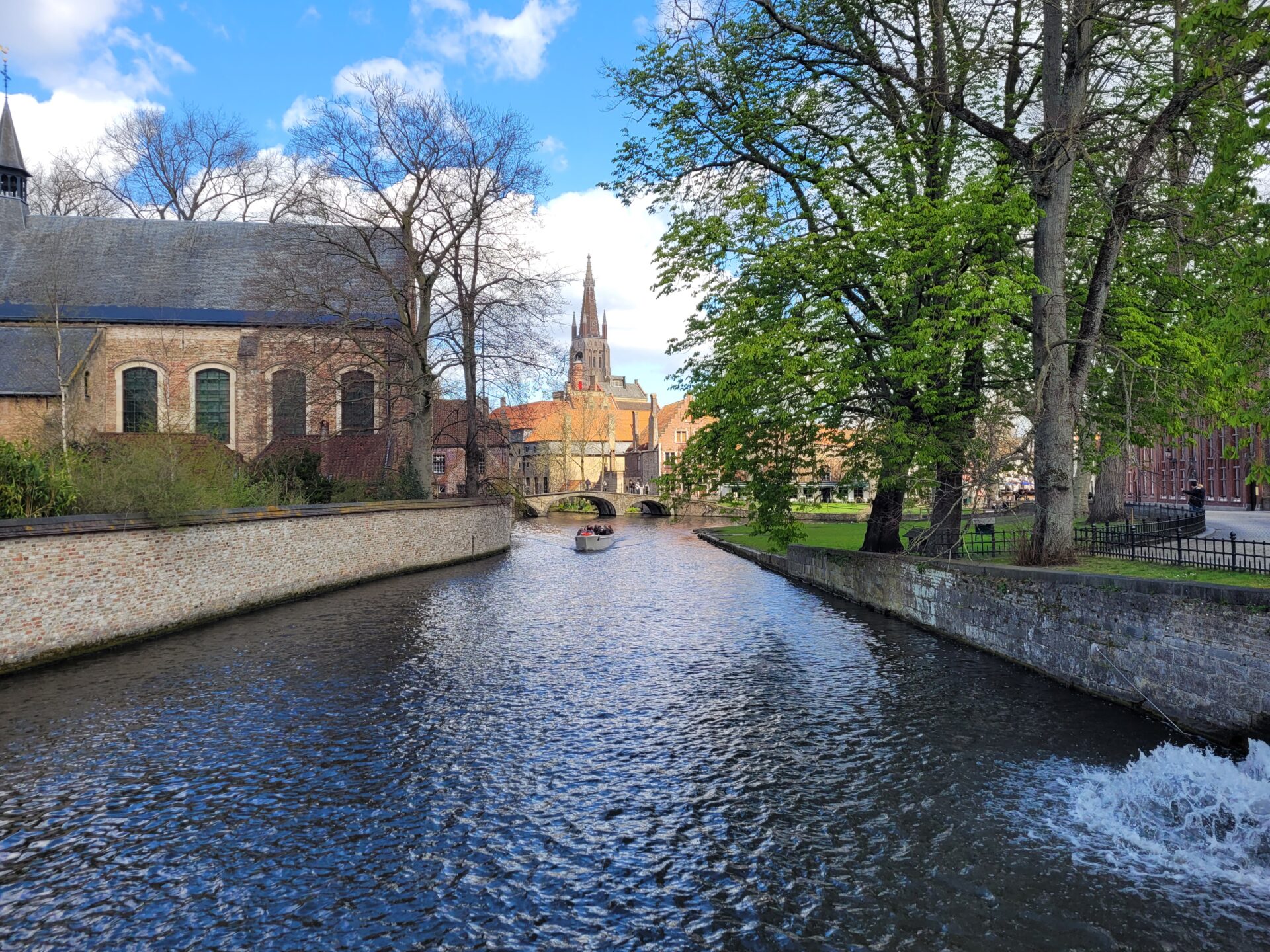 Having sampled the hoppy and cultural treasures, it's off walking once again. This time, in the direction of Bruges' Sint-Anna Quarter, a chic neighbourhood of gothic style buildings, religious sites, and folk locations. Walking away from the city towards the east, it is possible to follow the Langestraat, passing by the canals, antique shops, cafés, and design stores.
At the end of the Langestraat, tourists can see the Kruispoort, the city's best surviving city gate, the Park Kruisvest, and the Saint-Janshuismolen, a working grain-grinding windmill (which is open to the public during the summer). Wandering around the Sint-Anna Quarter, there is also the Volkskundemuseum, a quaint collection of objects from the 19th and 20th centuries within a beautiful Flemish-style house and courtyard.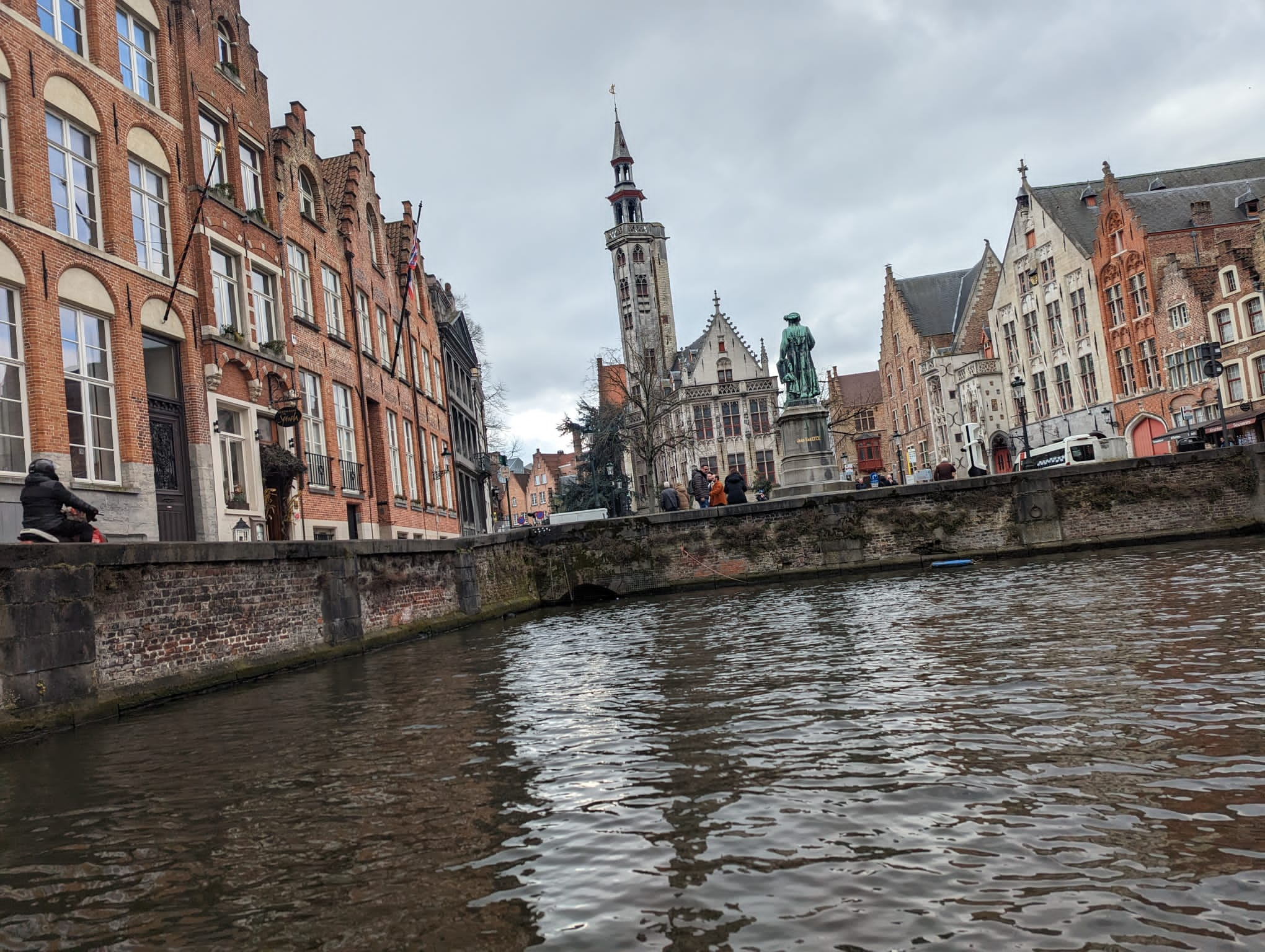 Heading back from the Sint-Anna Quarter, tourists should not miss out on the Jan van Eyckplein, a Middle Ages-era square, named after the legendary Belgian painter, and which was once home to traders from across Europe. Nowadays, the area offers beautiful views of the canal. In the surrounding Burg Quarter, there are many chic cafes and even a chocolate museum.
Evening
Legs achy, and a hunger building (providing that you didn't overeat at lunch), it's time for dinner. Dining options in Bruges range from pricey fine dining to cheap eats.
For a cheap bite, we recommend Bocca, a takeaway-style pasta box restaurant. A medium box of pasta with toppings can go for as little as €7 and is surprisingly tasty. The restaurant offers a range of toppings and sauces and can be taken to go or eaten at on the restaurant's small terrace on the street. Bocca has a range of gluten-free and vegan options to satisfy all tastes.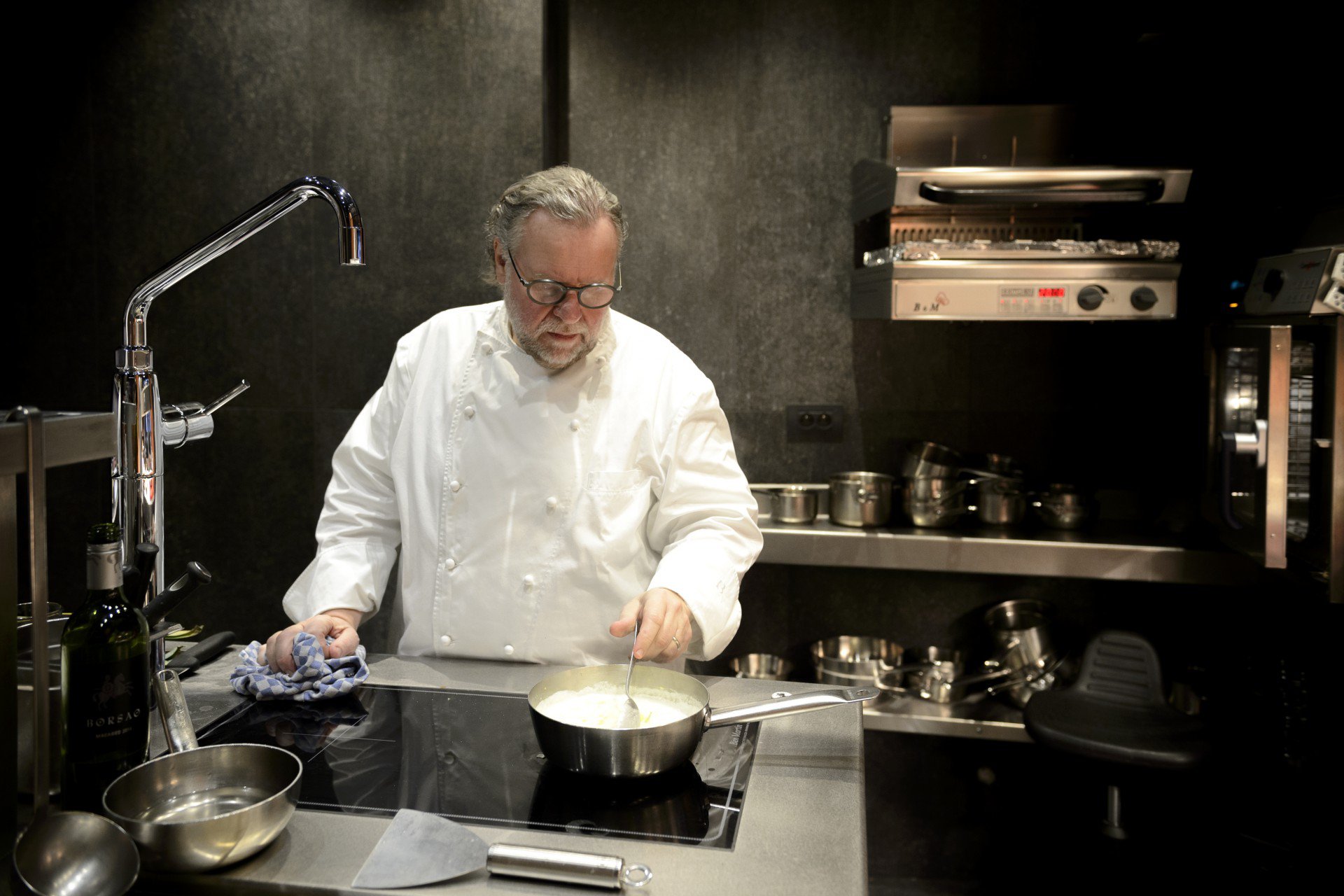 For haute-cuisine, Zet'Joe is an elegant dining experience in a lavish dining atmosphere. Duo Mireille and Geert Van Hercke prepare stunning seafood, rabbit, and meat dishes incorporating local styles and ingredients.
Beware, this restaurant is certainly not cheap, with main courses starting at €73. However, for a fine dining experience, we certainly recommend this restaurant. Bookings should be done far in advance as this is a popular spot among gourmands.
Night
While Brugge is not necessarily a party city, there is a surprisingly large number of nightlife locations on offer. Ditch the clubs, this is a city for bar crawls. For a youthful drinking experience, head towards the city's Het Zand area, a favourite of the city's students and young people. Bars such as The Vintage, De Zandloper, Bras Club, and Villa Gerard are usually lively spots to meet locals and tourists alike.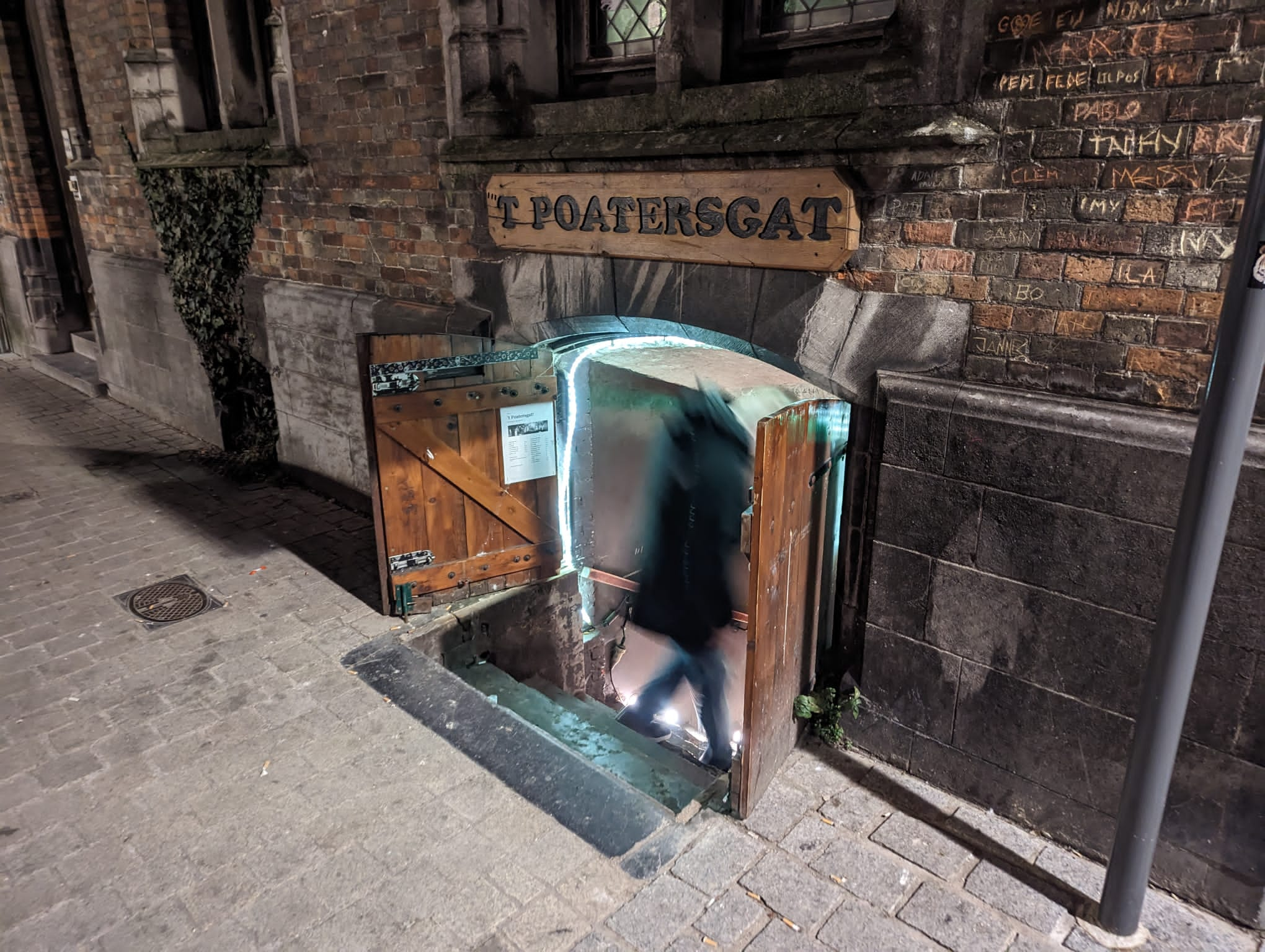 For a quieter drinking atmosphere, the top of Langestraat has a fine selection of bars with terraces. The Lion Belge is a brilliant example, with a big beer garden in the back and a large selection of bottled beers. Nearer to the centre, 't Poatersgat is a cosy bar in a cellar next to a church, which has a large selection of beers on tap and a vibrant atmosphere.
Related News
Granted, Bruges can be done as a day trip from Brussels, but with an abundance of quaint hotels (and beers), it is often a good option to spend the night in the West Flemish capital.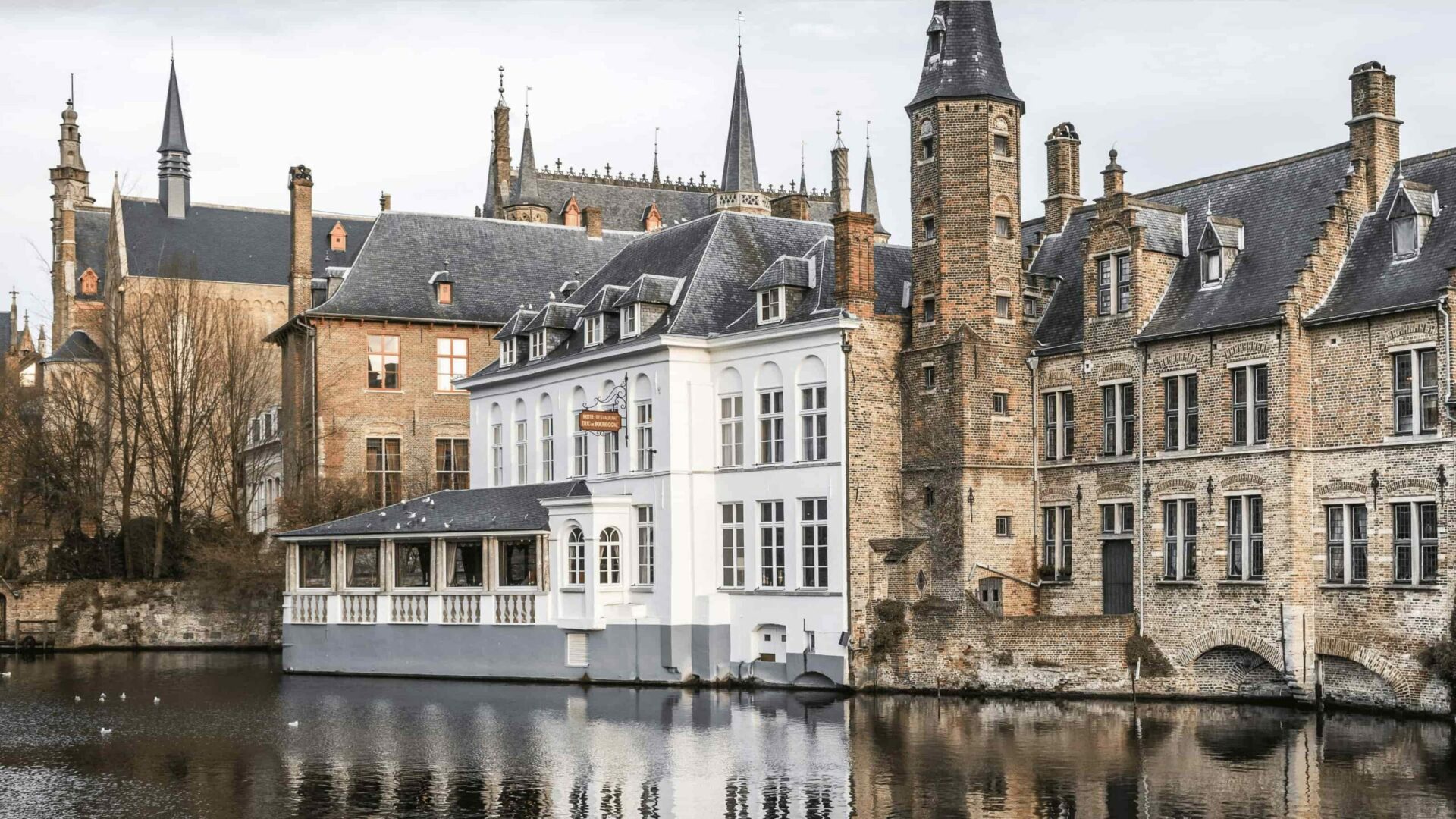 For a more budget friendly option, we recommend the Duc De Bourgogne, which offers quarters in a beautiful historic building just off De Burg square. Prices start at as little as €120 per night for a double room with breakfast included in a sumptuous dining hall.
Alternatively, for a true romantic getaway, there is the Die Swaene Hotel a short distance away. This boutique four-star hotel features period-themed rooms, as well as an amazing salon, swimming pool, and bar. At the time of writing, a Superior Double Room goes for around €140 per night.