Belgian virologist Marc Van Ranst has spoken out against huge crowds in Brussels Airport on Sunday evening, issuing a stark warning to travellers, airport and police.
After long lines formed while Passenger Locator Forms (PLF) were checked, officials and passengers have vocally criticised management, while the Airport, in turn, has placed the blame for the mismanagement on the federal police.
"Viruses love a lot of people in an indoor space," Van Ranst said on Twitter, before moving on to address the different groups present in creating the situation.

Belgium has issued strict official advice against travelling abroad, saying that it is "a very bad idea," with Federal Health Minister Frank Vandenbroucke calling it "quite frankly, just stupid."
Just before New Year, the Consultative Committee even implemented stricter measures - including a mandatory quarantine for everyone coming from a red zone and a Covid-19 test on day 1 and 7 - to manage people returning from holiday over the Christmas break.
To many, however, the fact that travel was not outright banned meant that they were still willing to travel despite the advice.
To this end, Van Ranst's criticism goes beyond travellers, to those coordinating their return.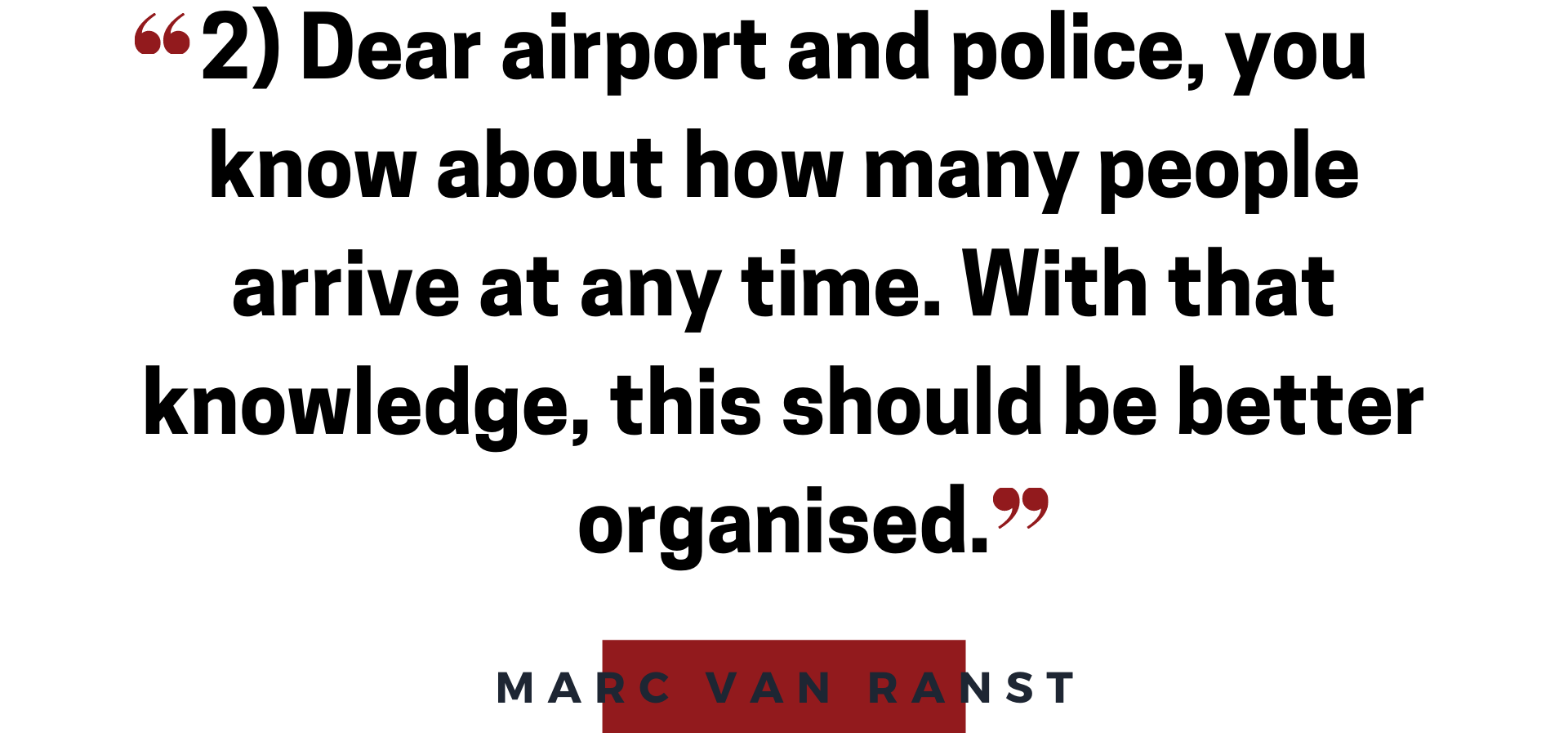 Passengers arriving at the airport have issued similar criticism of management, with one telling the Brussels Times that after getting off a flight he "encountered a large, frantic crowd." "Everybody was wearing masks, but social distancing was not observed or enforced, despite police presence," he added.
"It was only when making our way to the main escalators to the baggage hall where we were met with a huge sea of people, most confused as to what was going on," another passenger explained. "From the back, it was impossible to see what was happening further forward, but two police guards ran through the crowd to try and support the efforts at the front, which we later learned were to control the flow of people moving into the next area to check their documentation," she added.
Related News
This criticism, as well as Van Ranst's comments, match with those of Airport ombudsman Philippe Touwaide, who said he is not satisfied with the coronavirus policy of Brussels Airport last weekend.
"We believe that it is the duty of the regulator to intervene and to respect and enforce all health measures in the airport's buildings," Touwaide said in his letter. "After the repeated incidents in November, we were promised that the situation was under control and that there was better coordination, which does not seem to be the case. On a human level, Sunday's situation is unacceptable," he added.
So What Happened?
The long line was caused by the federal police's checks on travellers' Passenger Locator Forms (PLF) in the airport, a Brussels Airport spokesperson explained to The Brussels Times on Monday morning. "It concerned a peak moment that only lasted for about an hour, after which it was calmer again," she said, adding that the airport urges everyone to always wear a face mask and respect the social distance.
In a press release sent on Monday afternoon the airport provided more information, saying that "these checks went well throughout the weekend except at one point on Sunday evening, when the federal police intensified the checks, causing queues at the checkpoint. These queues lasted a good half hour and were in a large area of the airport which should have allowed the necessary social distancing."
The airport has said it is now working with the federal police to improve the management of passenger flows and social distancing during the PLF checks that will still take place in the coming days.
Jules Johnston & Maïthé Chini
The Brussels Times