The average household waste generated per person in Belgium has decreased in the last 25 years and is one-fifth lower than the EU average.
On average, a person living in Belgium generated 416 kilograms of household waste in 2020, less than the EU average, which increased in the last quarter of a century, according to figures from the European statistics office Eurostat.
Belgium is also one of seven EU Member States (including many eastern European countries) that managed to reduce the amount of household waste collected by the municipal services since 2005, when an average of 482 kg of waste was produced per capita.
People living in Denmark generated the most household waste in 2020 (845 kg), followed by Luxembourg (790 kg), Malta (643 kg) and Germany (632 kg). Croatia saw the largest increase in household waste production (90%), from 220 kg in 1995 to 418 kg in 2020.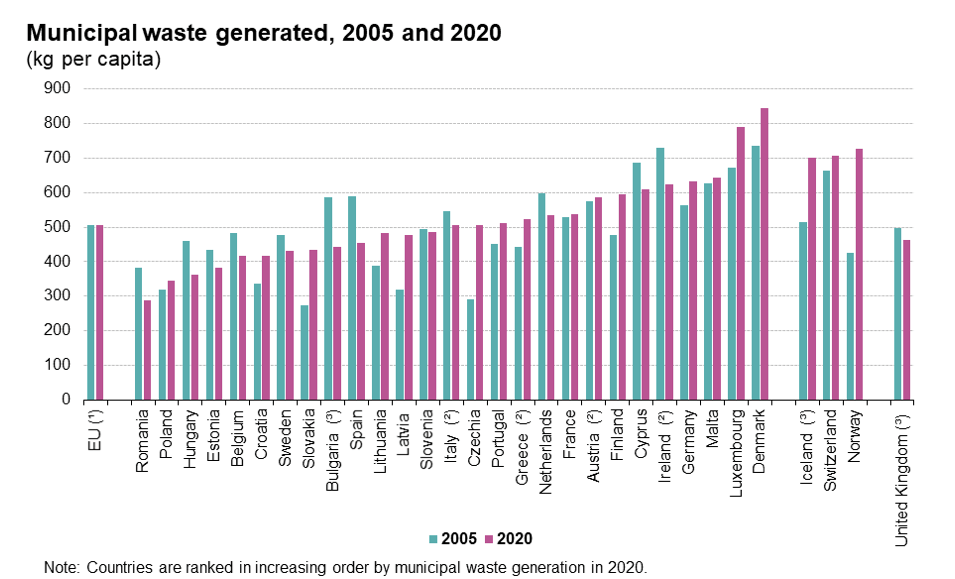 The definitions of waste collected by municipalities may vary from country to country (depending on whether waste from commerce and trade is collected and managed together with waste from households) but the data and the variations they reveal can reflect the differences in consumption patterns and economic wealth.
Across the European Union, 255.7 million tonnes of household waste were produced in 2020 (505 kg per person), of which almost half is recycled, according to Eurostat. Municipal waste accounts for about 10% of total waste generated on the continent.
Even though more waste is being generated in the EU, the total amount of municipal waste landfilled has diminished. "There is a very distinct trend towards less landfilling as countries move steadily towards alternative ways of treating waste," a statement read.
Related News
In the last 25 years, the total municipal waste landfilled in the EU more than halved from 69 million tonnes, from 121 million tonnes in 1995 to 52 million tonnes in 2020: an average annual decline of 4%.
As a result, the landfilling rate (landfilled waste as a share of generated waste) in the EU dropped from 61% in 1995 to 23% in 2020. This is mainly due to the EU implementing new legislation on packaging and waste management, among others.