At a press event on 6 May at the AB InBev brewery in Leuven, members of the Ukrainian diplomatic service, alongside AB InBev Europe Zone CEO Jason Warner, officially launched the production of popular Ukrainian beer Chernigivske in Europe.
The popular Ukrainian beer, one of AB InBev's brands, will now go on sale in supermarkets across Europe, and even in South America. Following Russia's invasion of Ukraine, all of AB InBev's factories in Ukraine were closed and much of its staff evacuated to Europe.
Chernigivske beer is from the city of Chernihiv, a city in the north of Ukraine, where intense shelling and fighting has forced many citizens to flee their homes.
On the initiative of AB InBev's Ukrainian marketing director Anna Rudenko, the brewing giant has restarted production of the Ukrainian beer in Europe, which will be sold on the European market. All sales will go towards charity. The brewery expects to raise at least 5 million towards aid charities that are active in Ukraine, such as Caritas International.
The cans feature a Ukrainian heart-shaped design and claim that the proceeds of each can will go to charity. The project's packaging manager, Flores, said that the beer was brewed and designed alongside colleagues from Ukraine in order to get the beer to be as authentic as possible.
"In times like this, it's not important that we're a big brewery. What is important is that we are together and that we want to bring everyone together to support this project," he said.
The brewery has already donated around $2 million to Ukraine so far, as well as shipping 3 million cans of clean drinking water sourced from Belgium over the border to Ukraine.
Furthermore, the company has decided to continue to pay its 1,812 Ukrainian staff this year, many of whom are now located in Belgium, where they receive accommodation, food, and help with day-to-day life in Europe.
"Today, we're facing challenges in the world that we never, ever imagined just four months ago," said brewery chief Warner in front of the Belgian press. "We're very disheartened to see what's happening… We're trying to do everything we can for our people right now."
According to the brewery official, Chernigivske beer is actually one of the largest brands in the company's portfolio, as well as the most popular in Ukraine.
"We're donating €5 million as a minimum, but we expect that there's going to be a lot of interest. It's an amazing, delicious beer and we're really looking forward to bringing this to people so that people can enjoy a great beer and give generously to the people of Ukraine."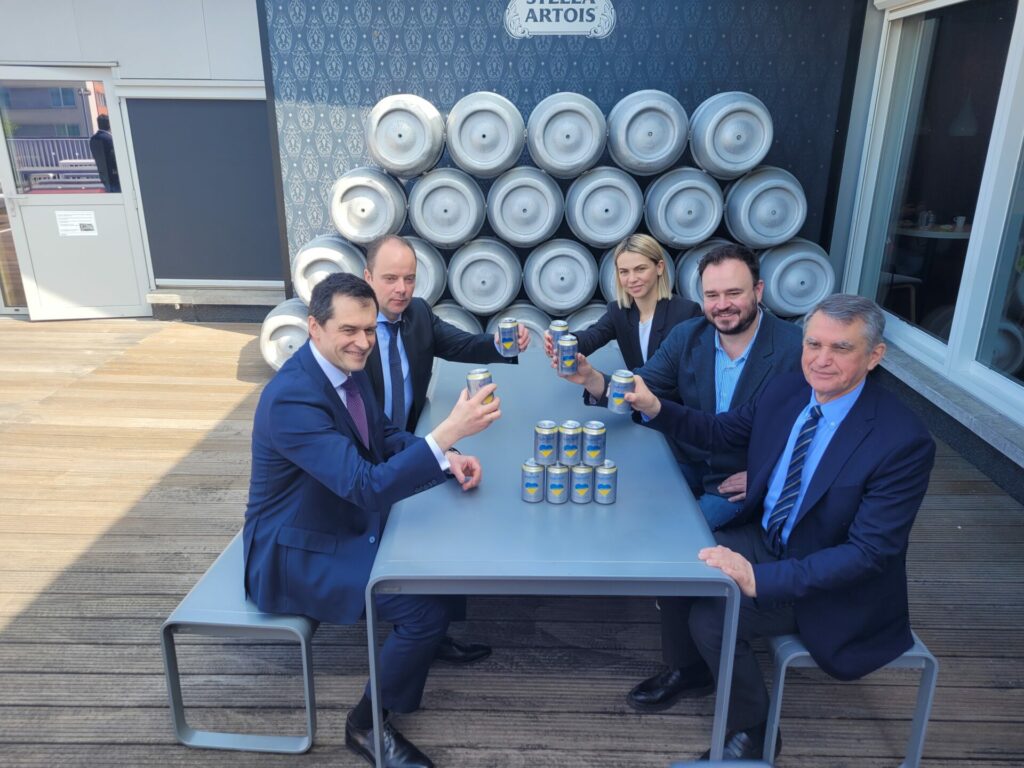 Ukrainian Ambassador to Belgium, Oleh Shamshur, stated that even small gestures such as the brewing of Ukrainian beers means a lot for Ukraine.
"We appreciate very much the initiative and the work done by your company. I would say that it's a very good example of when a company is having a moral obligation, understanding of the things that are happening in Ukraine," Shamshur said.
The Ukrainian official noted that it was a "symbolic gesture", but helped to remind people across the world that a war is being raged against Ukraine.
Head of the Mission of Ukraine to the European Union Vsevolod Chentsov hopes that Ukrainian brewing in Europe will take off as a result of these initiatives.
"I hope this will happen as a pan-European, maybe global, project, and that Ukrainian beer will be even more famous, and more loved around the world," Chentsov said. The official also thanked AB InBev for keeping Ukrainians within the brewery's team within Europe.
Joining hands over a big red button to set in motion the canning process were the Ukrainian representative to the EU Chentsov, the Honorary Consul of Ukraine in Belgium Kris Beckers, the Ukrainian ambassador to Belgium, and the AB InBev official. Together, they launched production of the beer which will now start appearing on shelves within 2-3 weeks.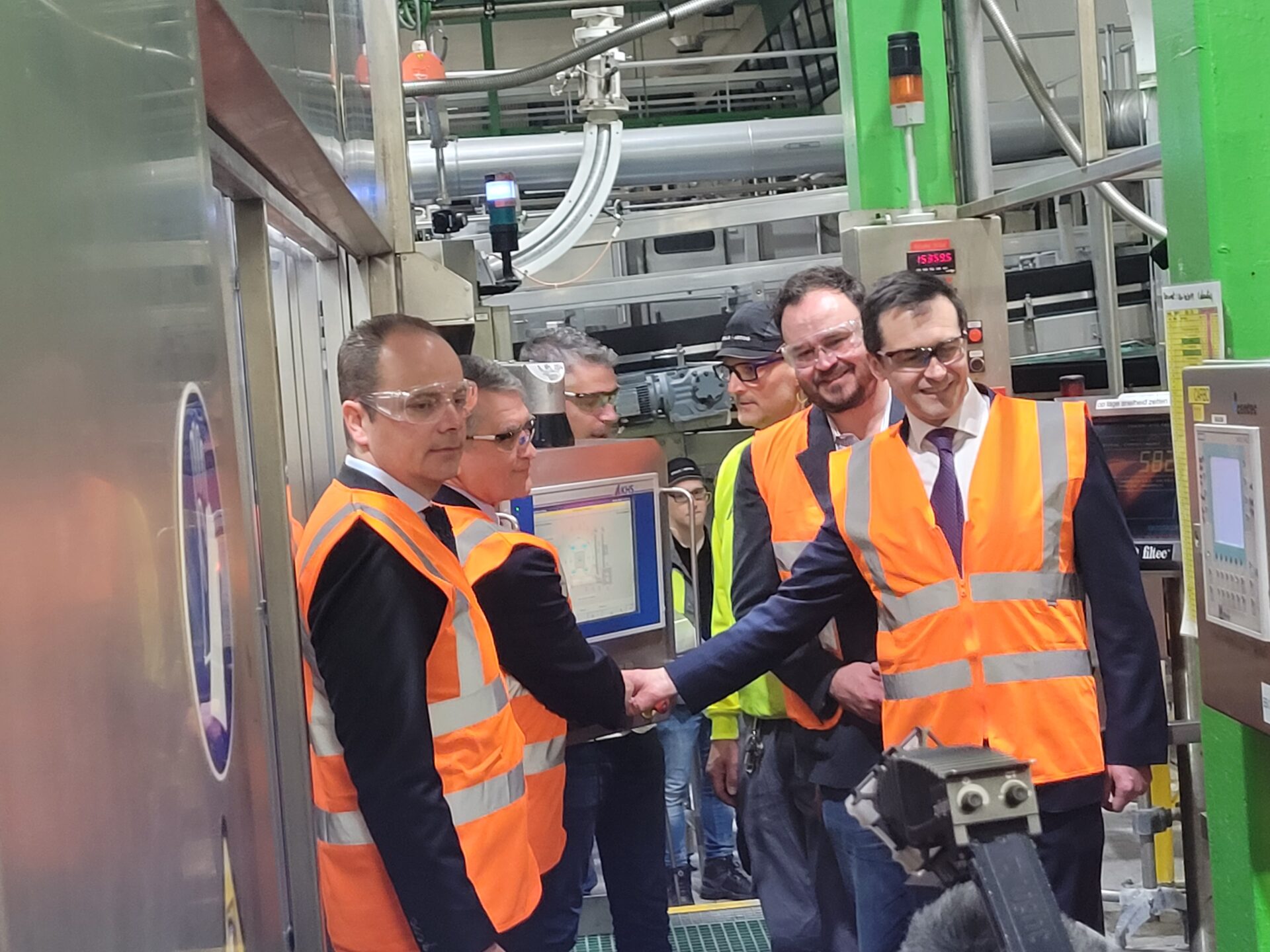 Upon hitting the button, the canning machine sprung to life and tens of thousands of cans flew past at high speeds. Chernigivske will be brewed alongside beers such as Stella Artois, Hoegaarden, Jupiler, and Corona.
According to information from the brewery, roughly 6,000 hectolitres of Chernigivske beer have already been brewed in Leuven, or roughly 2 million 330ml cans.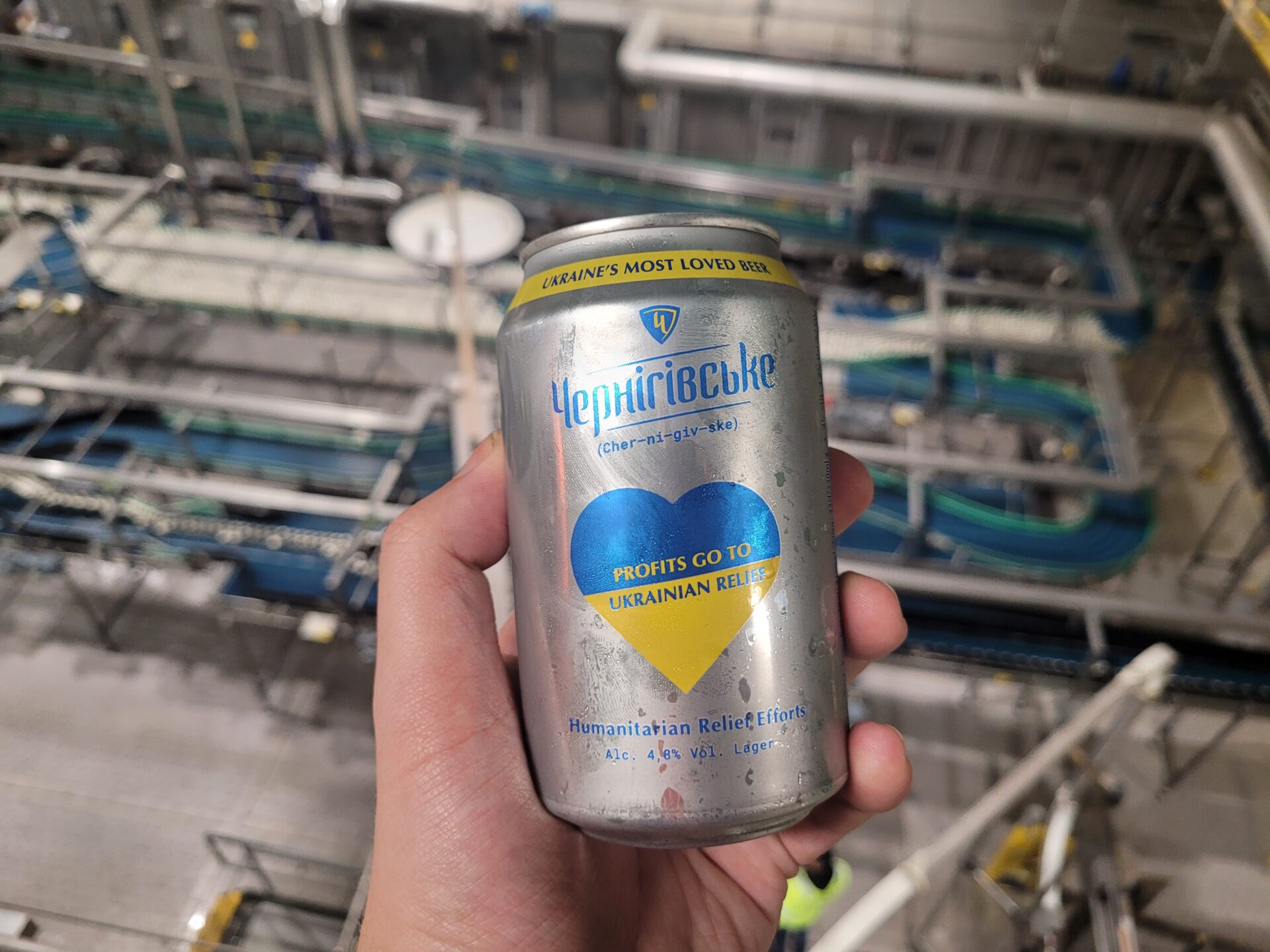 Related News
In a comment to The Brussels Times, Pascaline Van de Perre, a spokesperson for AB InBev, expects that Ukrainian beer will be a big hit in Europe.
"We hope that it's as popular as possible because then the humanitarian support will be very big. We compare the beer to Jupiler because it's the most preferred beer in Ukraine. People love the brand in Ukraine, so we hope that Belgians will love it just as much."