On 17 May last year, a former career soldier named Jürgen Conings failed to return home from work. Several days later, a nationwide manhunt was launched, lasting five weeks, until he was found dead on 21 June.
One year ago, Belgium became engrossed in the tale of the search for Conings, later dubbed "Belgian Rambo" by international media, one that stemmed from political frustrations, revealed failed military intelligence investigations, and highlighted far-right extremism in the country.
"I can't live with the lies of people who decide how we should live. The so-called political elite and now also the virologists decide how you and I should live. They sow hatred and frustration, worse than it already was. And no one rebels against that. If you say anything, you will be punished."
With these words, as part of two letters written by Conings before his disappearance — one to his girlfriend and another to the police — he made clear his frustration with the government's management of the pandemic.
On 18 May, police formally announced the search for a then-unnamed professional soldier from the military barracks of Peutie, who had stolen an arsenal of deadly weapons.
Powering extremism
In his letters, Conings also made a threat against virologist Marc van Ranst, one of Belgium's top virologists who was influential in shaping the country's coronavirus lockdown measures. Van Ranst was consequently kept in a safe house under police protection.
Van Ranst blamed Belgian far-wing political party Vlaams Belang — of whom Conings was a former member — for "actively creating an atmosphere against virologists." The party said it regretted any connection with the incident.
Related News
However, the government and media response to his actions highlighted the presence of far-right extremism in Belgium — a support group on the social media platform Facebook reached around 50,000 members. Conings' disappearance also shone a light on far-right extremism in Belgium's army.
A report by Committee I, which is responsible for reviewing the activities and functioning of State Security, later declared that the military secret service made "serious mistakes" in the Conings case, especially regarding him being granted access to military quarters despite him being classified as a level 3 threat since February this year.
A martyr for extremists
The manhunt for Conings ended when Conings was found dead some distance from where the mass search by police and troops took place in the Hoge Kempen National Park.
Despite the search for the missing soldier being described as looking for a needle in a haystack, requiring assistance from special units from Luxembourg and Germany and costing almost €1 million, his body was finally discovered by passers-by.
It was later confirmed by the Federal Public Prosecutor's Office that Conings died after taking his life with a gun and estimated that the date of death was between one and four weeks before he was found.
On Sunday, it was announced the investigation into Conings had been completed, and the results are expected to be published in the coming days. However, it has been predicted that the federal public prosecutor will demand the forfeiture of the criminal proceedings, meaning there will be no guilty verdict.
Though the Conings case has closed, the radical ideas and conspiracy theories surrounding his disappearance and death that circulated on social media continue to be spread, and are further boosted by Russian internet trolls with the aim of "destabilising our Western society and radicalising people here."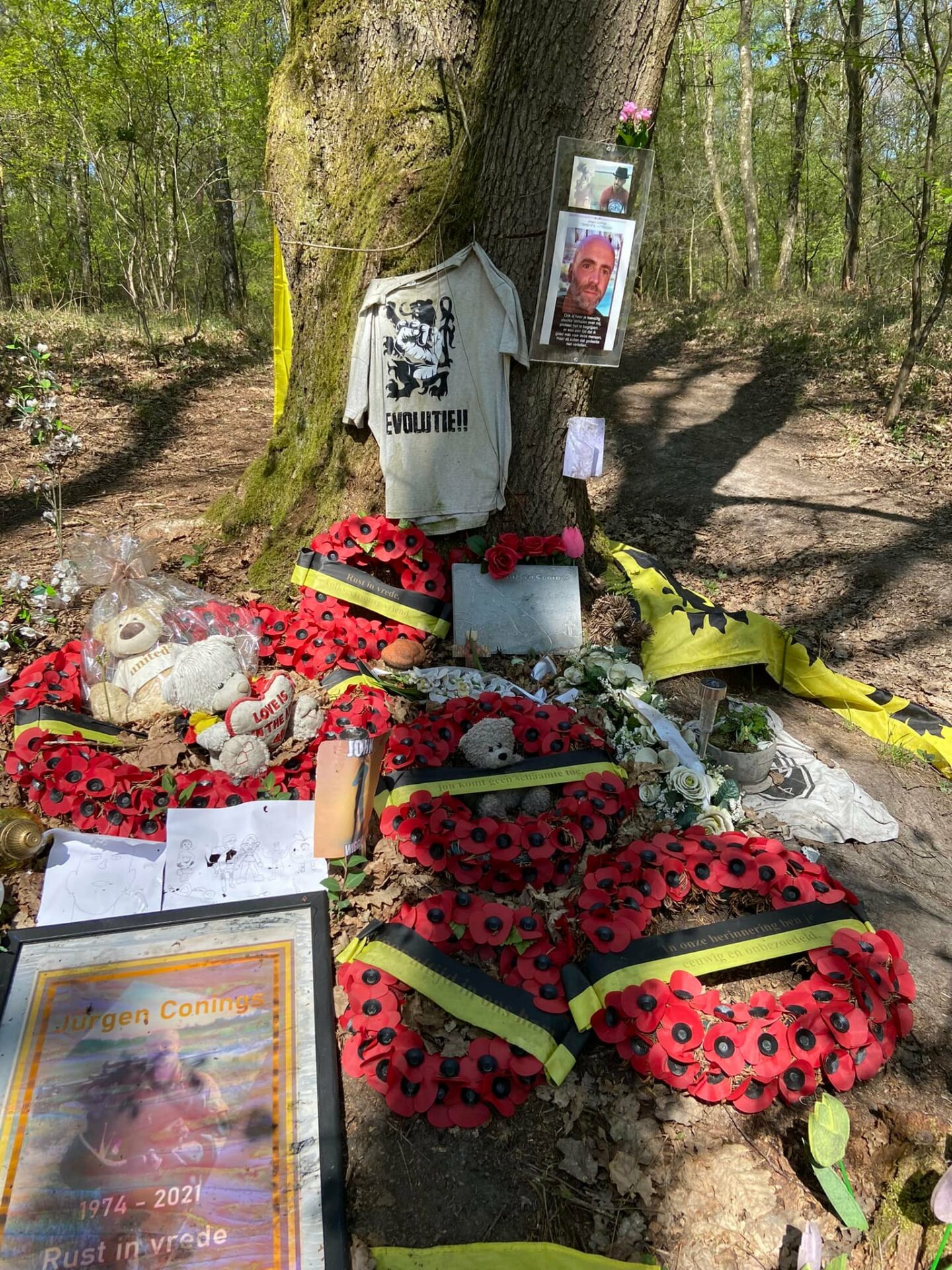 The site where Conings was found in the Dilserbos in Limburg remains a place of pilgrimage of sorts, as wreaths of flowers, right-wing memorabilia, Flemish flags and teddy bears are strewn on the floor.
According to reports from De Morgen, it is possible another commemoration will be organised, similar to the one organised just after his body was found.
"We hope that as little attention as possible goes to the whole Jürgen Conings case," Sofie Vandeweerd (Open Vld), mayor of Dilsen-Stokkem, said. "I hope that Jürgen Conings' relatives can commemorate him in peace and that there are no situations like last year."