On Monday next week, trade unions in Belgium are once again calling on people to take to the streets for a national strike, during which they will be calling for the protection of employees in light of the continued rising cost of living.
Demonstrations were organised for the same reasons in February, April and May this year, all a precursor for the bigger national demonstration on 20 June. Since it was first announced last year, the situation for many households in Belgium has worsened as a result of rising energy prices and the war in Ukraine.
"Some people have such a hard time now financially that they are declaring themselves sick because they have to choose between buying food and filling up with fuel," Jan-Piet Bauwens, Vice-Chair of the Socialist Trade Union (BBTK), told The Brussels Times.
"If you have to drive hundreds of kilometres every day to go to work, the skyrocketing fuel prices are a huge problem." In recent months, both the prices of diesel and petrol have been repeatedly breaking records after they rose above €2 per litre for the first time in Belgian history.
"People who have to spend €150 to fill up their tank every week are saying it is no longer feasible to go to work. We also hear stories of people staying overnight at work to avoid two journeys and to save money. Such horrible situations are happening now," he said.
Aside from the rising energy and fuel prices, the inflation rate increased from 8.31% to 8.97% in May this year, the highest level since 1982, resulting in a massive loss of purchasing power.
Protecting indexation
Belgium is one of the few countries in the EU where wages are indexed to inflation, meaning they are automatically adjusted to keep pace with the rising cost of living to protect living wage workers, alongside social benefits.
Wages and benefits in Belgium are expected to increase by 6% on average this year, faster than in the neighbouring countries.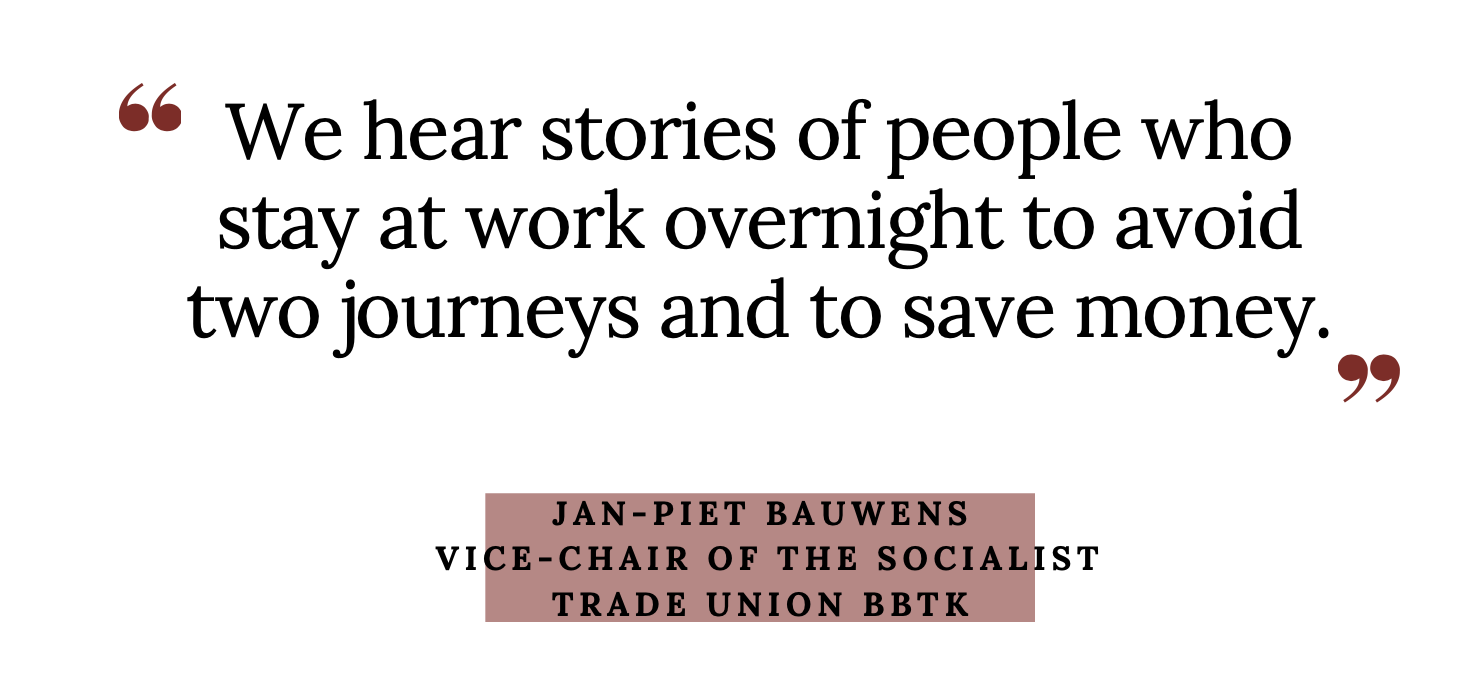 According to various unions, which have stressed that maintaining the index is now more pivotal than ever, conversations are ongoing within the government to change the current system, as it is feared it will put pressure on Belgium's economic competitiveness in the short-term.
Employers, too, have expressed deep concerns about the automatic wage indexation, saying it has resulted in postponing investments and recruitments.
Flemish employers' organisation Voka said the situation is becoming untenable for companies and is asking for a so-called "index jump" of just 3%, meaning that the automatic adjustment of employee wages to inflation will be skipped once, compensated with a net premium of €500.
However, unions argued that profits of companies in Belgium are also continuing to rise more than those of businesses abroad. CEOs of Belgium's largest listed companies (BEL20) received an average of €3.02 million gross, which represents a 14.4% increase in wages compared to 2020.
They are calling on employers that are making large profits to share a piece of this cake with workers, however, the "law forbids that," Bauwens said ahead of the previous strikes, referring to the Wage Standard Act of 1996.
Outdated law
During the demonstration on Monday, trade unions are also once again calling for an adaptation of the Wage Norm Act 1996, which keeps the wages rate in the private sector in check to protect the competitiveness of companies from those in neighbouring countries.
According to unions, this prevents negotiations on fair wages and also largely blocks any significant salary increases. A petition to get the government to discuss the law received 80,000 signatures, meaning a discussion on the topic will be held in the federal parliament.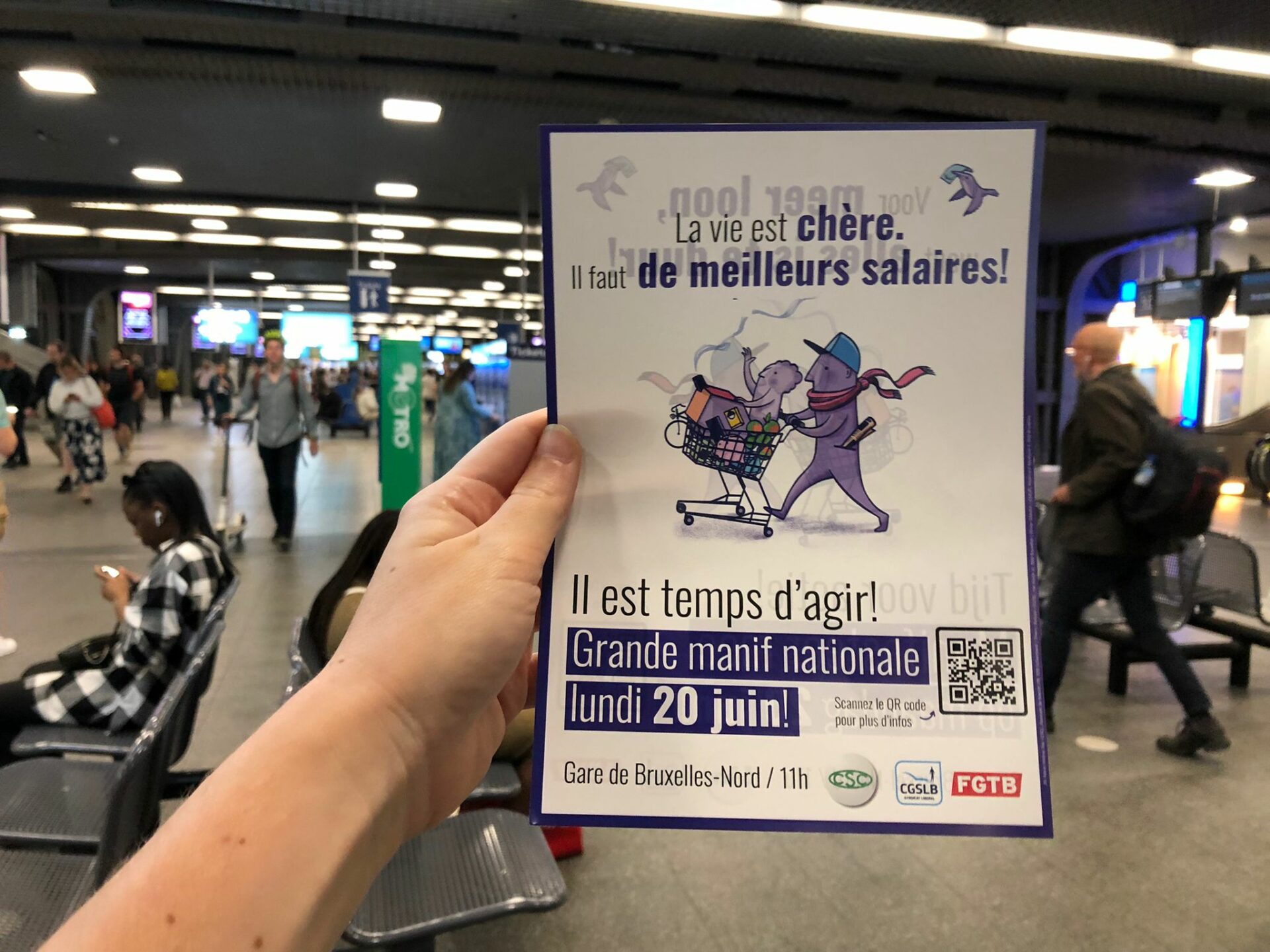 The previous strike action, which affected much of Belgium's transport and some schools, was received with criticism by the Government, which has yet to show signs of bowing to union demands. Prime Minister Alexander De Croo argued that Belgium already does more than most to protect workers.
Bauwens stressed that the wage indexation in Belgium is at the root of this, which is "why it should not be up for discussion." Between 50,000 and 100,000 people are expected to attend the strike. "This is quite a large margin, but so far, the mobilisation is going well."
Brussels public transport operator STIB already said the strike would affect its services, while Flemish public transport operator De Lijn confirmed on Wednesday that it will cause disruption to bus and tram services throughout Flanders, but that it cannot yet determine the exact impact.