The Belgian House of Representatives recently approved the draft law on the reformed copyright law. With this, Belgium, more than a year too late, brings a European directive into Belgian law.
The objective of the new law is to introduce fairer remuneration for the work of artists and journalists used on internet platforms. While this is a worthy target, there has been some criticism from the Belgian music sector.
The Copyright Reform in Europe was pretty big news in 2019. The European Parliament wanted to make changes to bring the law into the 21st century, by ensuring that artists and journalists actually receive money for their work if it is distributed on major internet platforms such as YouTube or Facebook.
The directive had to be absorbed into Belgian law two years after the vote, but the Belgians took an extra year. The Plenary Chamber only very recently approved the reformed law.
A step further
What is striking is that Belgium's reform goes even further than the European directive.
For example, it is also included that studio musicians are entitled to an extra fee if their work can be heard on, for example, YouTube, TikTok and even Spotify. From now on, these companies will have to negotiate with organisations like Sabam, the Belgian association of authors, composers and publishers, about the permission for the use of works and the remuneration for this.
The law also combats large-scale online infringements of copyright and so-called neighbouring rights, by introducing specific legal proceedings.
Related News
The directive and the Belgian draft law are therefore intended to benefit artists, but there is great concern in the music sector, among others.
In particular, the extension of Belgian law to music services such as Spotify, Deezer or Apple Music makes them fear that they will pay them even less if management companies (such as Sabam) also squeeze into deals. Many music producers have so far had music streaming services agreements of their own.
"Belgian labels will have to look for opportunities beyond our borders and music services such as Spotify, Deezer and Apple Music will rethink their priorities in Belgium," Michel Lambot and Kenny Gates, the founders of PIAS, the largest Belgian player in the music sector, wrote in an opinion piece in De Tijd. "Belgium will become much less attractive, investments will dry up, just like the Belgian music ecosystem."
Other concerns
Advocates of a free internet fear a similar phenomenon, that from now on only a few large copyright owners will negotiate with the few major platforms and that the rest will fall by the wayside.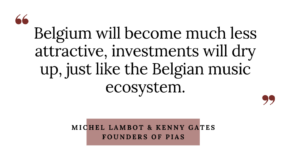 The critics also see the risk that those big internet platforms will set up filters to make it harder to share creative content. That would then affect content that has nothing to do with those copyrights or that makes use of exceptions, such as a parody or right to quote.
It has to be said that in countries such as the Netherlands and France, where the directive has been in place for some time, no alarming situations have emerged so far.
In France, however, the large media groups have had to negotiate for a long time with Google about a fee for the fragments of news items that appear in the search results of the search engine. In the Netherlands, these talks have also recently begun.