Far from home, AC/She-C is now tearing up stages in Belgium and Europe. Despite settling into their new hometown of Ghent, the all-girl AC/DC cover band hasn't forgotten where they come from, or the importance of their mission in Europe- to spread the word about Russia's invasion of Ukraine and promote their country abroad.
Playing in Brussels for the first time on 25 June, the girl group helped raise money for local Ukrainian NGO Promote Ukraine, rocking-out in front of crowds in the capital's Villa Montald in Woulwe-Saint-Lambert.
Combining a distinctly hard-rock sound with words of encouragement in their native Ukrainian language, the group helped raise money for medical aid and animal welfare programmes in their native homeland.
'Let There Be Rock'
Ekaterina Derevyanko, the group's manager and bass-player, told the Brussels Times that their all-girl rock group was first established in Kyiv, Ukraine's capital, around two years ago.
"We realised that our mission is to go talk about Ukraine and be the voice of the country," Derevyanko said. From humble beginnings, their group quickly rose to prominence outside the country, with the group soon playing concerts across Ukraine, as well as Norway, the Netherlands, and Belgium.
https://www.youtube.com/watch?v=wb0Jhl_zpbw
The group chose to play songs by AC/DC to communicate with audiences both at home and abroad and share their passion for music which brings ordinary people together. "AC/DC- it's about emotions, it's about drive, it's about music. It's about a great vibe on the stage for the audience. People really like AC/DC," explained Derevyanko.
Lead vocalist for the group, Anna Shevchenko, states that the Australian rock-group's music was "legendary", adding that the group wanted to add a new female perspective to the popular music.
'Hells Bells'
With Russia's invasion of Ukraine on 24 February, the lives and mission of AC/She-C's members changed drastically.
"It affected us a lot. We were really stressed. It was really hard to make a decision about what to do, whether to stay and wait or to leave your home," the group's manager explained. In fleeing the war, the band left behind much of the equipment, such as expensive bass guitars and drum sets.
AC/She-C's vocalist, Shevchenko, stated that the group was forced to make the decision to prioritise the livelihood of their families. "It was not an easy solution for us, it's really hard for us to leave our families."
Most of the group's members fled from Kyiv, but Derevyanko spent a total of 11 days under the occupation of Russian troops within the Kyiv region, stating that it was "a miracle" that she was still alive. The members of the group then decided to leave Ukraine in order to make a bigger cultural impact outside of Ukraine.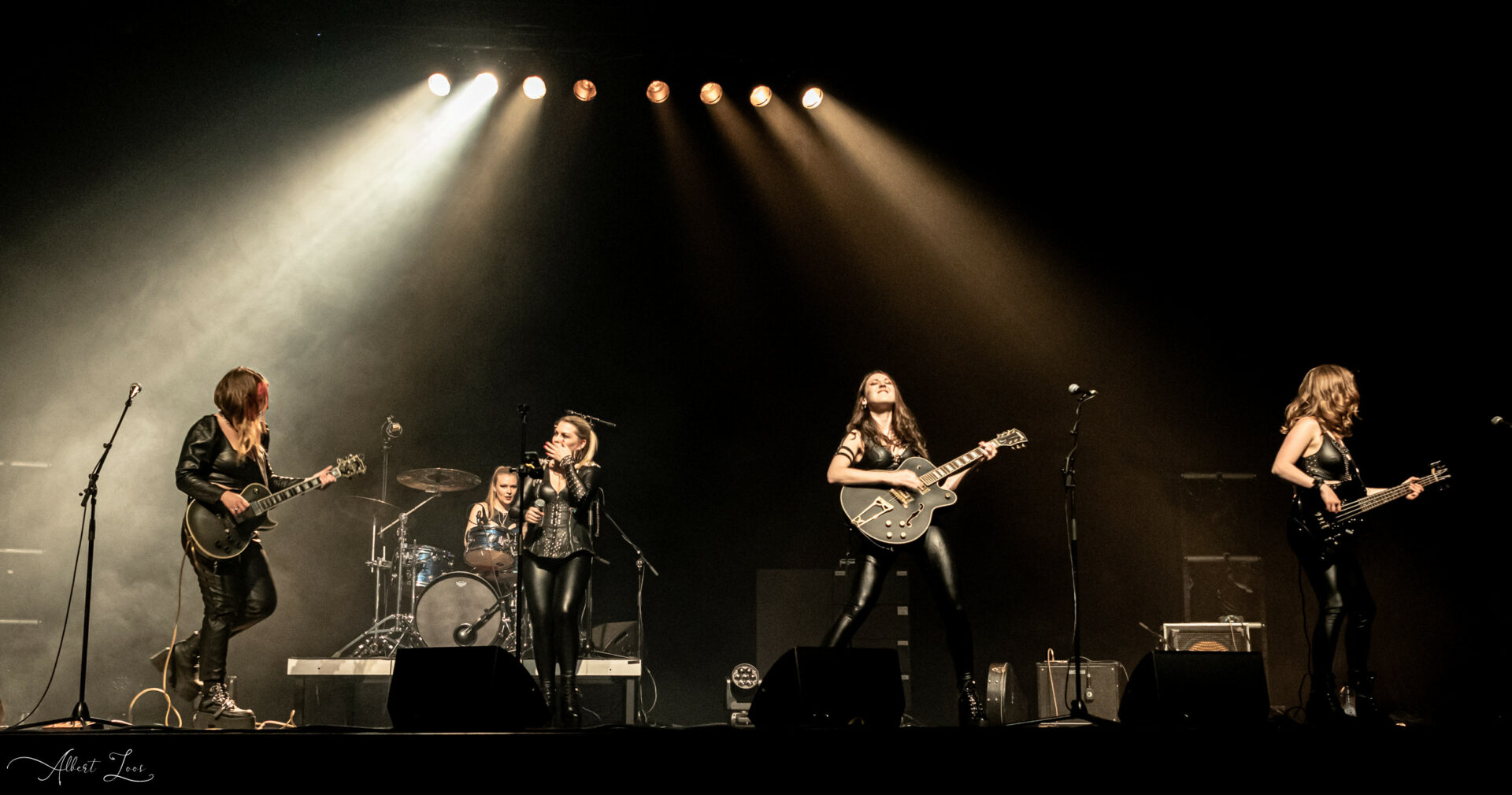 "When the war started, we understood that, OK, we have to do something. We have to tell people, we have to do our cultural mission," Derevyanko explained. "We had a call with the girls from the band and we thought, we have to do something, we have to help and support."
Related News
After spending time volunteering within the country, the girls left for Belgium to spread the Ukrainian message abroad. They chose the country because of the warm reception they had previously experienced when touring the country, later being offered shelter by friends of the band.
"We knew Belgium. We had a few concerts here last year. We like it very much… We had a place to stay, opportunities to play. So it was an obvious choice," Derevyanko said.
'It's a Long Way to the Top'
The group has certainly been busy. Since the start of the war, the group has played gigs and festivals in Gent and Limburg, Flanders.
AC/She-C recently appeared on a regional hard-rock radio show, as well as national Belgian TV and radio broadcasts. Members of the band are also busily studying the Dutch language, aiming to better integrate into Belgium's Flanders region. Looking to the future, the group has no plans to slow down, planning a line of new appearances and projects.
"We're trying to find new shows, venues, and new ideas…It's not the easiest to start from scratch because we are a new band here, but we do our best and we have a lot of ideas, and there are lots of nice people," the two band members said.
The group hopes to continue to use AC/DC music to reach Western audiences and share their flair of rocking Kyiv music culture around the world. Ukrainian artists, the group laments, are less visible than their European counterparts. But AC/She-C is keen to change this.
"Our mission is to speak with people in a language that they understand. It can be English and we play music and people know this music, so it's easier for them to be open to Ukraine. We also want to bring attention to Ukrainian talented artists," Derevyanko said.