Budget airline Ryanair is legally required to compensate travellers whose flights have been cancelled due to staff strikes. However, the claims process has been disrupted on the website, which could see many people giving up on trying to get the money they are owed.
Travellers across Europe, including in Belgium last weekend, have seen their Ryanair flights cancelled due to strikes by staff members.
The EU 261 regulation stipulates that – unless there is a case of "force majeure" or "exceptional circumstances" (such as bad weather or an air traffic control strike) – travellers have a right to an alternative flight or a refund as well as compensation if the departure time of the flight is delayed for at least five hours, or the flight is cancelled.
Depending on the distance of the flight, passengers will be given €250, €400 or €600 in compensation, which must cover other costs incurred by the traveller, such as overnight stay booked separately from the flight ticket and any cancellation costs. However, following the most recent and previous strikes, a glitch in the online system to apply for compensation has been discovered.
"This is the classic problem with Ryanair when applying for compensation following strikes: at the third step in the process, there is no possibility to select a flight, only the passenger name," Laura Clays, spokesperson for consumer rights organisation Test Aankoop, told The Brussels Times.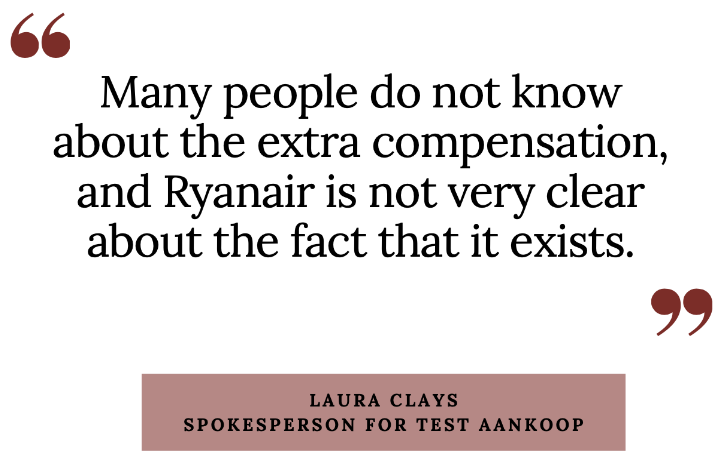 "We already reported this to Ryanair during a previous wave of strikes and they informed us that this occurs when you apply for compensation AFTER having chosen a refund or alternative flight."
How to get your compensation
Clays explained that Ryanair informed Test Aankoop that customers who are unable to apply for compensation online should go to the Ryanair Customer Service web page and click on "Submit a claim" at the top of the page. When filling out the form, the boxes "After you fly" — "Complaints" and "Question about payment" should be ticked.
In the description, put 'BE Strike' as the first line. "You can also send an e-mail to their general e-mail address, with 'EU261 Request' in the subject line," Clays said.
She added that Test Aankoop is aware of the fact that this is a "very cumbersome" process, and it is in talks with Ryanair to "make this all happen more smoothly. Also, after submitting this form, it can still take some time before everything is finalised."
Related News
According to Clays, the email sent to passengers announcing the flight cancellation lacks clear communication regarding the extra compensation they are entitled to. "Many people do not know about the extra compensation, and Ryanair is not very clear about the fact that it exists."
The problems regarding clear communication are not new, Clays said. Since the strikes earlier this year, Test Aankoop has asked Ryanair to better enforce consumer rights and it has since added an attachment explaining people's rights if their flight is cancelled. But the direct link in the mail directing people to the application form as requested by Test Aankoop has not been added.
She added that this problem occurs with all airline companies but that it often goes wrong with Ryanair in particular. "No airline is going to offer you that extra compensation on a plate. But more often than not, it is Ryanair's customers who fail to apply for compensation."