Four new prisons will open in Belgium by 2030, one in Antwerp and three in Wallonia. Four more existing prisons will see their capacity increased.
The new penitentiary infrastructure aims to solve overcrowding and provide more humane detention conditions, the director of Belgian prisons, Rudy Van De Voorde, explained.
New establishments will create 900 places to relieve the overburdened system; 444 of these will be in a high-security prison due to open in Antwerp in 2025. The other prisons will be in Vresse-sur-Semois, Bourg-Léopold (both to open in 2028) and Verviers (2030). A total of 476 spots will be added at other existing facilities.
Belgium's prisons are some of the most overcrowded in Europe and are increasingly seen as a "national catastrophe". In 2021, the country was surpassed only by Romania, Greece and Cyprus in terms of prison overpopulation and the problem has not subsided. As of February 2023, Belgium has 11,326 prisoners being held in a system with capacity for just 9,752 inmates.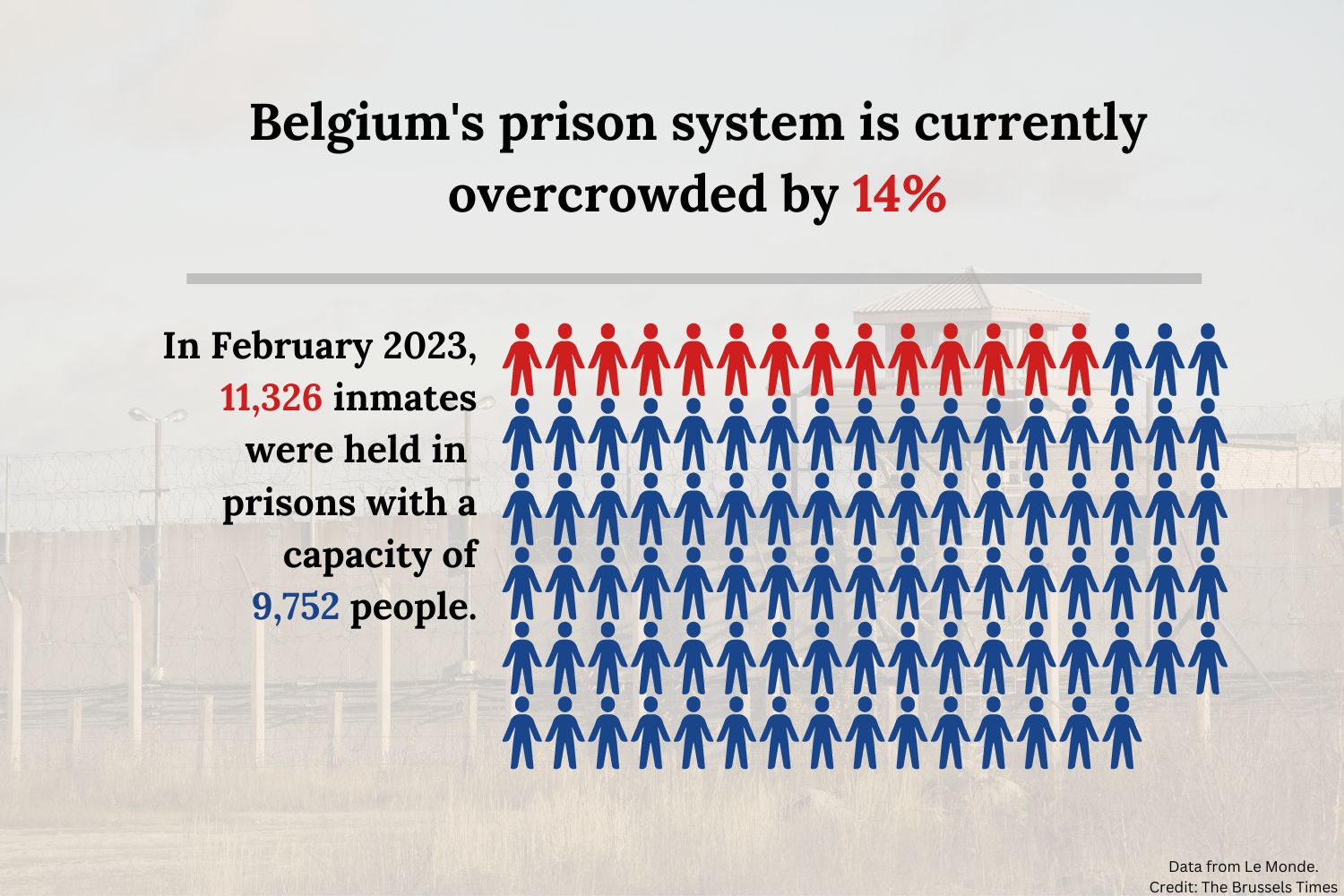 Prisons for the future
Van De Voorde explains that the new prisons will be more like "villages", based on the model of the recently opened Haren prison. This comprises living units of 10 to 30 inmates, rather than "black boxes" where people are cramped. He is hopeful that this will create better group dynamics.
Yet the Haren prison, located just outside Brussels, has been criticised as a "toxic mega-prison" by the Belgian Human Rights League, among others. Whilst authorities portrayed it as a "prison of the future", activists claim that inmates face worsening living conditions.
Van De Doorde conceded that the Haren prison was opened without testing it in "ideal conditions" and cited the high pressure to use the supplementary capacity.
Related News
The Belgian prison system has for years struggled with understaffing (often a trigger for strikes) and many sites fail to meet the most basic hygiene requirements. Overcrowding not only creates abysmal living conditions (such as inmates sleeping on the floor) but in some cases sees prisoners placed in solitary confinement for lack of space.
As a result, Belgium has one of the highest prison suicide rates in Europe: 15.4 suicides per 10,000 inmates whilst the European average is just 5.7.
"Sometimes we have to choose between running the showers or the heating, the kitchen has been inoperable for six months, the ceilings are collapsing, 60% of cells are infested with bedbugs, but overcrowding prevents sustainable sanitation," Vincent Spronck, the director of the Mons prison, told Le Monde in March 2023.
@RegieBatiments construit une nouvelle #prison à #Anvers pour 440 #détenus. Le bâtiment remplacera l'actuelle prison de la Begijnenstraat. Les travaux sont prévus de 2022 à 2025. 👉 Plus d'infos : https://t.co/iMu8FNdLFb pic.twitter.com/6ilEwQvqjN

— SPFJustice (@SPFJustice) August 20, 2021
The four new facilities will bring the total number of prisons in Belgium to 41. Human rights organisation Penal Reform International explains that building new prisons, especially "mega-prisons" with a high capacity, is a global trend which aims to tackle prison overcrowding.
The organisation warns, however, that this "solution" serves only to increase a nation's prison population. Instead, it argues that the solution to overcrowding lies in reforms to the entire criminal justice system, moving towards more constructive and non-custodial sentences and improving access to legal counselling.