In 2022, Belgian citizens were the sixth richest in the European Union with a purchasing power around 20% higher than the EU average, figures released on Thursday by the EU's statistics agency Eurostat show.
In the top spot were Luxembourgers – by far the richest with a purchasing power over twice the EU average: GDP per capita (adjusted for purchasing power) is 161% higher in the Grand Duchy.
Luxembourgers receive some of the highest salaries in Europe. The country is known for its wealth and is an established financial services hub with tax laws that appeal to businesses. Many of those who work in the country actually live in neighbouring countries, adding to Luxembourg's GDP without straining its public services.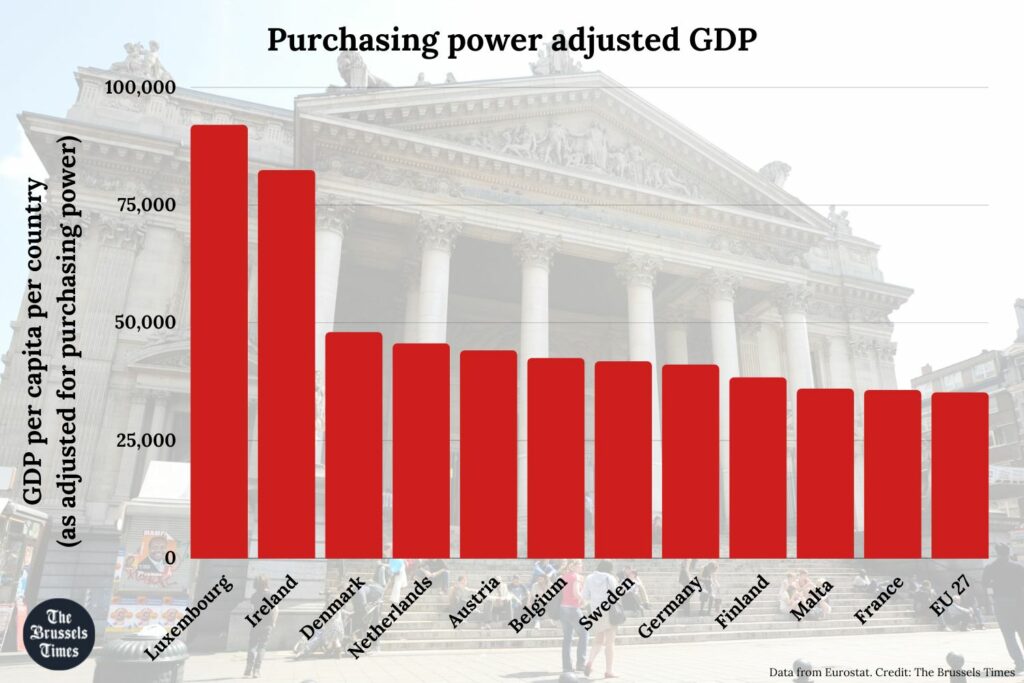 Ireland comes in second place, with a purchasing power 134% greater than the EU average. The country also offers an advantageous taxation rate for international corporations, leading to a surge in capital creation in recent years.
Unfortunately, this has seen the cost of living become difficult for the Irish middle and working -class to bear. In Dublin in particular, rent is beyond the means of many ordinary citizens.
In third place is Denmark, which has an adjusted GDP per capita 36% above the EU average. Belgian citizens are 21% richer than the European average. Belgium's economy is significantly boosted by its strategic lowlands location, international commerce, pharmaceutical and chemical industries, and its geopolitical significance. Despite this, Belgium's real adjusted GDP was held back by poor purchasing power last year.
Brussels booms
The Brussels-Capital Region is one of the wealthiest regions in the entire EU. The Belgian capital is 202% richer than the EU average, thanks to "a high inflow of commuting workers." The capital is home to multinationals such as General Electric, IBM, Toyota, Microsoft, Monsanto, Pfizer, and others, who prize Brussels' proximity to centres of governance.
As a share of GDP per person employed, two Belgian regions fell into the top five in 2019. In fourth place was Walloon Brabant, at €123,400 in GDP per employed person, closely followed by the Brussels-Capital Region, with €121,200.
Related News
Belgium is still comparably poorer than its neighbour to the north, the Netherlands, which ranked as the fourth richest country per capita.
In 2022, the Belgian economy grew 3.1% despite almost zero growth in the fourth quarter. Employment also increased by an average of 99,500 people (+2%) last year, similar to growth witnessed in previous years.