Delhaize's management has further tightened its response to trade union interventions, resulting in six trade union members being arrested during a police intervention.
Trade unions' heavy criticism of the Belgian supermarket chain's approach to its protest actions is likely to be further fuelled following incidents that took place on Saturday. In Ghent, six trade union members were arrested at Delhaize's department store on the Watersportbaan.
Trade unions were blocking access to the supermarket with shopping trolleys in the early hours, whereupon a bailiff called in the police. An extensive police force arrived on the scene to clear access for the customers, during which several union members who refused to show their identity cards were detained. They were released a few hours later, upon which they rejoined the action.
Mounting social tensions
Since management announced it would franchise its 128 self-managed shops, social tensions with the trade unions have been mounting, with one union filing a criminal complaint and a large-scale demonstration, which will be followed by another on 22 May.
In recent weeks, the joint trade union front (BBTK, ACV Puls, CNE and ACLVB) has repeatedly criticised the reported sabotaging of ordinary Works Councils by management "treating the unions as terrorists and subjecting them to strict security procedures," and denounced the fact Delhaize sends bailiffs to striking shops.
Delhaize on Saturday, which promised to be a busy day in the supermarkets due to the extended weekend, again sent bailiffs to about a dozen branches that threatened to remain closed on Saturday.
"We deployed bailiffs on a large scale because a dozen shops threatened to keep their doors closed. In some places the local police were also deployed," the company's spokesperson Roel Dekelver said. By 10:00 on Saturday morning, he reported that seven of its 128 own shops were closed.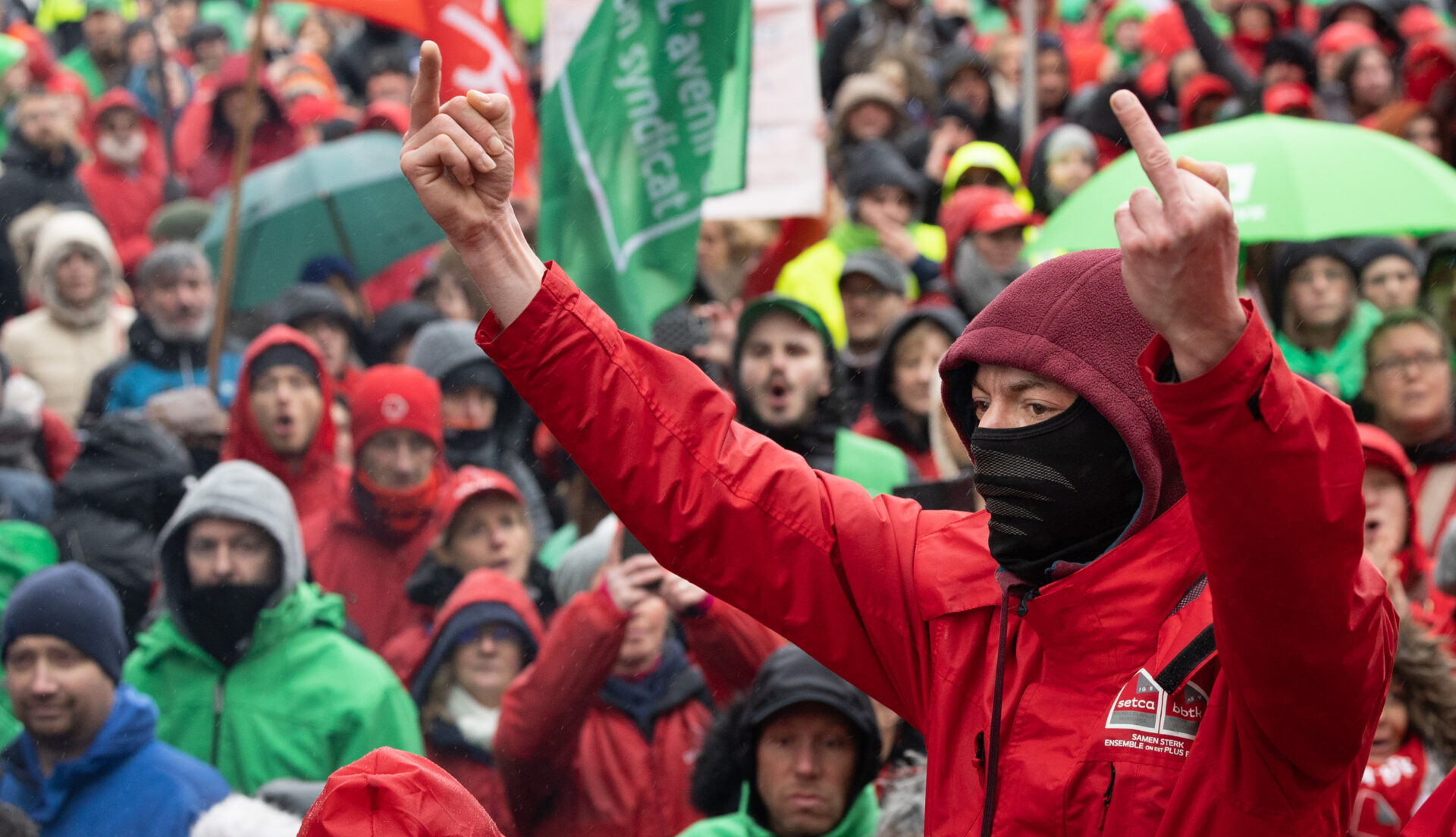 Four Delhaize branches (Hippodrome (Antwerp), Deurne, Marcinelle and Montigny) will keep their doors closed to customers as a result of strikes, while those in Ixelles (Flagey) and Mons, which Delhaize preventively closed until next Tuesday for security reasons. Prince de Liège in Molenbeek is closed as planned repair works are taking place.
Since the partial blockade at Delhaize's distribution centre in Zellik, which had a major impact on logistics, was lifted at around 09:00 on Thursday morning, no more problems have been reported here, however, some products may be out of stock in some shops due to this action.
Law needed to secure social dialogue
In light of the conflict between trade unions and management at Delhaize, the socialist trade union ABVV has called on the Renault law, which regulates the procedure after a collective dismissal and which it argues Delhaize has disrespected, should be adapted.
With Labour Day coming up, the socialist trade union is also launching the idea of introducing a 'Delhaize law' which would oblige companies that announce plans to franchise stores to hold social consultations, De Morgen reported on Saturday.
Related News
If a large company decides to corporatise, it would thereby also have to respect the rules around collective dismissals, as laid down in the Renault law.
On Tuesday 2 May, management and unions will meet again to discuss the next steps, without a social mediator this time.