Property prices in Belgium continued to soar since last year and by region, Brussels comes out on top whilst Wallonia is overall the cheapest for all property types.
The median price for a terraced or semi-detached house in Belgium was €255,000 in 2022 – up from €235,000 in 2021. For a detached house, people paid a median price of €360,000 – up from €337,000 the year previous. The figures for 2022 were published on Friday by Belgium's statistical office Statbel.
The Brussels-Capital Region was once again the most expensive region in the country, as terraced or semi-detached houses here fetched €491,750, almost 10% more expensive in just 12 months. Detached houses sold for a median price of €1,150,000, which was the same as last year when it first surpassed €1 million.
But within Belgium's regions, there are also major differences between municipalities. Statbel's data highlights the most coveted towns and cities (as well as the least) when buying properties last year.
From Ixelles to Hastière
When it comes to buying a house in the Brussels-Capital Region, the municipality of Ixelles remains the most expensive. Last year, 110 purchases were made here for a median price of €790,000. The least expensive municipality in Brussels to buy a house is Anderlecht, where across 191 purchases, the median price was €338,500.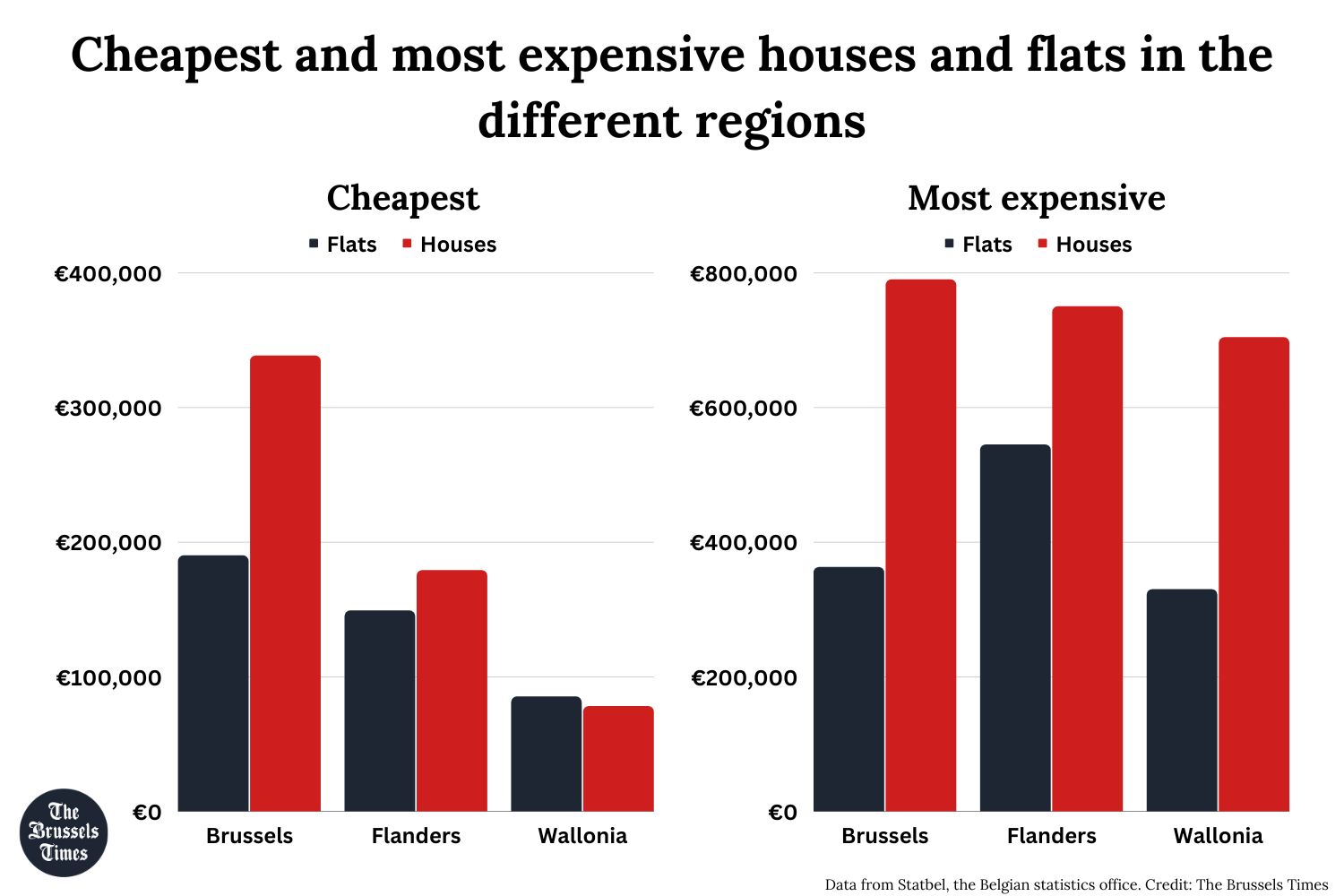 Anderlecht is also the cheapest municipality when it comes to buying flats. Across 738 sales, the median price was €190,000. Meanwhile, the most expensive flats in Brussels can be found in Woluwé-Saint-Pierre, where the median price for such a property was €363,000 last year.
In Flanders, the second most expensive region, the most costly municipality for buying flats was once again Knokke-Heist, in the province of West Flanders, where the median price totalled €545,000. In that same province, the cheapest flats can be found in Menen (€149,000).
Finally, the most expensive houses in Wallonia were sold in Lasne, at a median price of €704,125; in Hastière, the median price was €78,000.
When it comes to apartments in Wallonia, the most expensive (median price of €330,000) were located in Waterloo, a town situated near the southern border with Brussels. The cheapest flats could be bought in Vielsalm in Luxembourg, where properties were purchased for a median price of just €85,000.
Related News
The highest number of houses and flats sold was in Flanders last year: more than 68,000 and almost 30,000, respectively. Meanwhile the fewest number of houses were bought in Brussels (around 2,350), but the number of detached homes bought here increased by 15%.
The full list of the cheapest and most expensive places to buy flats and houses can be found here.