The risk of poverty in Belgium will decrease until 2030, but is set to rise once again in the following decade, new projections by the Federal Planning Bureau have revealed. However, not all age groups will be affected in the same way.
Poverty risk is when a household's income is less than 60% of the median income. According to the latest projections, the proportion of the Belgian population that could be considered at risk is expected to fall until the end of this decade.
Looking at the entire population, the poverty risk of 18- to 54-year-olds is expected to decrease until the early 2030s. The decline in poverty risk is strongest in 55- to 66-year-olds due to the increase in employment within this age group.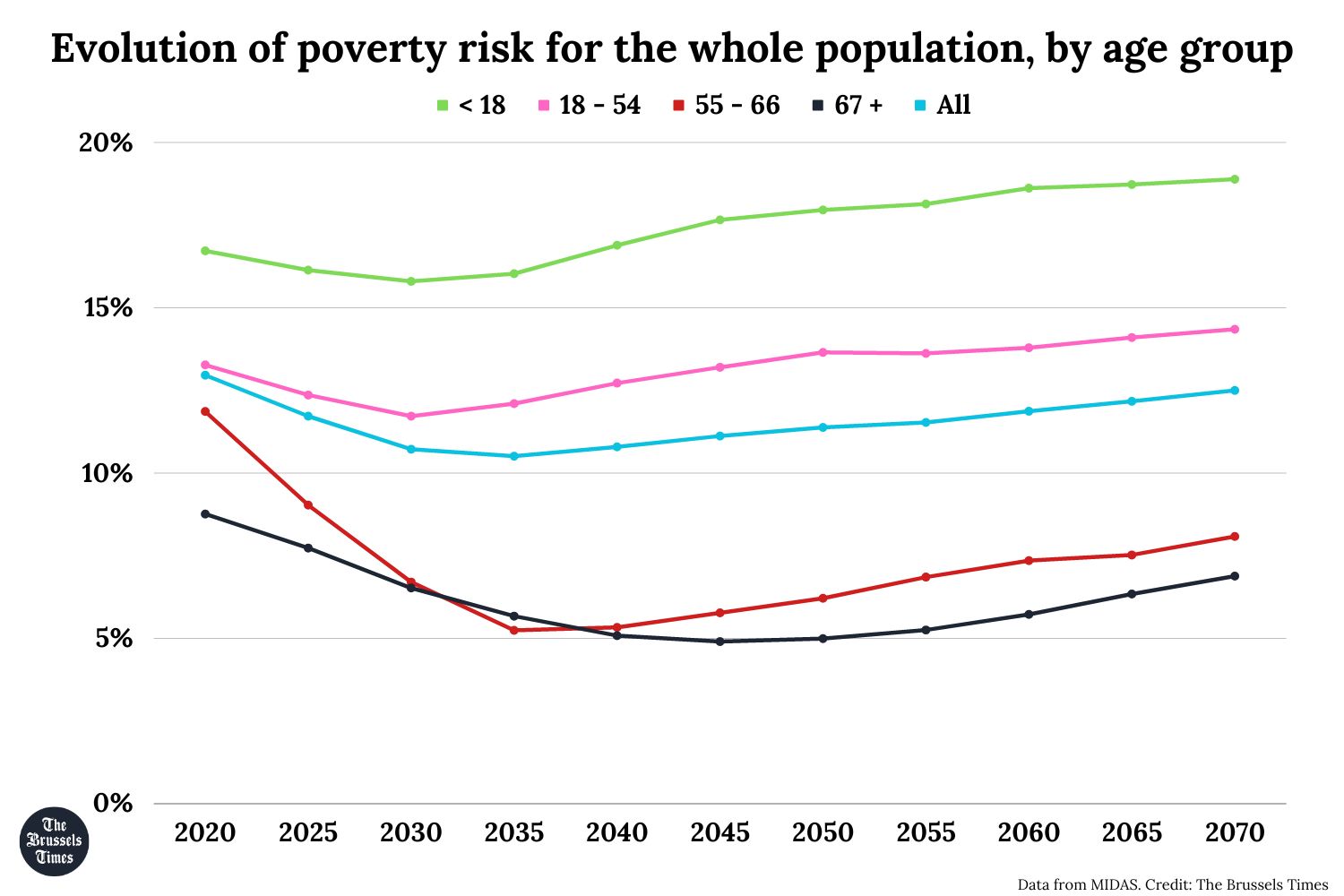 "Paid work is an indirect but determining factor behind the evolution in the working-age population: employment rates are expected to rise in the coming years, especially among 55- to 66-year-olds, which will reduce the number of 'jobless' households, and thus poverty risk," the bureau explained on Thursday.
The poverty risk is therefore significantly higher in 'jobless' households, where no person of working age is in paid employment, meaning they depend on benefits for their livelihood.
Risk for older, single women
From the early 2030s onwards, the poverty risk is expected to increase again if the long-term expected wage growth rises by 1.5% per year as expected. This will increase household incomes, and thus the poverty threshold, faster than the living wage and the welfare adjustments, which are increased according to the Generation Pact.
This pact also foresees that minimum pensions and the Income Guarantee for the Elderly (IGO) will increase by 1% per year in the coming decades, an increase that currently exceeds the poverty threshold. This reduces the poverty risk among the elderly, for whom the increase is delayed until 2045 – when expected wage growth will raise the poverty threshold faster than minimum pensions and IGO.
Related News
However, within this age group the evolution of the poverty risk differs greatly per household.
For example, for couples, the poverty risk is predicted to fall sharply until 2050, as more retired women will build up their own retirement pensions. For single women, it would rise sharply again from the mid-40s due to the shift from being widows, with a limited poverty risk, to never-married or divorced women for whom the poverty risk is higher.