Their ease of use and low fares have made shared scooters, bikes and motorcycles a hit with users but these convenient alternatives to public transport or cars have been causing headaches in Brussels with constant issues related to speeding and unregulated parking.
Now Brussels Government is planning to crack down on misuse in hopes of boosting micromobility in the region. Some municipalities, including Uccle and Berchem-Sainte-Agathe, have considered limiting or banning them but the Brussels Government as a whole wants to keep the mobility solution on the table.
"We still look at micromobility as a positive thing and believe it can help more people step away from relying on cars. What we plan to do is keep the positives and get rid of the negatives," Arnaud Verstraete, the leader of the Green Party in the Brussels Parliament, told The Brussels Times.
Verstraete highlighted the issues of disorganised parking and the fact that users often break the speed limit in pedestrian zones, both of which can lead to dangerous situations.
Haphazard parking
The parking of shared bikes, scooters and motorcycles is currently regulated by the Highway Code, which stipulates that users must leave a space of two metres around the vehicle to allow people to pass. However, this rule is difficult to implement and the vehicles are often spotted scattered about parks and sidewalks.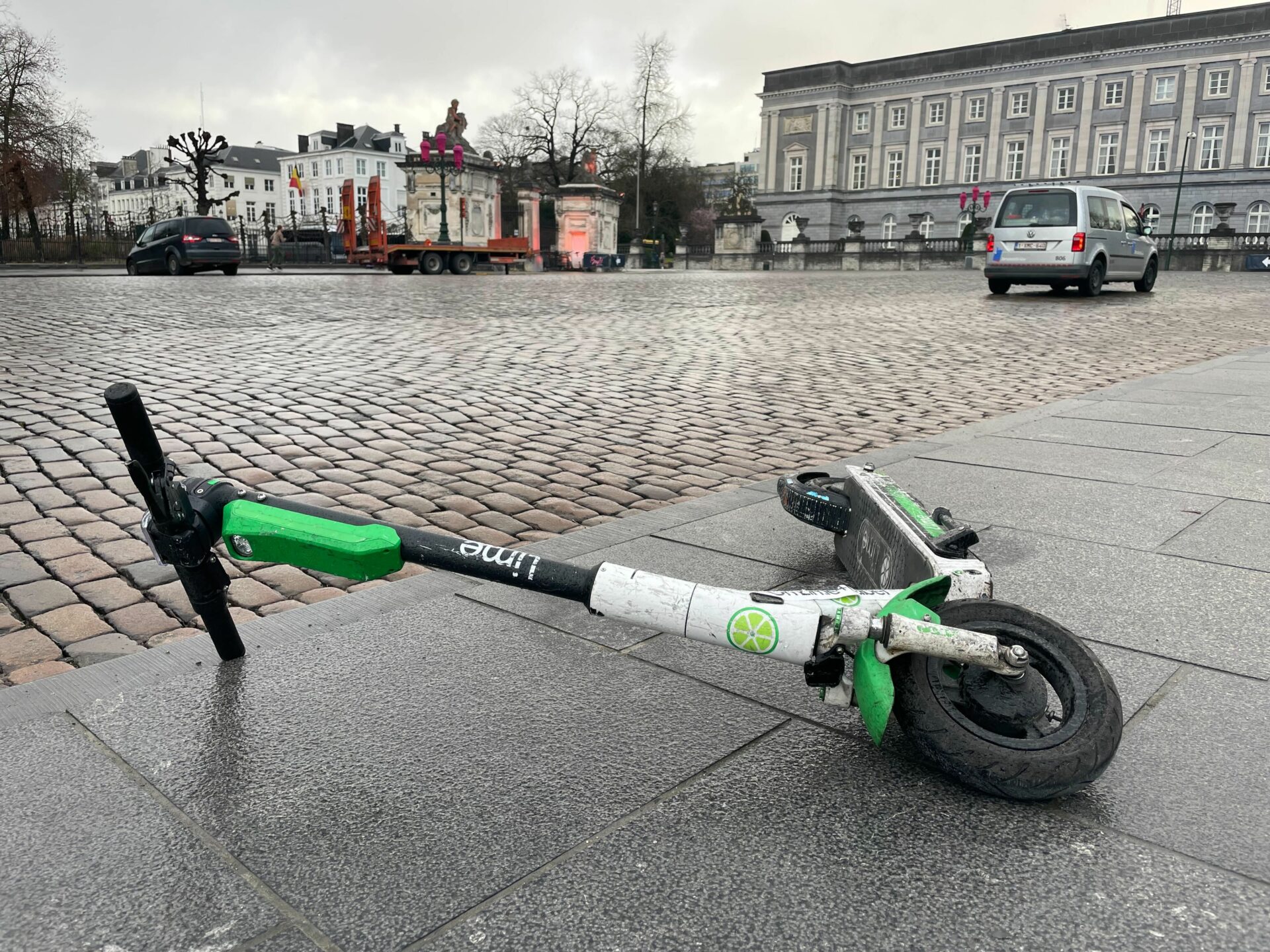 "People either trip over them, or have to redirect their route onto the streets. Sometimes they are left on bicycle paths or zebra crossings, which is really not okay." For people with mobility issues, this can severely disrupt their ability to get about the region.
This issue will be addressed in the ordinance that has been tabled in the Brussels Parliament, mainly through compulsory drop zones, which the 20 road managers in the region (the 19 municipalities and the region itself) can decide to set up.
"These are designated zones in converted parking spaces where scooters must be parked. It will then be arranged with the operators so that the rental period cannot be ended unless you are in such a zone," Verstraete explained.
Such drop zones already exist in certain areas but will become more widespread under the ordinance. Companies can also be sanctioned if their scooters violate regulations.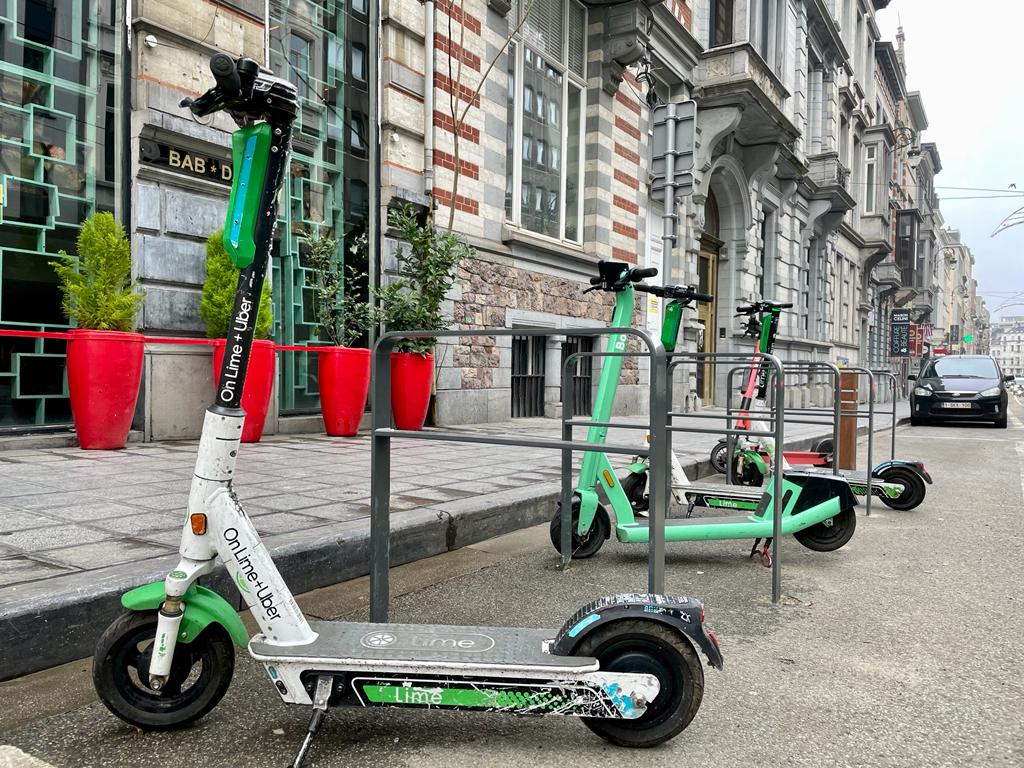 A drop zone in Brussels. Credit: Helen Lyons/ The Brussels Times
Under the current system, operators are given 24 hours to move a vehicle that has been parked incorrectly but this is difficult to enforce. The ordinance will mean that "from the moment a device is parked incorrectly, it will be removed and the company can be fined between €25 and €400," Verstraete said. The company can then decide whether or not to pass those costs onto the user.
Breaking speed limit
In Brussels – particularly the pedestrian zones – speeding infractions are frequent. The Highway Code stipulates that scooters must be driven at walking pace "but those devices can drive up to 25 km/h and we see that too many users do that in this zone," Verstraete said.
The new ordinance will include an obligation for operators to ensure that once a user enters the pedestrian zone, the speed limit of their device is capped at a walking pace. "This makes it much more efficient because it means police officers won't have to check at what speed they are travelling."
Budget
The issues from these shared forms of mobility are particularly acute in the city centre and this is where many provisions will be focussed – including new drop zones.
The ordinance will also oblige operators to pay an annual contribution per vehicle, currently capped at €25, to help pay for the measures to regulate them.
"We are working on a model where more [money] can be requested, for example, €50 per year for a scooter and up to €100 for motorcycles," Verstraete explained.
Consulting with operators
Changes will be made in consultation with operators. Bolt (one of several micro-mobility companies operating in Brussels) welcomed the decisions laid out in the ordinance, even if they come at a higher cost for the company.
Similarly, Oualid Benhammadi – Bolt's manager for micro-mobility in Belgium – told The Brussels Times: "We are keen to limit the frustrations from the municipality and users."
He explained that it would help alleviate complications for users who are travelling between communes if the same regulation is in place everywhere.
Related News
Operationally, it is also more practical for operators when it comes to collecting the scooters, as they are already gathered in one place. A Bolt study found that most users are happy to walk further to properly park the vehicles.
The ordinance is expected to be passed in parliament in March, and will then come into effect. "I expect the first drop zones to be designated by the second half of 2022," Verstraete said.