In 2007, Joël Ogunade was roller-skating with friends, messing around with a football. They wondered if they had found something new.
"In Belgium, the sport has existed since we created our club," explained Ogunade. "It was in 2009 that we really created an official club. Before that, we didn't even know that (roller football) existed."
Searching online, Ogunade discovered that in fact such a sport did exist. Roller football, or roller soccer, was first invented for inline skates in 1995 by American Zack Phillips in California. In the early days, the hobby was called "kick n roll" and was played in the Golden Gate Park.
The sport was spread, in part, due to Phillips' international business trips with American conglomerate General Electrics in the 90s. By 1998, Phillips left his job to establish the sport full time.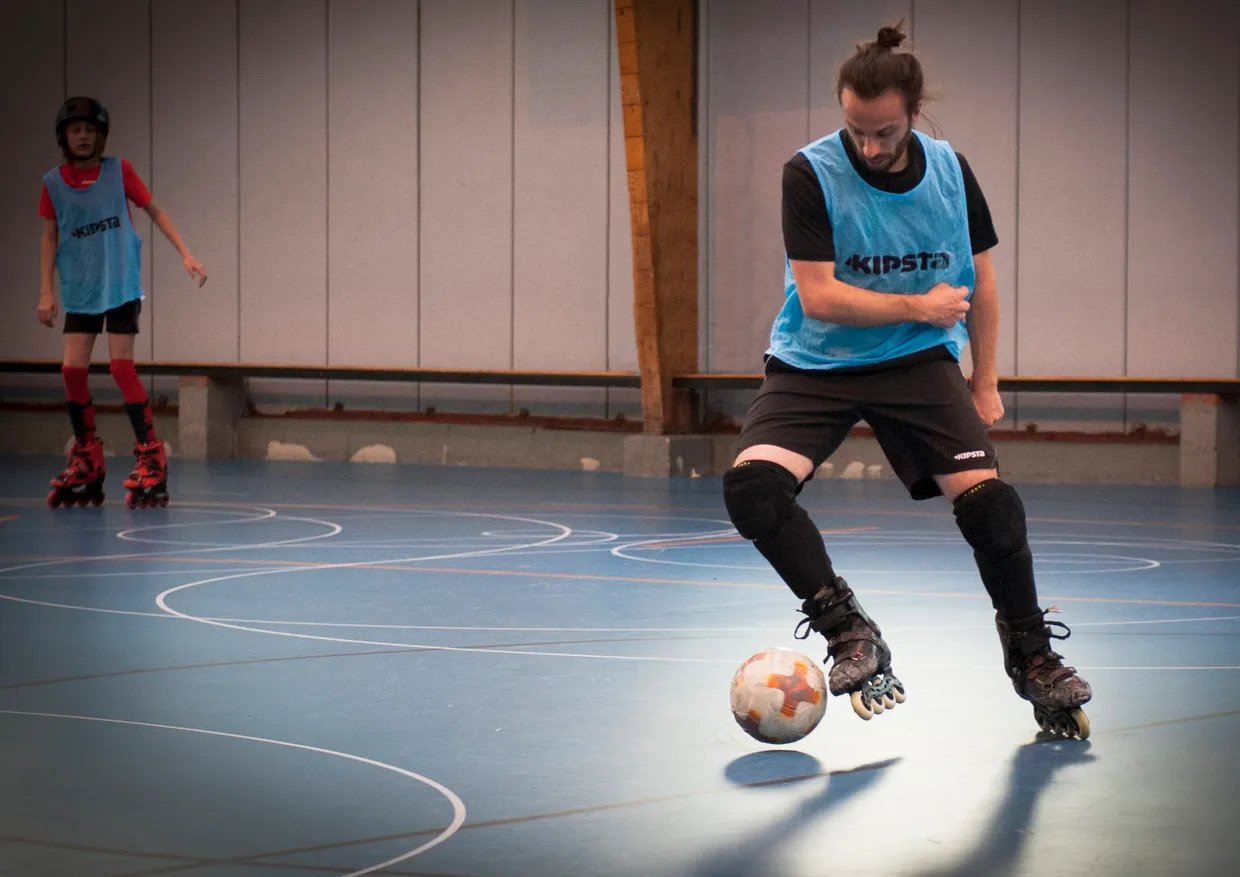 Ogunade created Belgium's first roller football club; in 2007 they finished fourth in the roller football world cup. In the early days, team members worked part-time jobs to fund their participation in competitions around the world.
"We had to save to buy our plane tickets. We worked, did student jobs. After the world cup in the US, we said that we needed to create a structure to promote the sport and to help finance our travel," the founder explained.
Belgium's first roller football team
Now, Ogunade runs Belgium's first and largest roller football club: the Shinobis Riders. The club draws inspiration from their two passions, both roller skating and Asian culture.
"When we created our club, everyone called us the Chinese because we were in love with everything to do with Asian culture, hence the name of the club," Ogunade explained.
Last weekend's Made in Asia event, a Anime and pop-culture convention held at the Brussels Expo Centre, was the obvious location to promote the sport, playing in front of thousands of onlookers in an inflatable football arena.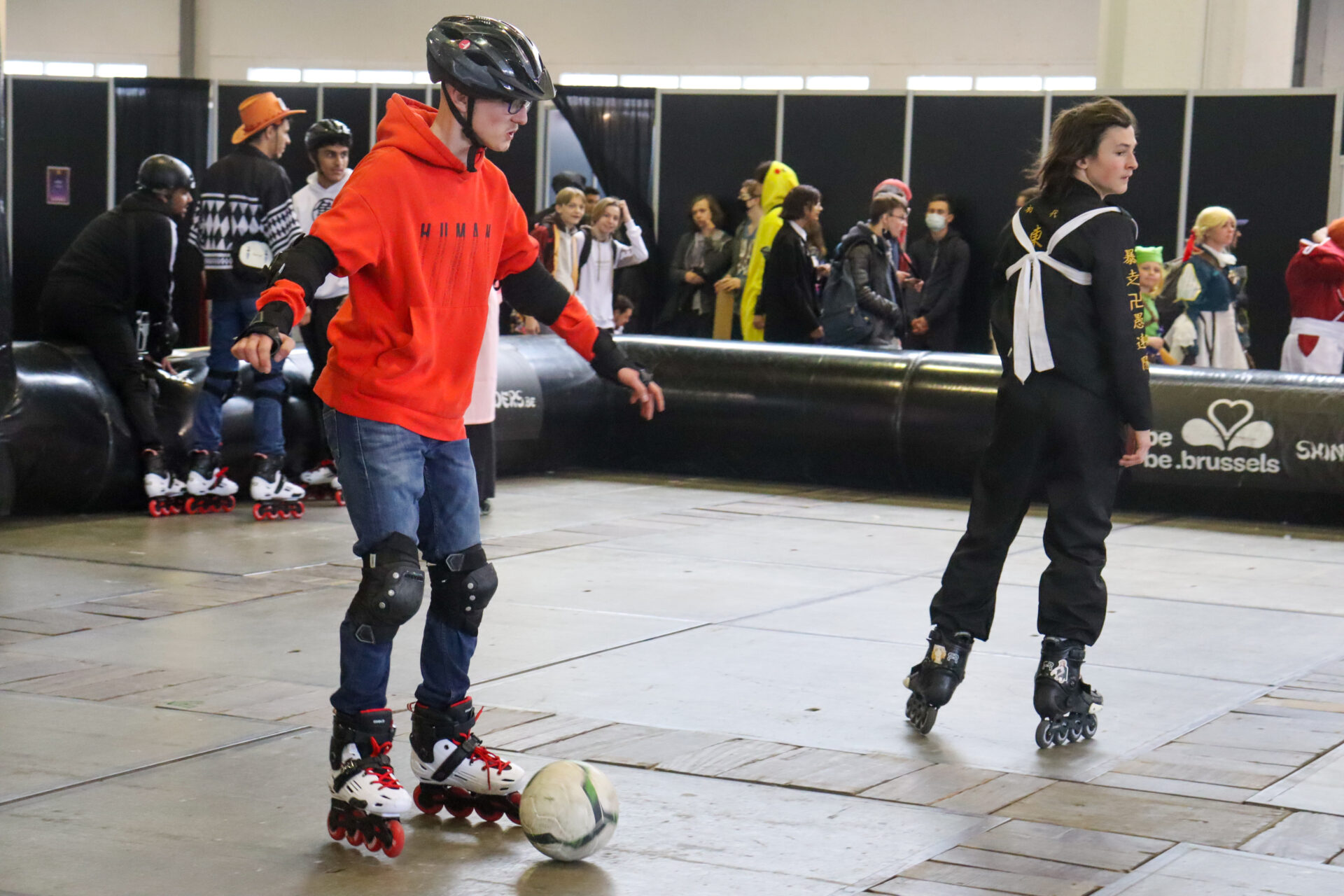 Roller football follows the same rules as football, but discourages any physical contact and, importantly, is completely inclusive. There are no male and female leagues for the sport, with both sexes competing together. Matches are usually played on a small pitch with 5 players on each team. The Shinobis Riders point out that it is good exercise and helps newcomers develop their skating skills.
In total, there are now around 20 teams worldwide who compete regularly in the world cup. There are more in Africa and Asia, but Ogunade said they often have problems getting visas to come to competitions in Europe.
"The sport attracts a completely varied audience," Ogunade said, "we have football fans who come to us, who aren't so strong at skating, but who make good passes. And on the other hand, we have others who skate, but don't manage passes so well at all."
A good roller football player, the chairman said, needs both speed and the ability to make good passes. The sport is high paced and favours those with a good sense of balance and agility.
Sport in 'full expansion'
At the club's promotional stand in Made in Asia, the club was taken aback by the amount of public interest. "People are interested in this sport, we were even surprised by people who have never played but immediately had a very good level," the chairman said.
The sport is rapidly growing and looking for new members and fixtures to play. Ogunade says that his club is now in "full expansion" mode.
"There are young people who are really great, so we really hope that either they are interested in our club, or that they create their own club," Ogunade stated.
Local authorities have also started taking note of the Shinobis Riders. Following appearances on TV show Belgium's Got Talent and the club's hosting of the 2019 world cup, the club has collaborated with the City of Brussels on numerous social projects and receives funding from Saint-Gilles local commune. The club is now conducting new activities, including introductions and activities in Brussels' parks and local squares.
Related News
Yet conditions in Belgium aren't ideal for roller football. The weather often obliges the club to practice and compete indoors. This is problematic given that most sports centres refuse to allow roller skates for fear of scuffing the floors.
"We're trying to talk with the communes and regions to make them understand that there is no more risk than for basketball," he explained. The head of Shinobis Rollers says that this has been a big impediment to the development of the sport in Belgium.
The Shinobis riders are actively welcoming newcomers to their events. Every Sunday, the club hosts a skating day at the "slide village" at Rue du Monténégro 144 in Brussels. On May 8 the club will also take part in the Standskirebels canal sports party. More information can be found on the club's Facebook page.