Brussels is currently undergoing an urban development revolution that aims to turn the city into a sustainable metropole that will prepare the city for future climate challenges. Yet whilst technological innovation could unlock even greater improvements, more funding is needed.
On Thursday, the City of Brussels hosted the EU Tech for Climate Conference, bringing together a range of stakeholders from the city, EU Member States, and national and international businesses. Participants discussed how best to harness the wealth of knowledge, technology and financial resources in order to stimulate greener, smarter and more resilient cities.
"I want to stress the importance of cities as a major force of innovation and creativity. Cities will always be the first to embrace change and try out new technologies," Ans Persoons, City of Brussels Councillor for Town Planning and Public Spaces said during the conference.
"We need these technologies so that cities can play a part in limiting rather than contributing to climate warming. This requires bold investments."
From concrete box to eco-haven
With numerous projects and policies, the City of Brussels hopes to fuel this transition. One of the more visible efforts to reduce the City's environmental impact is the move to a new administrative centre near Place de la Bourse and Place de Brouckère.
Persoons described the current outdated building on Place de Brouckère as a "power-hungry" concrete box. "We tried to renovate it but due to its condition this was impossible to do in a cost-effective way."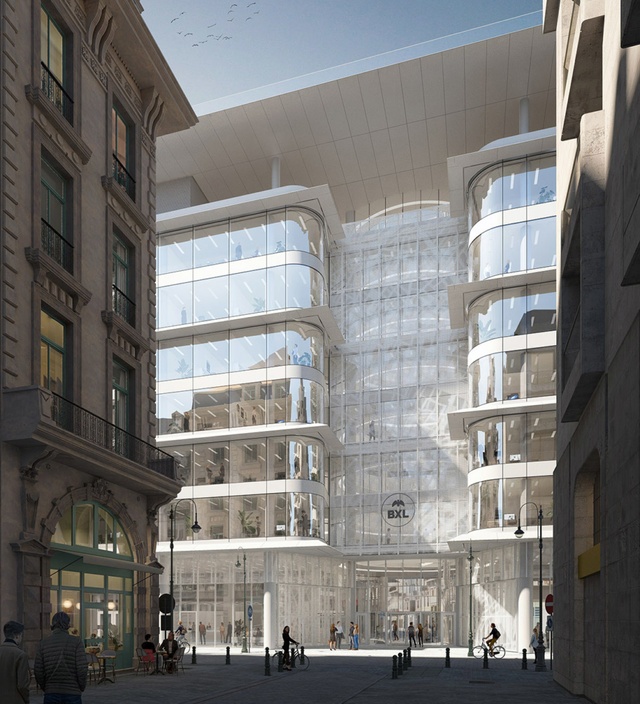 This autumn, the city will transplant its services to the site of the former Car Park 58, where a modern glass building, equipped with solar panels, LED lighting, rainwater collection and a roof-top vegetable garden will house around 1,700 City of Brussels employees.
Parking 58 will be replaced by an underground car park with 450 spaces and more than 250 bicycle parking spaces (for staff and the public) will be installed.
No time to waste
Though this makes one building in the city more sustainable, like many other European capitals Brussels is an old city with many buildings dating back to the 16th and 17th centuries. In many cases, these are protected heritage.
Persoons stressed that Brussels specifically needs affordable, technological solutions to improve the energy efficiency of these buildings without damaging them. These include tools such as small, photovoltaic roof tiles that don't clash with 16th-century buildings and their design.
While the European Commission already investing a lot of money in the development of new technologies through Horizon Europe and other programmes, she argued that as a city, Brussels would be "really grateful to profit more from the outcomes of those investments.
She added that she wanted to encourage the Commission to find new ways to share knowledge and results of studies, or to organise financially interesting group purchases so that cities can "immediately profit from the results of those new technological developments."
"When it comes to climate action, there is no time to waste. We hope the Commission's support can lead to collaborations that can help in this shift," she stressed.
Philippe Tulkens, deputy manager for the EU Mission for Adaptation to Climate Change recognised the need to invest in these technologies to support the climate transition in cities. But he stressed the need to divide the funds effectively across all Member States.
Consulting citizens and businesses
Lucas Demuelenaere, Mobility, Clean Air and Climate Advisor, Government of the Brussels-Capital Region, argued that Brussels should not wait on decisions to be made and rules to be set on an EU level. For example, even when there are few cyclists in a particular area of the city, this should not prevent the authorities from creating cycling lanes.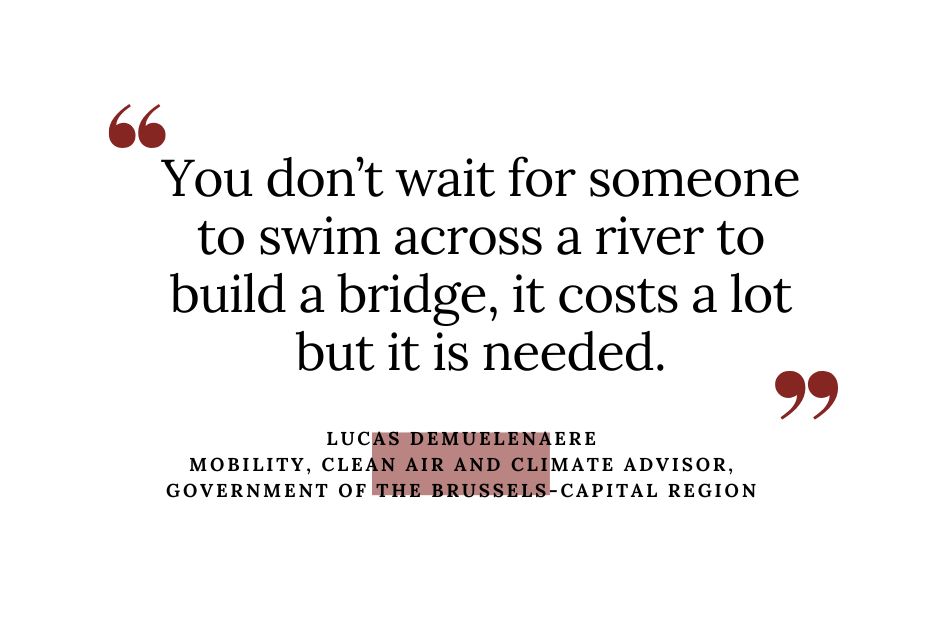 "You don't wait for someone to swim across a river to build a bridge. It costs a lot of money, but this investment is needed," he said. He set out the need for clear frameworks from authorities to realise and implement these changes: "If the goal and the impact is clear, this helps rally people."
He explained that the framework must be properly communicated to involve all actors, from households to businesses and cited the implementation of the Low Emission Zones (LEZ) as a positive example of this.
Related News
"Every time we set new milestones, we spoke to as many actors as possible to understand the feasibility, highlighting the importance of communicating with people on the ground who have to apply and follow these measures." He added that some actors are even asking authorities to move further and more quickly to implement new milestones, showing that the will to change is there and must be harnessed by the City.