In recent months, an increasing number of stories of female students in Belgium being harassed by professors and peers and universities being slow to respond is being shared. On Tuesday, some young women gathered at a Brussels university, calling on it to protect victims.
A group of some 70 students, including many young men, gathered at the Etterbeek campus of the Vrije Universiteit Brussel (VUB) following reports of the university's slow response to claims that a student had harassed several fellow students.
He has now been banned from campus — at first, he was allowed to return to sit exams, but this was later overturned — but many believe that, overall, the university has failed victims.
"Today we are gathering firstly to show that we are fed up with how the university is dealing with this issue, but also to show victims that we do take this matter seriously and that we care about them," Shelly Sterck, who announced she would be organising the protest days after the university announced the student had been banned, said when addressing the crowd.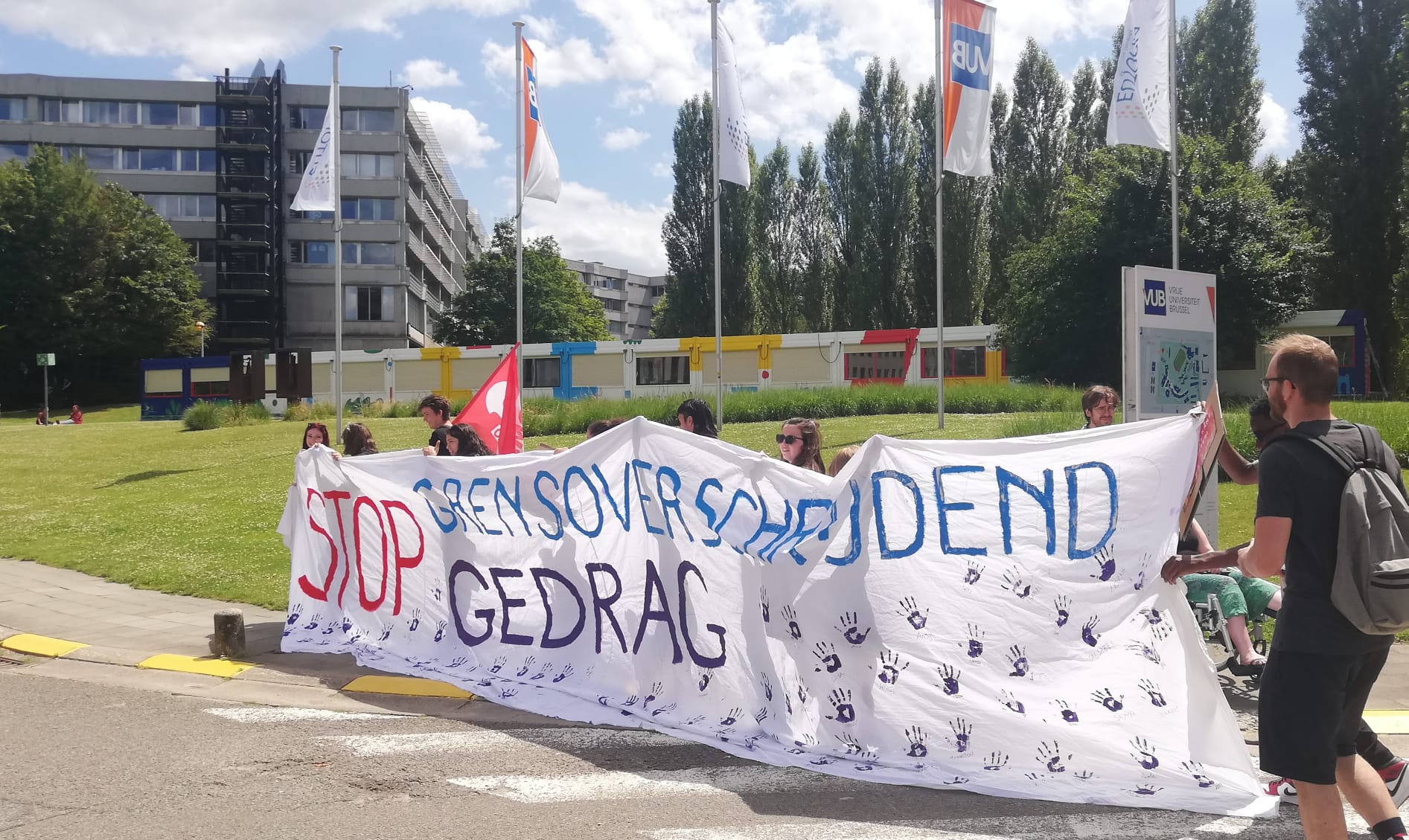 She recognised that the VUB said it would implement changes, such as a new approach to the guidance of victims, but said that "personally, it is not enough for me."
"I fear that this poor response will result in even fewer victims coming forward and reporting incidents to the university, because perpetrators received such lax sanctions," Sterck said, referring to the fact that the student in the most recent case was only banned for one year.
No faith in changes
Despite it being a warm sunny day and no dress code being assigned, many people attending the rally were dressed in black. "That makes sense, this is definitely a time of mourning," one participant said.
The group marched around the campus, largely in silence as some students were still studying on campus or sitting exams. Instead, many participants carried signs with messages including "I will not stay silent so you can stay comfortable," and "Silence is compliance."
When asked why this rally is so important, several students told The Brussels Times that this is not the first time the university failed to speak up for students.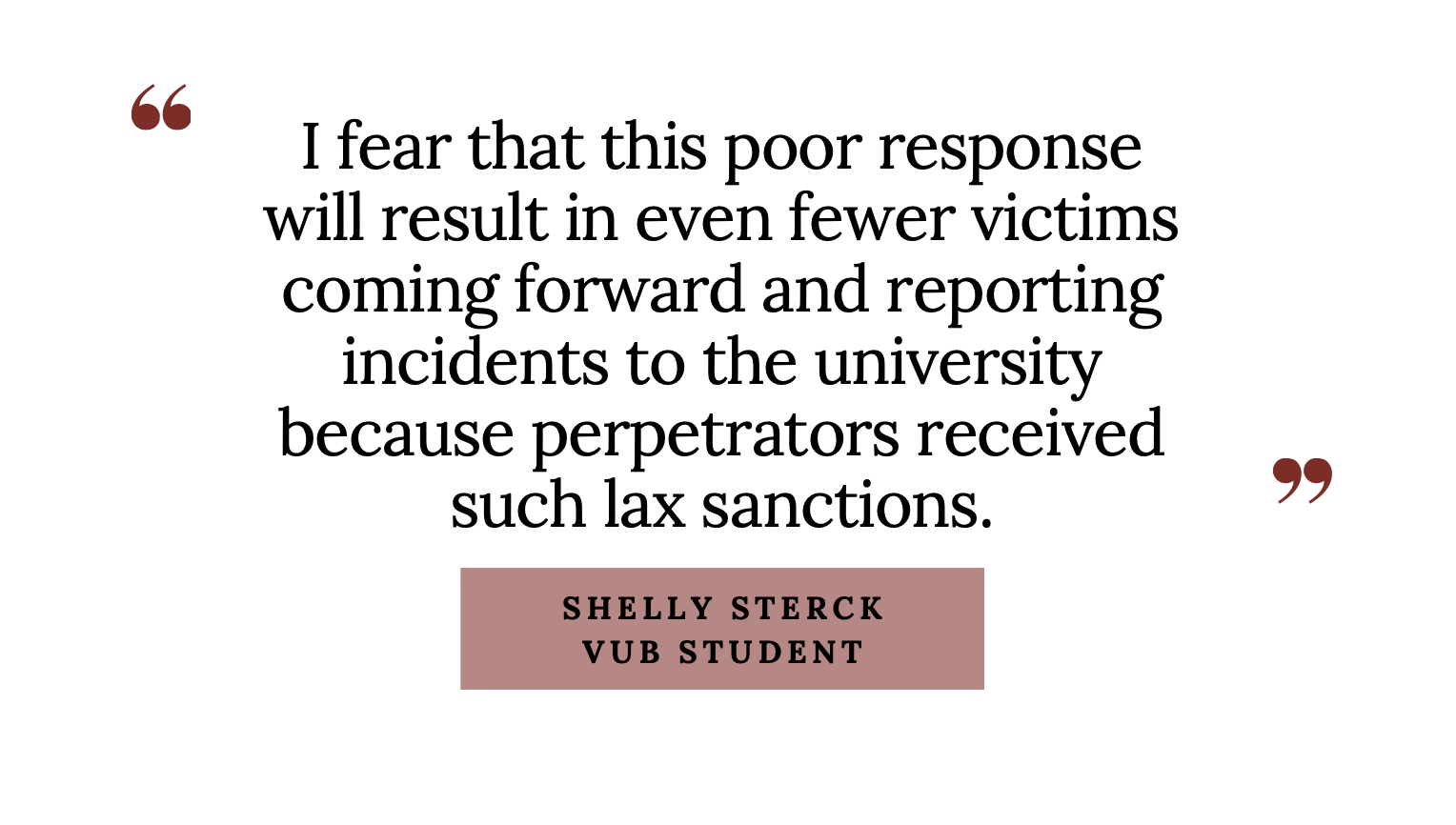 "Last time something like this happened, it took years for anything to change regarding the university's policy against sexual misconduct," one female student said.
Another student said that, because of the lack of response from the university, she not only felt unsafe and scared on campus, she also felt very disappointed.
"From what I understand, the university will allow the student to return next year. Most of us don't even know his name or what he looks like, which will make it very hard for us to feel safe."
Chronic issue among universities
When asking whether this has made her question studying at the VUB, the student said that she wouldn't feel any better studying in Leuven or Ghent, because "the same issues were affecting students there."
"It is a much more systemic problem, and I think universities across the whole country are failing students," she said. Similarly to the VUB, both UGent and KULeuven have faced criticism for their slow response to claims of sexual misconduct.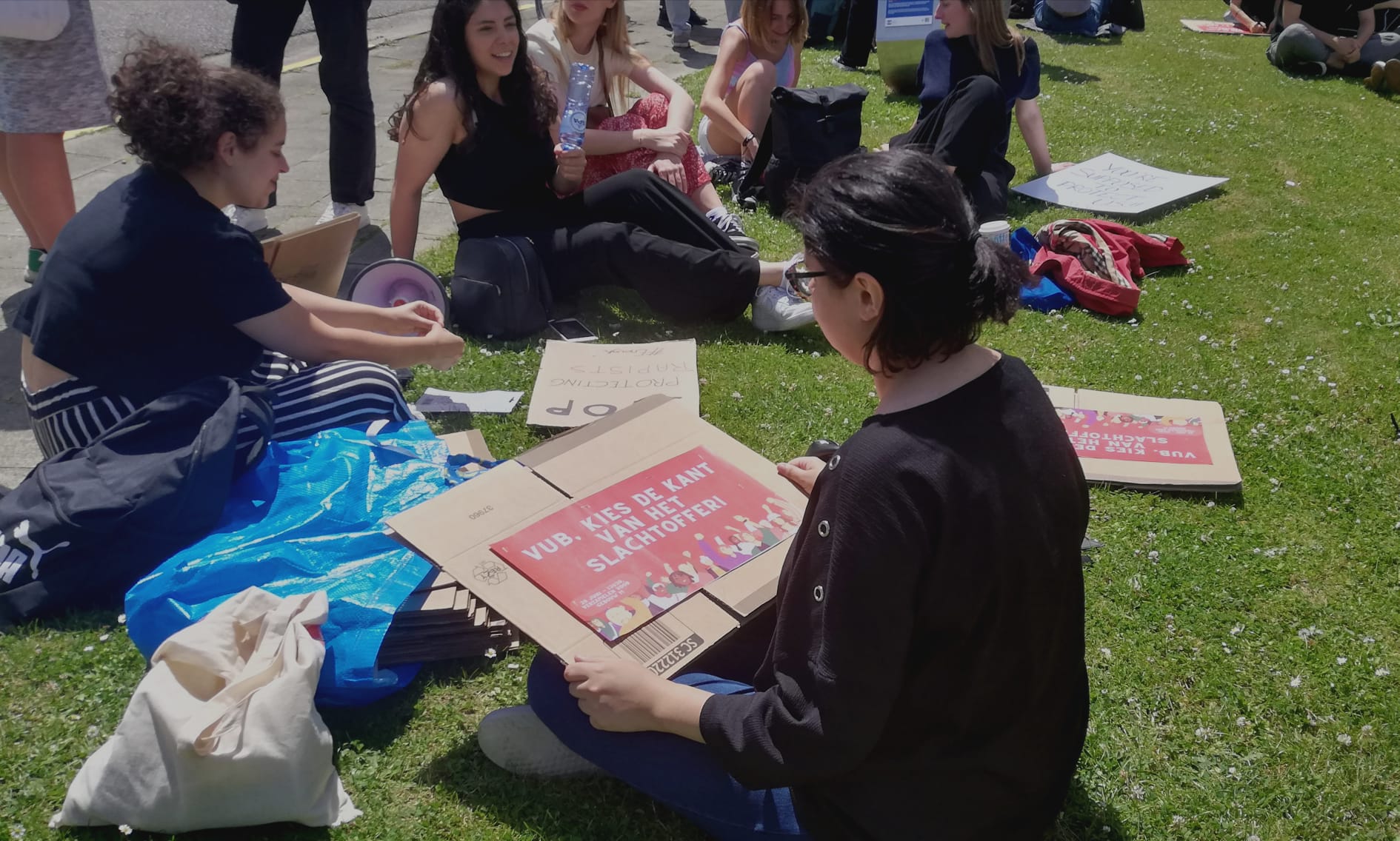 The VUB responded to the demonstration on Tuesday saying it supports it, and that it "hears, understands and appreciates the frustration, fear and uncertainty about the consequences of sexual misconduct for those who report it, for other students and for the entire VUB community."
Related News
"The call for faster, more transparent and fairer action is justified," Lies Feron, Spokesperson for VUB, told The Brussels Times, adding that the university is working to improve its procedures, reporting centre and contact points, disciplinary committee, guidance for reporters and its communication about such matters.
Feron said the university recognised that this is "not a one-off operation," and that working on improving its handling of such cases will be a point of attention in the coming months and years, and that it is discussing with other universities in the country on how to improve these policies.