Under pressure from disgruntled citizens, more and more Brussels municipalities are taking their own measures in their fight against scattered e-scooters on their territories. From bans and fines to drop zones, nine of Brussels' 19 mayors have stopped waiting for a regional solution.
On Thursday morning, the topic of scattered e-scooters and how to tackle the issue was again on the agenda of the Conference of the mayors of the 19 Brussels municipalities. The municipalities that have the Flemish and/or Francophone greens (Groen or Ecolo) in their council are waiting for the decision of Regional Mobility Minister Elke Van den Brandt to better regulate shared scooters and bicycles, Bruzz reports.
The decree has just been approved at first reading, but still has to pass several rounds of consultation and a screening by the Council of State before it can come into force – which is expected to happen early next year.
However, an increasing number of municipalities no longer want to wait for the Region, and have started creating drop zones (as provided for in the decree) on their own and are confiscating illegally parked scooters that obstruct passage.
Municipal measures
On Tuesday, Woluwe-Saint-Pierre officials told La Capitale that the municipality would introduce administrative fines for obstructive scooters starting in December, after the previously demarcated drop zones were not respected by all operators.
"Nevertheless, we have 189 drop zones," city councillor for Mobility Alexandre Pirson confirmed to Bruzz. "Some operators respect them, like Dott and Tier, but others do not. That is why we have decided to impose an €80 fine per scooter that obstructs passage and we have to confiscate. On top of that will be €5 per day for storage of the vehicle."
Earlier this week, the City of Brussels announced that it would introduce drop zones from the moment its 'Winterpet/Plaisirs d'Hiver' event launches. "Where and how many there will be is still being considered; we want to keep these drop-off zones even after the winter event. Brussels Mobility will contact and monitor the operators." Confiscating them, however, is not in the cards. "We have more scooters than any other municipality. That would mean huge additional costs."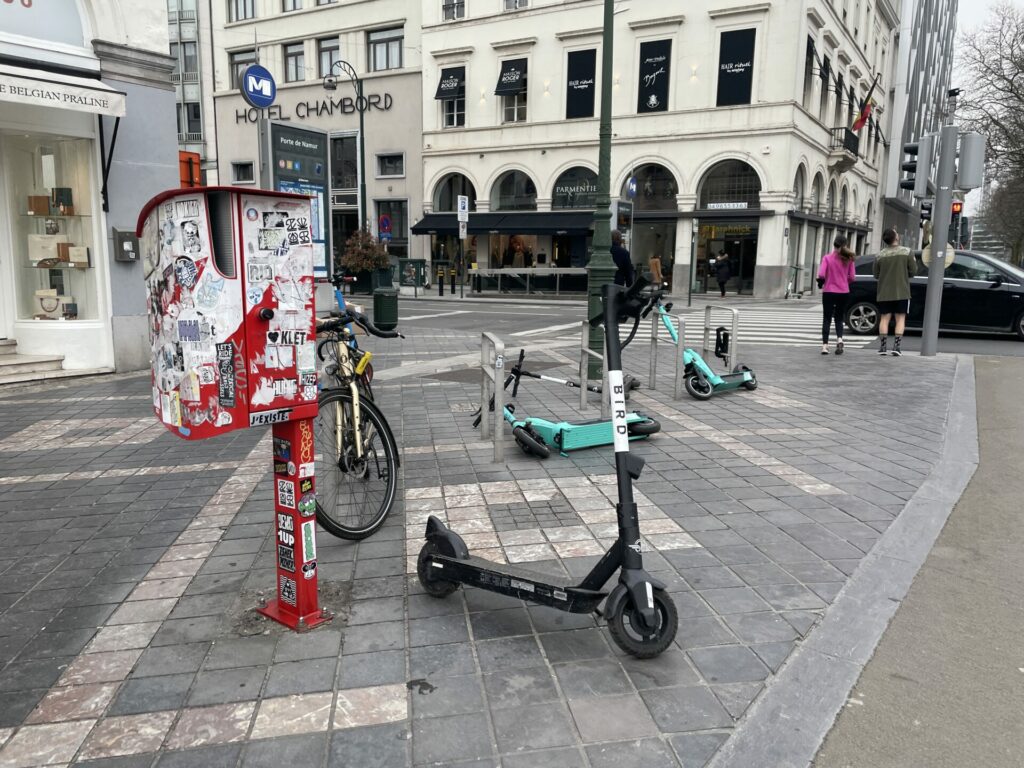 About a month ago, the municipality of Etterbeek, too, decided to start picking hindrance-causing e-scooters off the streets. At a minimum, the municipality charges €100, but that amount can increase in case of recidivism. "Residents send me pictures of problematic situations every day. I know the Region is working on it but at this point, I cannot wait any longer. Everyone has to follow the law," mayor Vincent De Wolf told BX1 on Wednesday.
As long ago as September 2021, Berchem-Sainte-Agathe already introduced drop zones and administrative fines for improperly parked scooters. "The system works quite well. In one year, we handed out about a hundred administrative penalties of €25 each," said mayor Christian Lamouline.
"Most operators implement drop zones in their app, which makes parking outside those demarcated zones technically impossible and keeps the payment running," he told local media. "But a few operators do not do that and so their users continue to park anywhere. We cannot prohibit that, but if the scattered scooters impede transit, we confiscate them."
Gap in the legislation
Since this summer, Koekelberg and Evere have applied a rate of €125 per scooter they have to pick up, while Woluwe-Saint-Lambert has an administrative fine of €87 in place. Saint-Josse-ten-Noode, which announced drop zones in January, is still delineating them, according to mayor Emir Kir's spokesperson Murielle Deleu.
By mid-September, the municipality of Uccle was so fed up with the scooters' nuisance that it wrote a letter to all operators, asking them to leave the Uccle territory altogether. Seven of the eight operators did so and made Uccle a no-go zone in their app.
"Unfortunately, one operator – Voi – has not withdrawn. Therefore, we have increased the fines for obstructively parked scooters to €200, and we may eventually increase that to €350," said Arnaud Carlot, chief of cabinet to Mayor Boris Dilliès. "Our services do the rounds twice a week."
Related News
Confiscating wrongly parked scooters always falls under the authority of the municipalities, said Regional Minister Van den Brandt's spokesperson Pieterjan Desmet. "Our decision strengthens municipalities in their authority in that area. We can therefore only applaud the fact that they are already proactively designating drop zones."
As shared e-scooters are still relatively new as a mode of transport, there was a gap in the legislation, which is why Van den Brandt wants to make the rules uniform and enforceable.
"The apps of shared scooter operators should make parking outside these zones technically impossible. For scooters in other places in public spaces, operators will be fined," Desmet said, adding that if that also does not help, their operating licence can be revoked. Funds will also be allocated to municipalities to enable controls, and an evaluation will follow later. Then, it will then be up to the next regional government to consider whether to maintain the shared scooters in Brussels.