Inflation figures continues to climb in Belgium. A press release from official Belgian statistics service Statbel has outlined that inflation is set to rise from 8,04% to 8,31% in March. This is the highest level of inflation witnessed in Belgium since 1983, when inflation peaked at 8,92%.
Statbel is blaming elevated energy prices. Inflation on energy prices has reached 57,22%, which in turn has pushed up total inflation by 4,82 percentage points over recent months.
Russia's invasion of Ukraine on February 24 pushed global energy prices sky-high. With the war showing no signs of ending, as well as European nations intending to wean themselves off reliance on Russia energy exports, energy prices will continue to drive inflation in Belgium and the eurozone.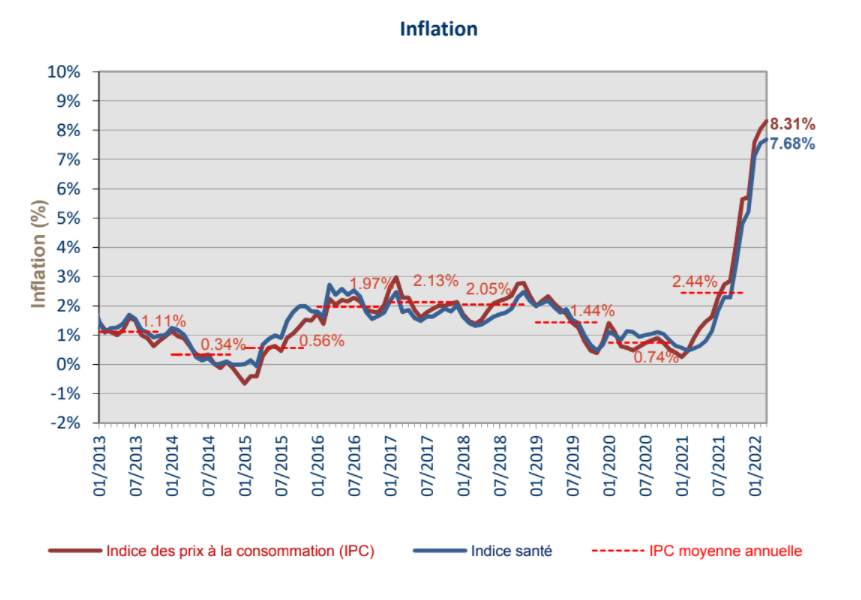 Excluding energy prices, Belgium's inflation would be just 3.75%, up from 3.28% in February. Global energy prices are hitting the Belgian economy hard. Natural gas prices rose by 4.8% on average from February.
Compared to March 2021, the price of natural gas has risen by an eye-watering 148.8%, liquid petroleum gas (LPG) by 63.4%, heating oil by 62.7%, and electricity by 49.9%.
However, some government measures already seem to be working to lessen the burden on the Belgian consumer. Electricity prices fell by an average of 11.7% following the introduction of temporary reduction of VAT on electricity bills.
Belgians' bills a burden
Belgians' average shop is also about to get more expensive. The Consumer Price Index (CPI), a measure of the average change of prices paid for a range of common household goods, will equally rise by 0,52%.
Belgian supermarkets have already witnessed sharp price increases in recent months. Food prices are scheduled to rise 5-10% this year, food corporation Gondola warns.
Related News
Statbel also estimates that other indexes are set to rise. Belgium's "health index", a measure of common goods and services which excludes socially harmful products such as alcohol and tobacco, will climb to 7,68%.
High inflation will also hit the Belgian government's finances this year.
If not for the war in Ukraine, Belgium would have shrunk its national budget deficit by €2.4 billion. It now risks going up to €22.7 billion. Essentially, high inflation means higher wages, social costs, and reduced VAT income.
As indexes continue to climb, and energy prices remain highly volatile, this summer looks set to be an expensive one.