Since 2019, low-emission zones (LEZs) in Europe have increased by 40%, now numbering 320 (up from 228), according to the European Clean Cities Campaign, a coalition of NGOs aiming to achieve zero-emission mobility in European cities by 2030.
LEZs target polluting fossil-fuelled vehicles in order to promote cleaner urban spaces. They also are said to reduce road traffic and boost local economies. In Belgium, only Brussels has announced a complete phase-out of fossil fuels by 2035.
The campaign predicts that by 2025, the number of these zones will rise to 507. This is based on new national laws that will come into force in France, Spain and Poland.
Also within three years, 27 existing LEZs will have expanded or adopted stricter regulations. This includes Brussels, which has already expanded its LEZ. In practice, this means that drivers of cars, vans, buses and minibuses approved under Euro 4 standards (the last generation of vehicles that do not have to be fitted with a particle filter) will be fined €350 for driving in the LEZ without a day pass. This zone now covers most of the Brussels-Capital Region.
From low to zero
When it comes to zero-emission zones (ZEZs), which ban the use of vehicles with internal combustion engines, 35 are planned for 2030. In Belgium, Brussels is the only one on this list. The Netherlands has the most of all European countries – it plans to introduce 26 ZEZs.
There are currently no fixed dates for a complete phase-out of fossil fuels in Antwerp and Ghent, nor for cities in Wallonia. However, the francophone region plans to introduce a region-wide LEZ in 2023 that will limit diesel vehicles.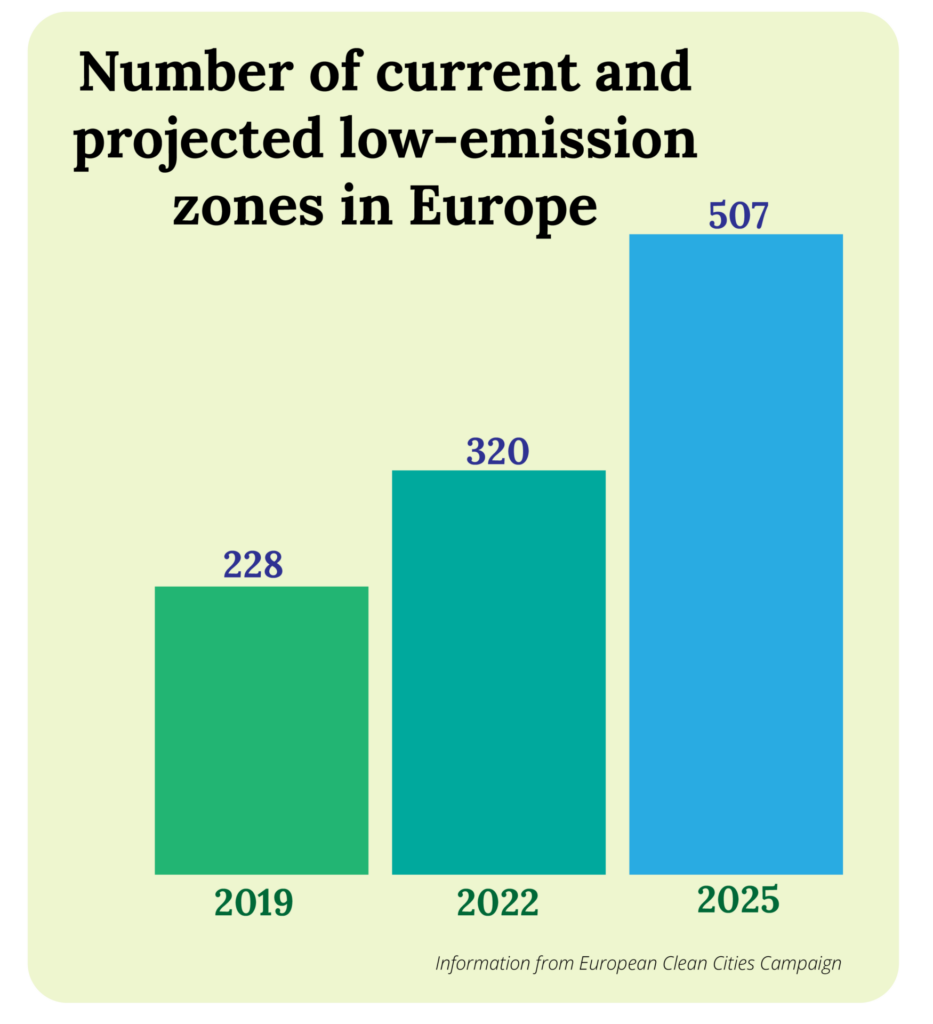 Of 100 cities selected for the "EU Mission for Climate-Neutral and Smart Cities," which pledged to go climate-neutral by 2030, Clean Cities noted that only 45 currently operate LEZs and 10 have plans to introduce ZEZs. La Louvière and Leuven are the only Belgian cities which have no plan for any emission reduction zones on the list. However, cities with a plan or LEZs already implemented are the minority.
Related News
According to the World Health Organization (WHO), air pollution causes more than 300,000 premature deaths a year in the European Union alone. Cities, with their higher population density, are particularly affected by this problem.
All urban access regulations in Belgium can be viewed on the Urban Access Regulations in Europe website.