The pandemic curbed immigration to western Europe, resulting in the number of asylum applications slumping compared to 2019. However, last year, this figure rose sharply again, according to the European Asylum Agency (EUAA).
The agency recorded around 648,000 applications in 2021, an increase of 33% compared to 2020, and matching levels seen in 2018, it stated in its annual report on the state of asylum in Europe, which also examined what events in 2021 and early 2022 had the most impact on immigration.
"There are three main drivers of these increasing figures: the political use of migrants by the regime in Belarus, the Taliban takeover of Afghanistan last summer and, of course, the war in Ukraine," EUAA Director Nina Gregori explained.
However, despite these three main drivers, Syrians and Afghans were the two largest applicant groups, with 117,000 and 102,000 requests for international protection, respectively, as people continued to flee existing hotspots of displacement, from the Democratic Republic of the Congo (DRC) to Myanmar and South Sudan.
Almost three in ten applications were from minors, of which 23,600 were unaccompanied, a two-thirds increase compared to 2020.
Requests leading to protection
Across the countries included in the report, 535,000 first-instance decisions were made last year, which led to the granting of asylum status in 118,000 cases. Another 64,000 people were granted subsidiary protection (international protection for persons seeking asylum who do not qualify as refugees).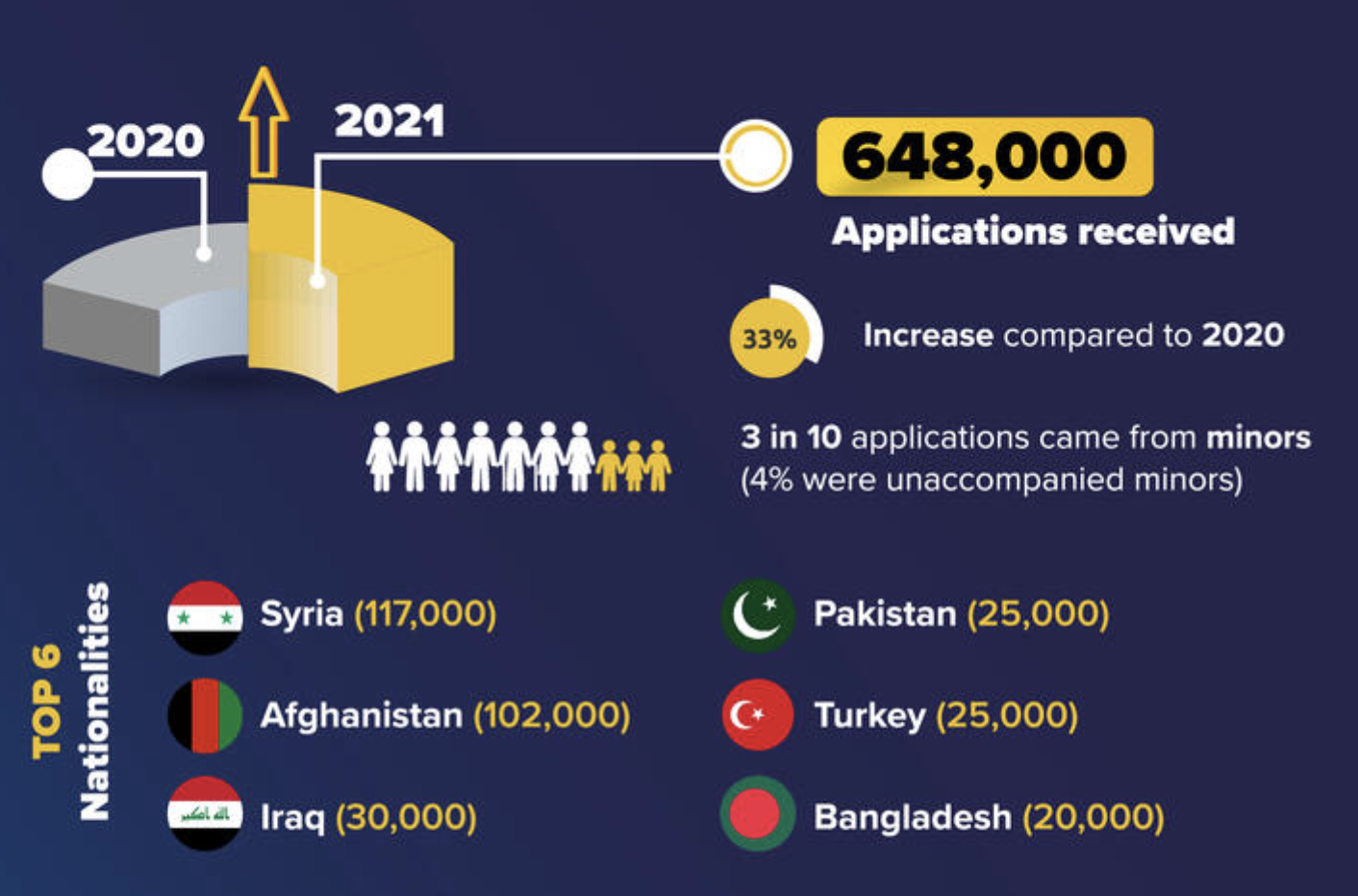 People fleeing Eritrea stand the best chance of receiving protection (81%), while Georgians are the least recognised (3%) as refugees.
The number of decisions taken on requests under the Dublin regulation— defining the Member State where the individual first arrives as responsible for processing their asylum application — increase by one-fifth compared to 2020, however, the overall acceptance rate continued to decrease for the fourth year in a row.
In recent months, Belgium has faced criticism for its handling of the asylum crisis, as its recently implemented waiting list system left asylum seekers sleeping on the streets due to the lack of reception space.
Effects of war in Ukraine
Globally, there were more than 84 million forcibly displaced people as of June 2021, according to estimations by the United Nations High Commissioner for Refugees (UNHCR), however, the Russian invasion of Ukraine has pushed the number of forcibly displaced people worldwide to over 100 million.
Related News
People fleeing Ukraine as a result of the Russian invasion in February of this year are granted temporary protection up to one year.
Of the six million people that fled towards the EU, more than 3.4 million have registered for temporary protection, while another 2.6 million people have travelled back to Ukraine, however, this return could be temporary, as the situation in the country has further worsened.
The full effects that this migration wave will have on the existing influx of people the EU is already witnessing is expected to become more clear in next year's report.