The number of first residence permits issued in the EU to non-EU citizens in 2021 returned to pre-pandemic levels, while the number of permits given for work reasons reached a new record.
Last year, 2.95 million first residence permits were issued in the bloc to non-EU citizens, a 31% increase compared with 2020, but similar to the pre-pandemic level observed in 2019, according to the latest data published by Eurostat.
Almost half of all first residence permits issued (45% or 1.3 million permits) were accounted for by employment reasons, representing an increase of 47% compared with 2020. "It is also the highest number of permits issued for employment reasons since the beginning of the time series," Eurostat wrote.
The other permits were handed out for family reasons (24%) and education reasons (12%), while other reasons, including international protection, accounted for 19%.
Ukrainians largest citizenship group to receive permit
One-third of all permits were issued by Poland (967,300), which topped the list of employment-related first residence permits. Overall, it was followed by Spain (371,800, or 13%) and France (285,200, or 10%), which issued the most education-related permits.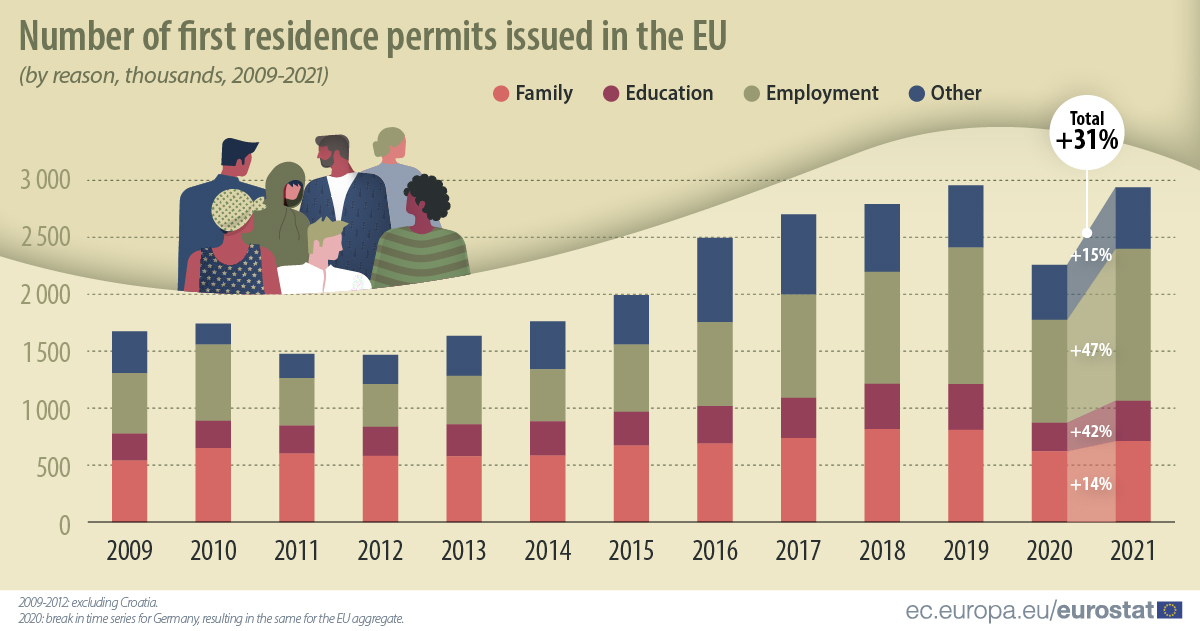 Italy recorded the largest increase in first residence permits (+159%, from 105,700 in 2020 to 274,100 in 2021). Meanwhile, the total number of permits issued in 2021 decreased in Germany (-41%), Lithuania (-7%) and Croatia (-4%).
Related News
Ukrainians were the largest citizenship group receiving first residence permits in the EU countries in 2021 — a total of 875,800 Ukrainians received such a permit, of which 83% were issued by Poland, largely as a result of rising political tensions in the area — followed by citizens of Morocco and Belarus.