Brussels Airlines unveiled today its new football-themed plane – Trident – to honour Belgium's national football teams. However, the unveiling did not quite go to plan.
For the first time, the plane is dedicated not only to the national men's team – the Red Devils – but also to the Red Flames – the women's team.
However, despite unveiling being unveiled on the day the Red Devils fly to the Middle East ahead of the World Cup, the new plane will not actually be transporting the team.
Indeed, the Red Devils cannot even show it off to other teams at the World Cup – not due to lack of space to fit the crew, as it is a spacious 180-seater – but rather due to lack of space in the fuel tank.
The Trident's tank is too small to take the team to Kuwait, where they will play a friendly this Friday against Egypt, without making a stopover. And so, the Red Devils boarded a regular 280-seater, but at least it can get the team to Kuwait in one go.
SudPresse, who broke the news, called it the "latest typically Belgian story."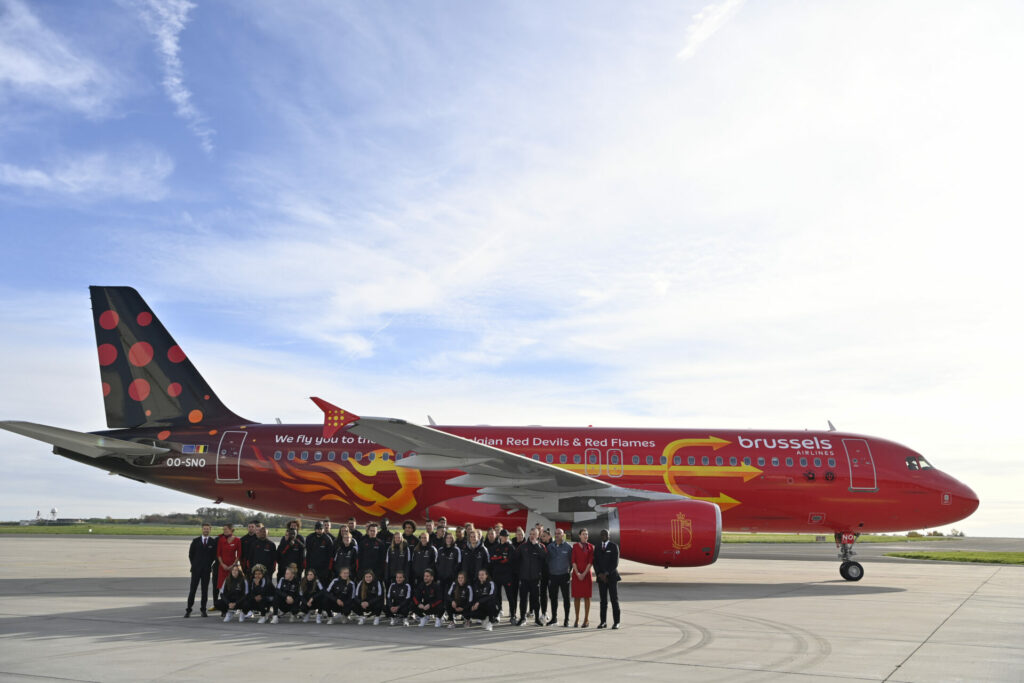 The first Trident aircraft dated back to 2016 and was then dedicated exclusively to the Red Devils. It was withdrawn from the fleet at the end of last month after more than 8,000 flights throughout Europe.
Missed opportunity for statement on equality
The new aircraft represents both the national men's team and the women's team, aiming to combat gender stereotypes in sports. Brussels Airlines said in the press release that it is proud to pay a small contribution to breaking down those barriers by "putting our Red Flames in the spotlights, next to our Red Devils".
The red plane with a dark tail is painted with a trident that merges into a flame, the perfect blend of both teams' logos, symbolising the motto in the press release: "We are not complete until we are together".
Related News
"This is a statement to advocate equal opportunities and chances for all, in football, and beyond," it stated.
The new aircraft will take off from Brussels Airport to Paris for the first time at around 08:15 on 16 November, after which it will serve several European destinations in the future.