Global CO2 emissions continue to rise and reached a record peak last year, a report published on Thursday by the International Energy Agency (IEA) showed. Yet it wasn't all doom and gloom, as a surge in green energy and a drop in Russian energy lessened the impact of increasing gas and coal-fired power generation.
In total, 36.8 billion tonnes of CO2 were pumped into the atmosphere in 2022 for power generation – a 0.9% rise on 2021 (which was marked by rapid economic growth as public health restrictions were lifted around the world). 2021 had already been a record year for environmental damage, but 2022 went further still.
Consequently, the IEA is again sounding the alarm: "Although the rise in emissions was far smaller than the exceptional jump of 6% in 2021, emissions still remain on an unsustainable trajectory, calling for strong actions to accelerate the clean energy transition."
Emissions and the economy
It's not just industry which is driving up global temperatures. Changing weather patterns are altering how we heat our homes. Last summer's extended periods of drought and heat waves, which hit Belgium's agricultural areas hard, sent energy consumption soaring. Yet with summers growing hotter, considerable energy is also used in the warmer months to deal with the heat.
In France, technical issues and drought saw many nuclear reactors turned off as the cooling waters from nearby water sources dried up. Much of the shortfall was provided by gas- and coal-fired power plants.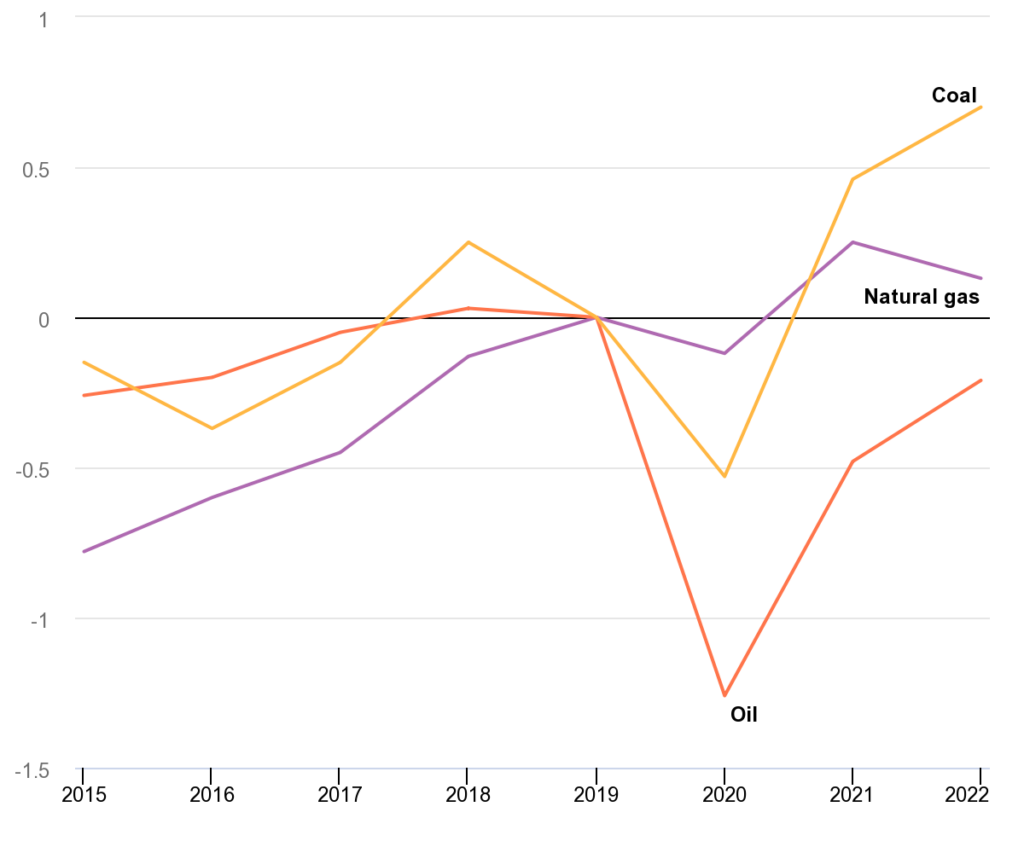 Yet although nations around the world are still far from hitting climate targets, there are some positive dynamics. The global economy grew by 3.2% last year, significantly more than the rate at which carbon emissions grew. According to the IEA, this "signals a return to a decade-long trend that was interrupted in 2021 by the rapid and emissions-intensive economic rebound from the Covid crisis."
Clean energy technologies saved a calculated 550 million tonnes of emissions: "This is thanks to the outstanding growth of renewables, EVs, heat pumps, and energy-efficient technologies. Without clean energy, the growth in CO2 emissions would have been nearly three times as high," said IEA Executive Director Fatih Birol.
Dirty fuels
This does not mean that there is no cause for concern. Emissions from some of the most polluting fuel sources are on the rise. Most concerning is Europe's renewed appetite for coal – the dirtiest of fossil fuels. Its use grew 1.6% as the global energy crisis forced nations to seek alternative fuel sources, especially in Asia.
Likewise, emissions for oil grew 2.5%, though this is still below pre-pandemic levels. Much of this increase in oil emissions is due to aviation as air travel has rebounded to pre-pandemic levels.
"International and national fossil fuel companies are making record revenues and need to take their share of responsibility, in line with their public pledges to meet climate goals," Birol said.
Silver linings?
In the grand scheme of things, the report highlights an abject failure to get serious about greenhouse gas emissions. Yet on a smaller scale, some hope can be gleaned. EU emissions dropped 2.5% last year and Member States are investing massively in green energy deployment, notably solar and wind.
A mild winter and energy-saving measures in response to Russia's invasion of Ukraine have also helped rein in Europe's emissions. But on the other side of the pond, US emissions grew 0.8%, driven by increased energy consumption as a result of extreme weather.
Related News
Chinese emissions remained largely flat over 2022; the country's extreme public health restrictions throttled the growth of its economy and saw a major drop in industrial and logistical carbon emissions. But the rest of Asia logged a 4.2% increase in emissions from a surge in economic activity.
For its part, Belgium is on course to miss its EU emissions targets. It has committed to reducing emissions by 55% by 2030 (compared to 1990). But with nuclear power being phased out across the country, Belgium will need huge investments into renewables to avoid polluting with gas-fired power generation.