Almost half of the 59 people who were detained by police on Saturday evening in Brussels following the Morocco-Portugal match were minors (below 18).
After Morocco's phenomenal victory against Portugal in the quarterfinals of the World Cup in Qatar, hundreds of supporters of the Moroccan team took to the streets in several places in Brussels to celebrate.
As they have done following previous victories, crowds gathered in the Dansaert district, on Boulevard Maurice Lemonnier, at Étangs Noirs, on the municipal square in Molenbeek-Saint-Jean and near Place Eugène Verboekhoven in Schaerbeek. For the most part, celebrations took place without any incidents.
This was partly thanks to the efforts of local residents in Lemonnier who dressed in green vests and formed a human chain to diffuse any possible tensions.
Fireworks and projectiles
Fans have previously clashed with police following Morocco's previous wins, generating some negative media coverage of Morocco fans. This weekend as well, some incidents took place following the match, resulting in 59 people being arrested.
On Boulevard Poincaré, Place de l'Aviation and Bara Square, police intervened when a small group of people pelted them with stones, iron bars and fireworks. Later in the evening, near the Bockstael commissariat in Laeken, further incidents occurred when projectiles were thrown, Brussels police reported.
"In our zone, 47 people were arrested, 23 of whom turned out to be minors," said the Brussels Capital/Elsene police zone's spokesperson Ilse Van de Keere. Young people risk a fine of €350. "An official report was drawn up against them and transferred to the youth prosecutor's office. They were then picked up by their parents or civil servants."
Brussels police also report at least one judicial arrest of a person who was carrying a considerable quantity of fireworks.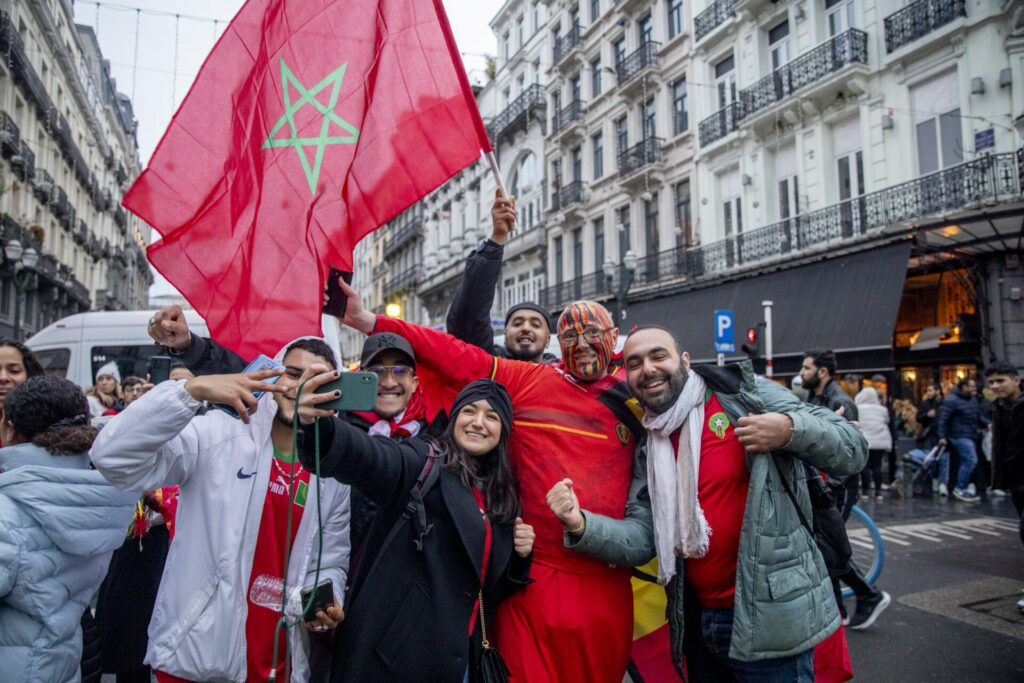 "It is thanks to cooperation between the police and the 'green vests' that a more serious situation was prevented. We were in close contact with them during the riots and would like to thank them for their help," said Van de Keere. This also helped avoid anyone being injured as a result of the incidents.
Related News
Criminologist Abdessamad Bouabid, who is affiliated with Erasmus University Rotterdam and who conducts research into the stigmatisation of Moroccans, explained in De Standaard that this is not a Moroccan problem, as if often portrayed in Belgian media and on social media, but a Belgian one.
"People like to see this as a 'Moroccan problem'. That phenomenon is called 'distancing'. But it is a Belgian problem. And not a problem of integration as those involved were born here."