Belgium's inflation rate fell this month, easing citizens' economic pain after more than a year of steep price rises which have caused one of the most acute cost of living crises in the country's modern history.
According to a report published on Thursday by Statbel, Belgium's official statistics office, Belgium's inflation rate fell to 5.60% in April, down from 6.67% in March.
The decline follows a previously worrying inflationary uptick of 0.05 percentage points from February to March — the first registered increase since inflation peaked at 13.1% in October last year.
Eurostat, the EU's official statistics office, has not yet published this month's aggregated eurozone inflation data. However, the respected economist at Ghent University Stijn Baert has suggested that Belgium's inflation rate "appears to be below the European average", and is "clearly below" Germany's rate.
Food up, energy down
Statbel noted that the largest downward inflationary pressure stemmed from declining energy prices, which in turn were primarily a consequence of Europe's unseasonably warm recent weather.
In particular, Statbel reported that energy inflation fell to -17.08% in April, down from -10.11% in March. Overall, energy now contributes -2.36 percentage points to the headline rate.
Conversely, the report found that food made the largest positive contribution to headline inflation. Food inflation is currently running at 16.64%; overall, food contributes 3.19 percentage points to the headline rate.
Core inflation: Down but not out
One of the report's most encouraging findings was that core inflation— which strips out the impact of energy and unprocessed food items — fell this month for the first time in a year, dropping to 8.28% from 8.57% in March.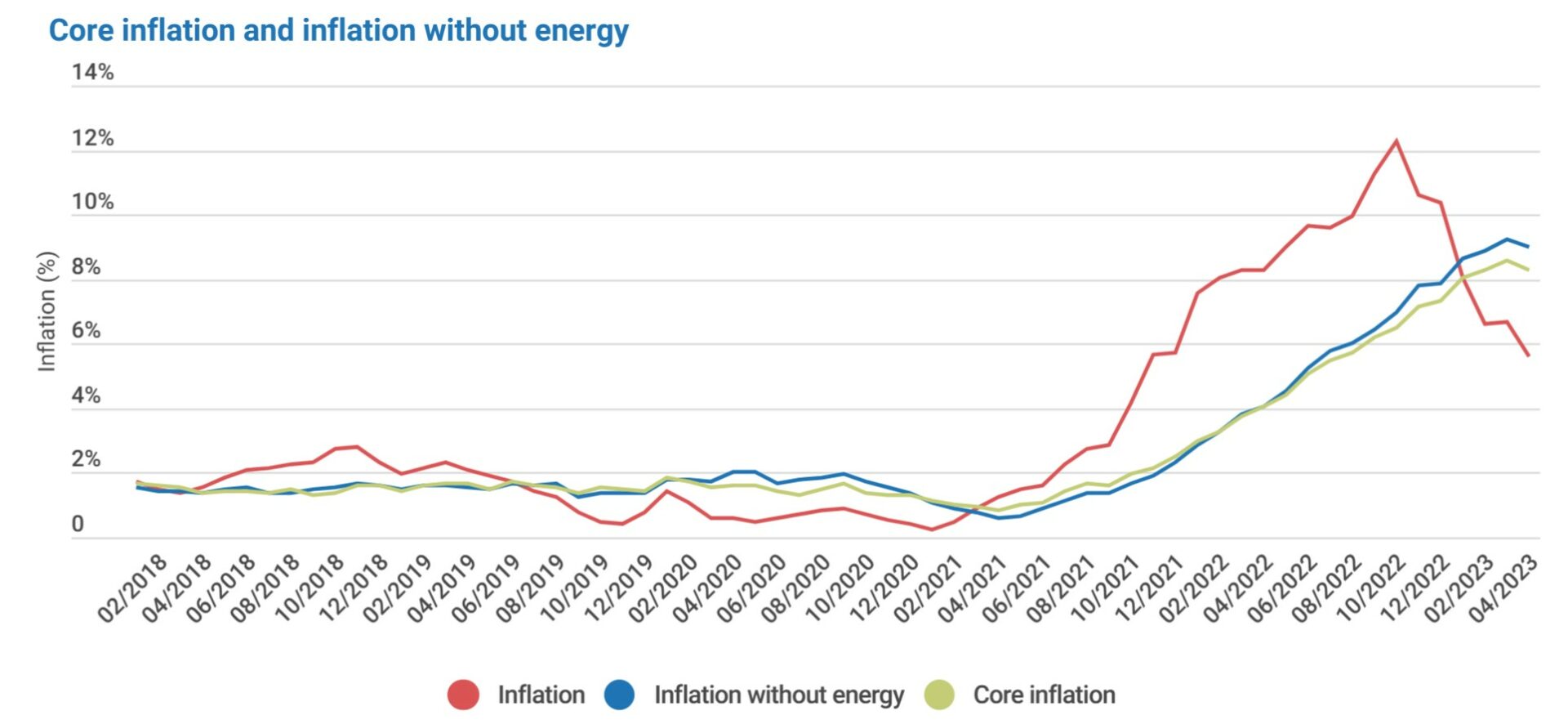 Despite core inflation's welcome decrease, its still-elevated rate, coupled with the fact that headline inflation in many European countries is still well above the European Central Bank's (ECB) 2% target, suggest that continued interest rate hikes are likely to occur at the next ECB meeting on 4 May.
Last week, ECB President Christine Lagarde said that the Bank "still has a bit of way to go" to bring inflation down to 2%.
Related News
"Our monetary policy must obviously deploy all its tools to bring inflation to the 2% target in the medium-term," Lagarde said. "This exercise is under way. We already used most of our tools, there is still a bit of a way to go."
The ECB has raised interest rates six times over the past nine months as it attempts to curb Europe's soaring inflation rate, which was precipitated — or, at the very least, exacerbated — by Russia's full-scale invasion of Ukraine in February last year.