Of all member countries in the Organisation for Economic Co-operation and Development (OECD), Belgium was among the few that saw real wages rise and has even led the way when it comes to protecting purchasing power.
Inflation in recent months reached levels not seen for several decades due in particular to the post-Covid recovery and unprecedented energy prices following Russia's invasion of Ukraine. In October, the inflation rate in Belgium reached 12.27% – the highest since June 1975, while across the OECD, it peaked at an average of 10.7%.
The fact that life became so much more expensive gnawed at residents' purchasing power in almost all countries, the latest statistics from the OECD showed. Compared with the first quarter of 2022, real wages were on average 3.8% lower in the mostly rich member countries in the first three months of this year.
Not so bad after all
Despite the pick-up in nominal wages, real annual wage growth was negative in 30 of the 34 countries with available data, with an average decline of 3.8%.
"Tensions on labour markets have led to an increase in nominal wages, but this remains below the rate of inflation, resulting in a fall in real wages in the vast majority of OECD sectors and countries," the OECD report read.
But four countries went against the grain and saw real wages (inflation-adjusted) rise. With an increase of 2.9% Belgium was the absolute outlier in this regard, recording the highest increase in wages. Belgium's system of automatic wage indexation has been the primary means of guarding against wage deflation, despite criticisms that the mechanism will trigger spiralling inflation – grave cautions that have yet to transpire.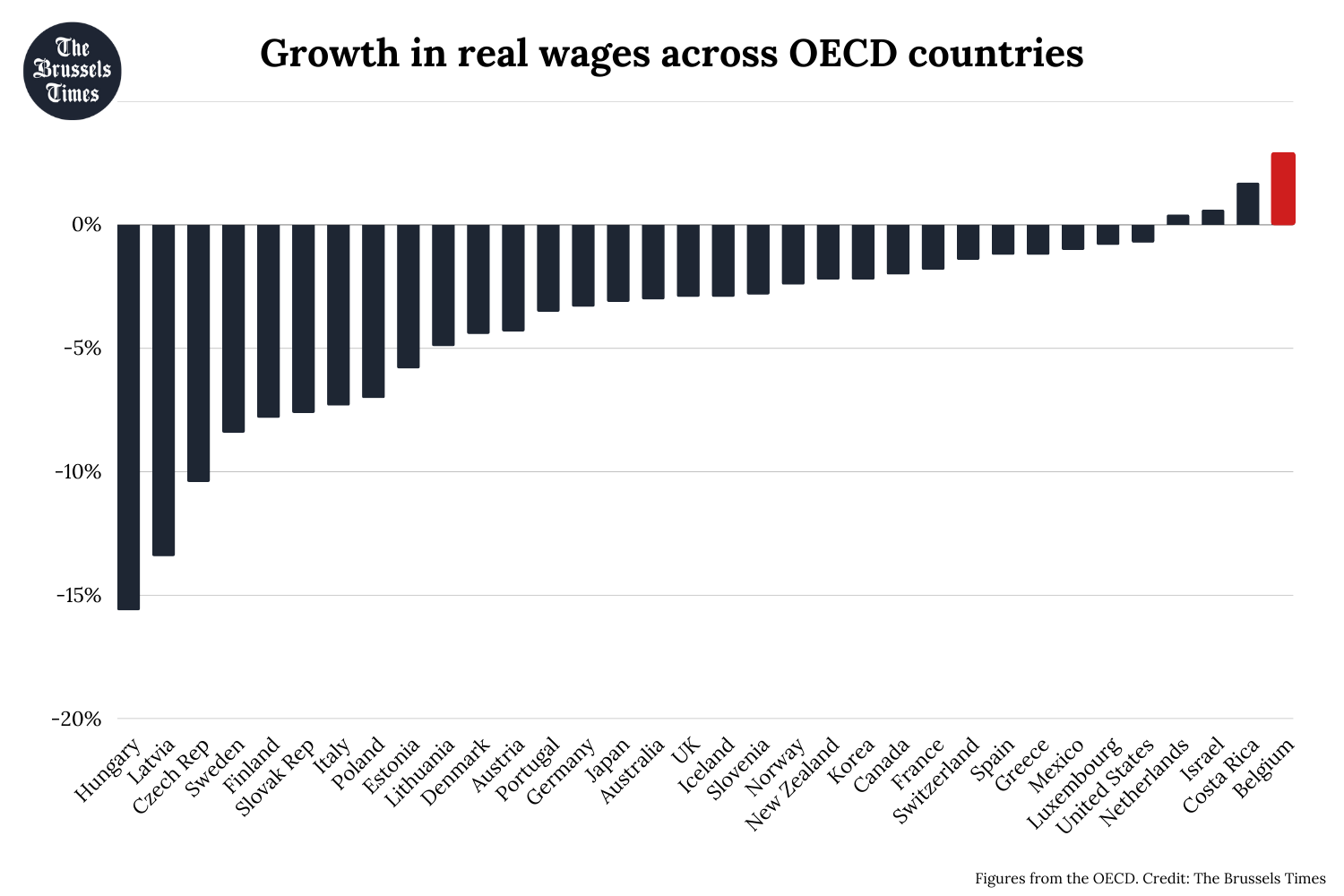 In an earlier report, the OECD had condemned Belgium's system of government-mandated wage indexations, claiming that it poses one of the "main risks" to the country's economic outlook by potentially inducing "more persistent inflation" and a "consequent loss of export competitiveness."
Another report published in October last year by the Central Economic Council (CEC) also argued that in some sectors, this resulted in Belgian wages being much higher than compared to those in neighbouring economies, which could see companies currently operating in Belgium move abroad where the cost of labour is lower.
Related News
In nominal terms, three countries experienced larger wage increases than Belgium (where this rose by 10.1%): Lithuania (+13.6%), Estonia (+11.4%) and Poland (+10.8%), But as inflation was still significantly higher in those countries during the evaluated period, the purchasing power of residents here dropped compared to in Belgium.
Costa Rica (+1.7%), Israel (+0.6%) and the Netherlands (+0.4%) also saw real wages increase, while Hungarians, Latvians and Czechs lost the most in purchasing power due to inflation. Other major Western economies such as the United States, France, the United Kingdom and Germany also saw real wages drop.
The OECD also noted in its study that "corporate profits have risen more than labour costs in many countries and sectors, suggesting that the cost-of-living crisis is not being fairly distributed."