The automatic wage indexations implemented in Belgium to combat rising inflation last year have seen gross wages in Brussels go up almost 11% since the start of last year, HR services provider SD Worx confirmed.
As was predicted at the end of last year, a record number of workers saw their wages indexed in December and January as a result of the steep rise in inflation in the autumn months. Belgium is among the few countries where wages are indexed automatically to protect consumer purchasing power.
This has seen median gross wages rise in all of Belgium's regions at the end of January, SD Worx reported on Monday. Analysts looked at data from 400,000 full-time Belgians. "Due to automatic indexation, employers are facing a much faster increase in wages over the last year," said Virginie Verschooris of SD Worx.
In the last four years, wages increased by almost 17% in Wallonia, 18% in Flanders, and almost 19% in Brussels.
Everyone's a winner?
Wage increases were most significant in Brussels, going up by an average of 10.72%. This saw monthly payslips rise to €3,650 (excluding bonuses and other perks).
In Flanders, wages increased by 10.15% to €3,300 on average. In Wallonia, the rise remained slightly lower, at 9.59%, resulting in wages reaching €3,030 on average.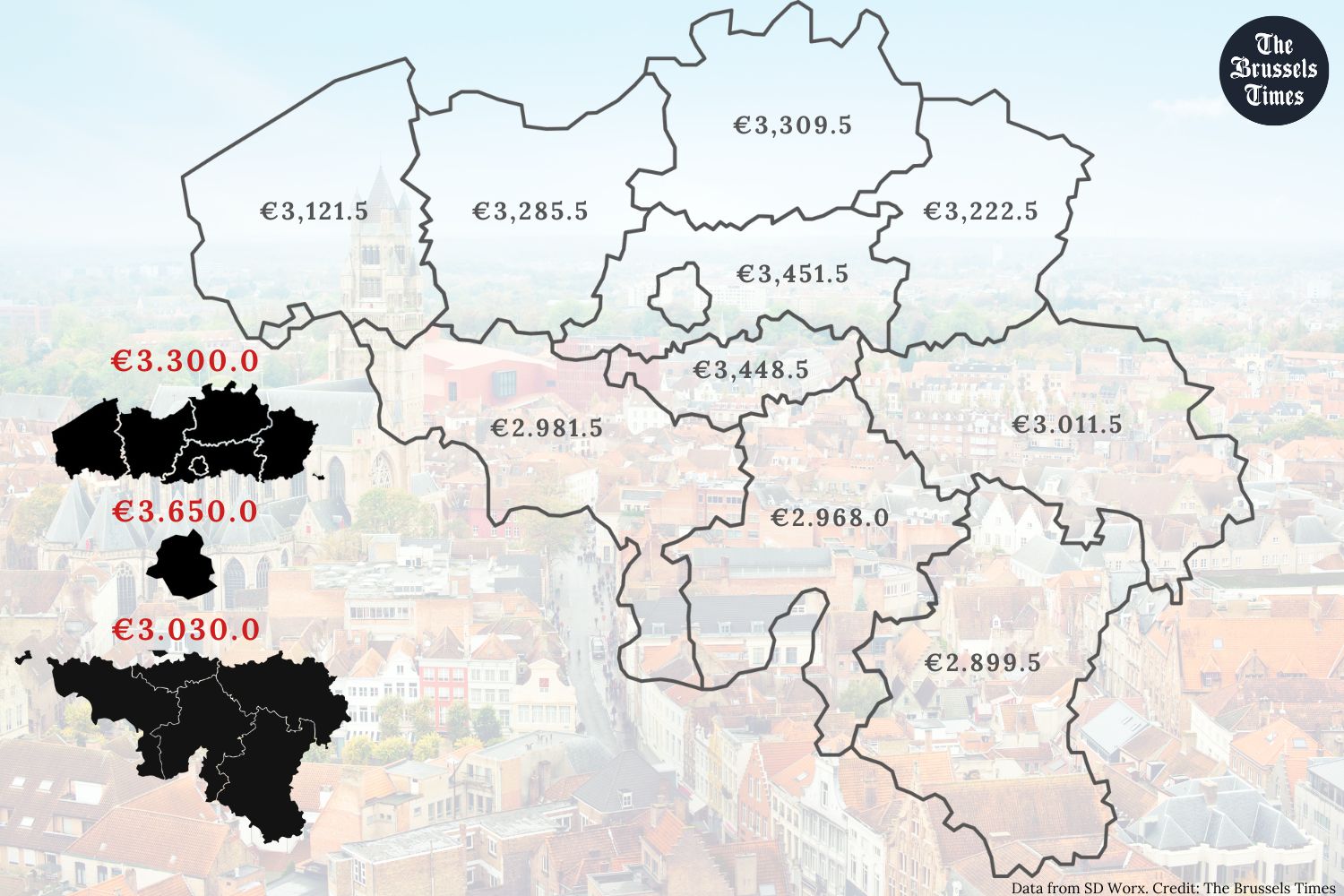 The difference between white-collar and blue-collar workers is most pronounced in Brussels: the wages of labourers in the capital are €2,767.5 per month whilst those working office jobs earn a median wage of €4,220 – the highest across all of Belgium.
Labourers in Limburgh had the highest median wage at €3,013.5. Besides which region they are in, the person's age, the sector they are employed in, and the size of their company also played a role in the wage increase.
With inflation rising, unions took to the streets to call for the wage indexation mechanism to be protected. But businesses criticised the system, arguing it was financially untenable and could make Belgium less competitive. One Belgian economist said the system could potentially lead to a dangerous wage-price spiral, whereby wage rises lead to a surge in prices which then leads to greater demand for further wage increases.
Related News
A recent report showed that women are disadvantaged by the system, as it resulted in the gender pay gap rise by more than 4% in the country last year. Women have a lower wage base because they are more likely to work part-time, are more often active in sectors with lower wages and are on average more often absent for long periods of time.
While inflation has fallen slightly for several months, wages in Belgium will likely not go down any time soon, as indexation is linked to the average health index (i.e. excluding processed foods) which over the past four months has remained stable.