As Russia continued its offensive in Ukraine, hammering both strategic military locations and civilian areas with rockets airstrikes, EU leaders met in Brussels for emergency talks on how to deal with the crisis.
So far, an armed response remains off the table, with Ukraine's forces showing valiant resistance but vastly outnumbered by the behemoth that is the Russian military might. Western powers have so far opted for sanctions that, though some are severe, will take time to bite.
And as every minute brings disturbing developments on the ground, Ukrainians feel painfully vulnerable, abandoned in their moment of greatest need by allies who know that sanctions on Russia will boomerang back on Western economies. This is indeed much of the difficulty of economic sanctions: trade between the EU and Russia is intertwined in a number of sectors – most notably oil and natural gas, the latter of which has been further perturbed by the conflict, driving prices even higher.
The painful truth is that no matter on which front the EU chooses to direct its reprisals towards Russia, there will be casualties on both sides. To this extent, this really isn't just Ukraine's war – the shockwaves are already being felt across the continent and leaders will have to make tough decisions that stretch the bounds of their solidarity.
In the long-term, this could see the EU boosting its energy sovereignty and relying less on external imports – no bad thing in such turbulent times and that could pave the way towards a greener, more equitable Union. But this won't happen overnight, and right now more than 100,000 people are already estimated to have been displaced with traffic jams of 10km on Ukraine's border with Poland.
In Brussels (and in cities across Europe), large protests continue across the capital but their cries seem all the more desperate as images from Ukraine display the horrors of modern warfare unfolding on our doorstep.
If you are in the region or have more information about the ongoing crisis, let @BrusselsTimes know.
Belgium in Brief is a free daily roundup of the top stories to get you through your lunch break conversations. To receive it straight to your inbox every day, sign up below:
The Russian invasion of Ukraine is causing prices for electricity and natural gas in Europe to go through the roof again. The price of electricity in Belgium is even reaching record highs. Read more.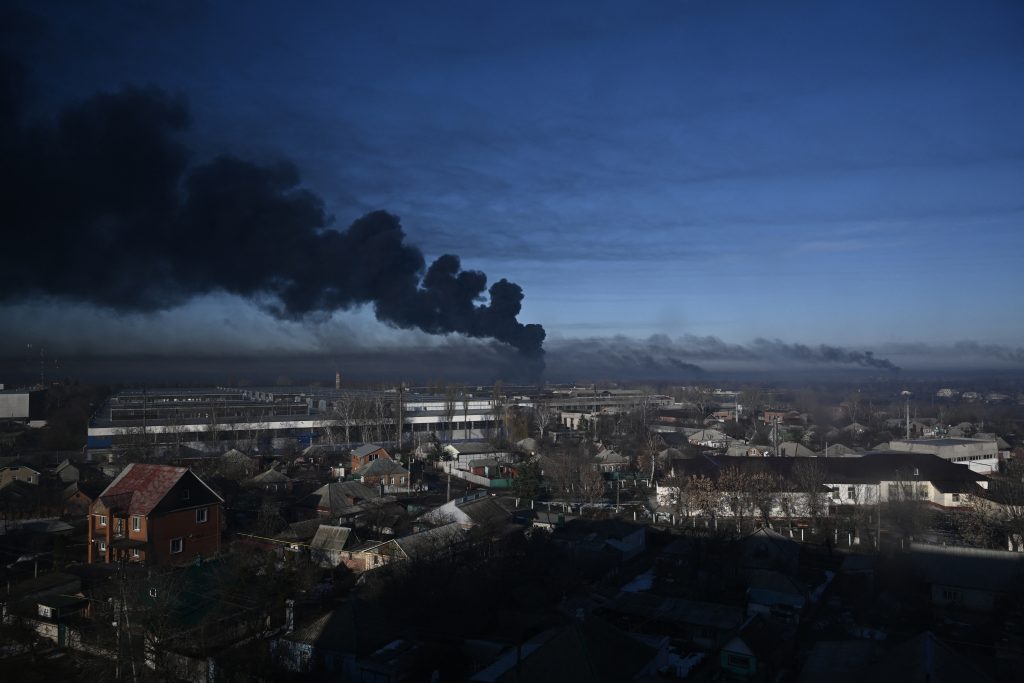 Following weeks of mounting tension on the global stage, Russia launched a full-scale invasion of Ukraine on Wednesday night and has seized control of several areas in the south of the country. Follow the most important developments here. The latest updates appear highest on the page. Read more.
The price of diesel and petrol at the pump are set to hit record highs on Saturday, as the developing conflict in Ukraine destabilises global oil markets. Read more.
While fighting is intensifying in Ukraine, the special meeting of the European Council condemned on Thursday evening in the strongest possible terms Russia's military aggression against Ukraine and agreed on further sanctions against Russia. Read more.
Cities in Belgium have not done enough to dedicate space to active mobility, a comparative study done by the Clean Cities Campaign showed on Thursday. Read more.
The KU Leuven Libraries, the Royal Library of Belgium and Google are going to make important digitised historical documents accessible to the general public after signing an agreement, KU Leuven announced on Thursday. Read more.
The Church of Our Lady in Bruges has been lovingly restored to create a soaring white Gothic interior filled with paintings, sculptures and tombs. One part of the church has been closed off to create a museum where you can admire ornate Burgundian tombs and renaissance paintings. Read more.