Only two Walloon municipalities were considered "fairly favourable" to cycling, according to a major survey from the Groupe de Recherche et d'Action des Cyclistes Quotidiens (GRACQ), which represents cyclists in French-speaking Belgium.
Around 13,500 people took part in the cycling assessment, and not a single Walloon municipality was considered a haven for bicycle users.
"It's no surprise that the Walloon region lags behind its neighbours in Flanders and in France," Luc Goffinet of GRACQ told The Brussels Times.
"It comes down to a lack of political will. As long as I've been working on Walloon cycling policy, there have been very few municipalities who are willing to really improve cycling conditions. The best towns and cities are just average when compared to cities outside the Walloon region."
Related News
Only 6% of Walloon citizens find their local cycling conditions good or very good, and just 17% consider them acceptable, GRACQ reported in their survey conclusions.
"This overall diagnosis is very harsh and places Wallonia far from an ideal land for cycling, with 77% of cyclists judging their cycling environment to be poor or even (very) poor."
Poor scores are not for lack of interest
But Wallonians do want to cycle, with over half of the population owning a bike and using it at least once a year, mainly for a leisure ride on a sunny weekend.
"A lot of people want to cycle more – at least half of the population, according to surveys – but they don't have good cycling conditions. The cycling environment isn't safe enough to cycle," Goffinet explained.
"The main reason is road safety in the south of Belgium. Cyclists would like to be segregated from cars but few roads do that. There are a lot of cycling lanes, but it's just a bit of paint on the road so it's not really protecting people from heavy traffic, or from people speeding."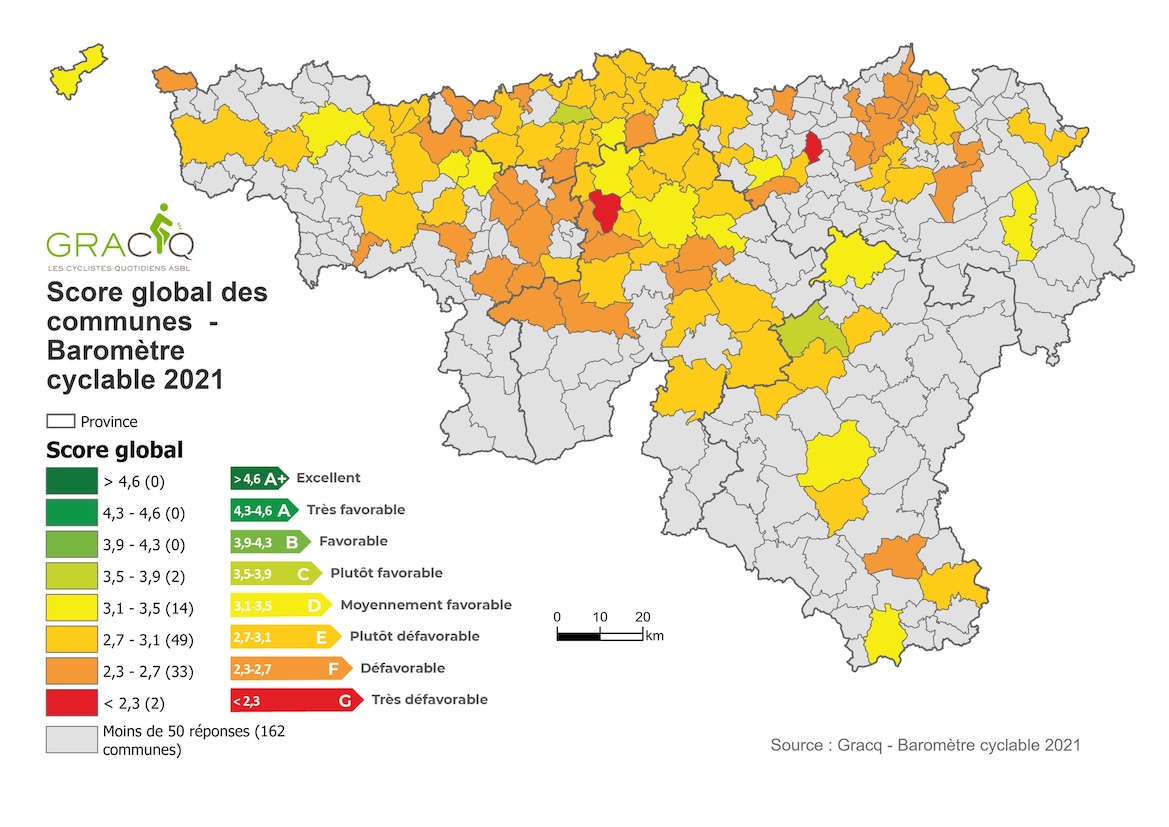 GRACQ mapped 100 municipalities by how they scored in terms of cycling-friendliness, and only two stood out for a (still low) rank of C: Ottignies-LLN and Marche-en-Famenne.
When taking into account votes for the whole of Wallonia, the average score is 2.8, which gives Wallonia a grade of E: "rather unfavourable climate for cycling."
France and Flanders both use barometers to monitor cycling, and both score much higher than Wallonia. Compared to the French barometer (which is the same one used by Wallonia), which ranks 1625 municipalities, the first Walloon municipality only appears in 140th position.
A 'long way to go' for the Region's cyclists
Walloon cyclists say they want three things: a continuous and secure cycle network (82.5%), a maintained cycle network (58.3%) and a fast and direct cycle network (45.8%).
But there's quite a long way to go: an astounding 91% of cyclists surveyed say they believe it is dangerous for the oldest and youngest cyclists to cycle. One reason the Region may lag behind is due to a late start.
"They started much later than Brussels – Brussels has been working on cycling initiatives since 2000, for over 20 years now," Goffinet said.
"Brussels improved cycling conditions in the city a lot, especially during the pandemic. This hasn't been the case in Wallon cities and towns."
Goffinet points to a lack of political will, which is a sentiment reflected in the survey, too: three quarters of Wallonians said they feel their municipality makes little or no effort for cycling, even for simple communication.
"There is still a long way to go in Wallonia to reach a level of communal excellence in cycling policy," said Goffinet.
"Our barometer also highlights that a good cycling policy is not just about infrastructure, it is also about the fight against theft, subjective safety, comfort, local services and, above all, local political will – a lot of it."
The full report is available online (in French).