Thousands of people have joined the mobilisation outside the Gare du Nord station in Brussels on Monday morning for the national demonstration against the cost of living crisis and the loss of citizens' purchasing power.
According to demonstration organisers, around 80,000 people are present at today's demonstration. Activists from the FGTB, CSC and CGSLB trade unions mobilised en masse, starting proceedings with dancing, music and firecrackers.
"Life is expensive, we need higher wages": a giant screen and a podium mark the start of the procession, which should start at 11:00.
The demonstrators will march up Boulevard du Jardin Botanique, pass through the Central Station and then head for Gare du Midi. Nine additional trains were scheduled by the SNCB national rail provider to cater for the high number of demonstrators.
Why the strikes?
Unions and activists demand an improvement in wages in the midst of soaring prices. They also call for an amendment to the Wage Norm Act, which freezes wage negotiations.
Trade unions are reportedly campaigning for "real wage increases" as inflation soars and more and more people struggle to pay their bills.
Automatic wage indexation, it is said, cushions the greatest negative effects to workers, but it is not enough. Especially for low and middle-income earners, it is still "scraping the barrel", while Belgian companies are making historically high profits, according to the National Bank.
Reactions to the strike
While the transport sector has been affected by the strikes, including the grounding of all flights departing Brussels Airport, RTBF reports that supermarkets were only slightly affected by the union actions planned for Monday.
Prime Minister Alexander De Croo has called on trade unions to "come to the negotiating table and look for solutions." He has argued that the wage indexation law covers Belgian citizens better than in other neighbouring countries.
"We have already had four index increases. This means that people have seen their salary, allowance or pension increase four times by 2%."
Yet De Croo did state that he understood the concern of citizens over the current economic and social crises and the future.
Disruptions in Brussels
Only one of four metro lines in Brussels was operational on Monday morning at around 07:30. The line still in operation is the Stockel-Gare de l'Ouest line 1, extended to Erasmus (which is normally line 5). However, the frequency of trains was very low.
Tram and bus lines have also been heavily impacted with only seven of 17 tram lines operational and just 15 bus routes still running.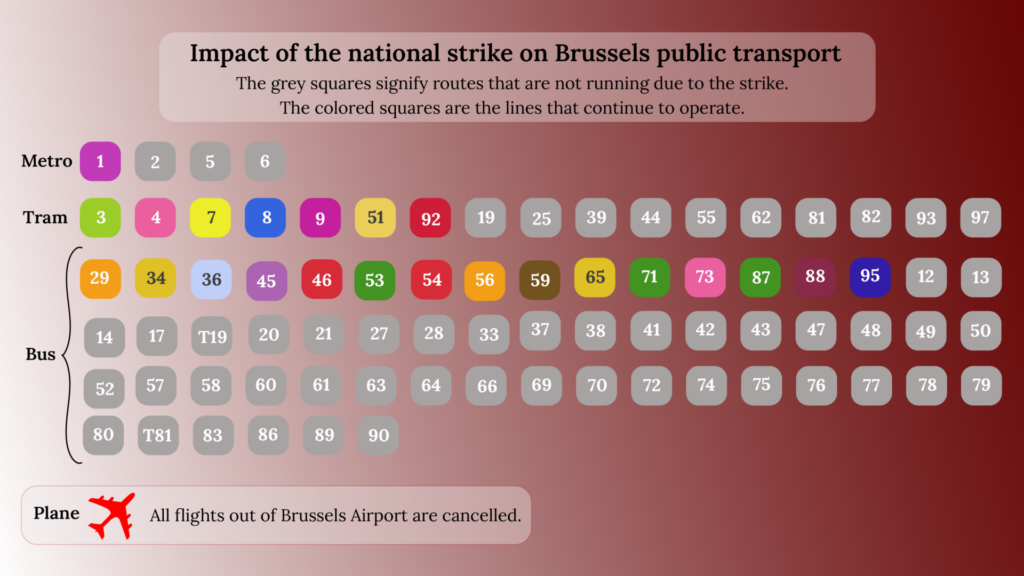 The lack of public transport saw many commuters resort to driving to work, which led to considerable traffic delays, both within the city and on the main roads around the capital.