Only one of four metro lines in Brussels was operational on Monday morning at around 07:30, according to a statement by transport company STIB-MIVB on its website.
The line still in operation is the Stockel-Gare de l'Ouest line, extended to Erasme. However, the frequency of trains was very low. Travellers can download delay certificates through the contact form on the website.
Other disruptions affect tram and bus lines, as merely seven in seventeen tram lines were operational and fifteen bus lines were in operation.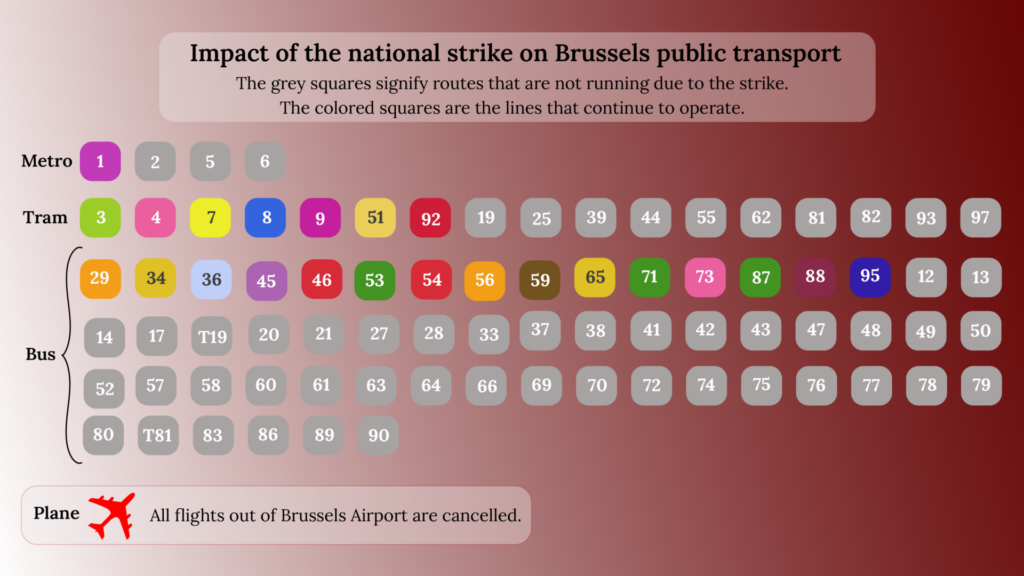 The cause of the disruptions is a national strike, as trade unions are once again calling for the protection of employees in light of the continued rising cost of living. The strike follows previous strikes on 30 May and in February and April of this year.
On the day of the national protest, transport operators advise travellers to check the company's website before considering using public transport.
The capital region will see more strikes this week, during which public transport services and air and road traffic will be significantly affected.
Nation-wide disruptions
In the north of the country, 60% of the buses and 40% of the trams of the Flemish public transport company De Lijn were running around 07:00 on Monday, a spokeswoman announced.
In Ghent, 60% of buses and trams were running, while in Antwerp half of the trams were operational and only 40% of the trams on the coast were running this morning.
Related News
In Wallonia, many lines of the local TEC network have been cancelled and affected routes are communicated on the company's website.