As heatwaves and extremely dry conditions continue to engulf large parts of Europe, record levels of wildfire intensity have been recorded, the EU's Copernicus climate change agency reports.
The ongoing heatwaves in August that are plaguing western Europe and the prolonged dry conditions are increasing wildfire activity, especially in western France and the Iberian Peninsula, a report highlighted. This has resulted in France recording record-high carbon emissions.
"We have been monitoring an increase in the number and resulting emissions of wildfires as heatwave conditions have exacerbated fires in southwestern France and the Iberian Peninsula," Mark Parrington, Senior Scientist from the Copernicus Atmosphere Monitoring Service (CAMS), said.
"The very extreme fire danger ratings that have been forecasted for large areas of southern Europe mean that the scale and intensity of any fires can be greatly increased, and this is what we have been observing in our emissions estimates, as well as the impacts it has on local air quality."
Record-high emissions
France recorded the highest carbon emissions from June to August according to the Global Fire Assimilation System (GFAS) dataset since 2003, the year with the highest wildfire emissions on the EU's database.
During August's heatwave, a large blaze erupted in southwestern France, burning 7,000 hectares (as of 11 August), requiring the help of more than a thousand firefighters, including from Austria, Germany, Greece, Poland and Romania, to control it.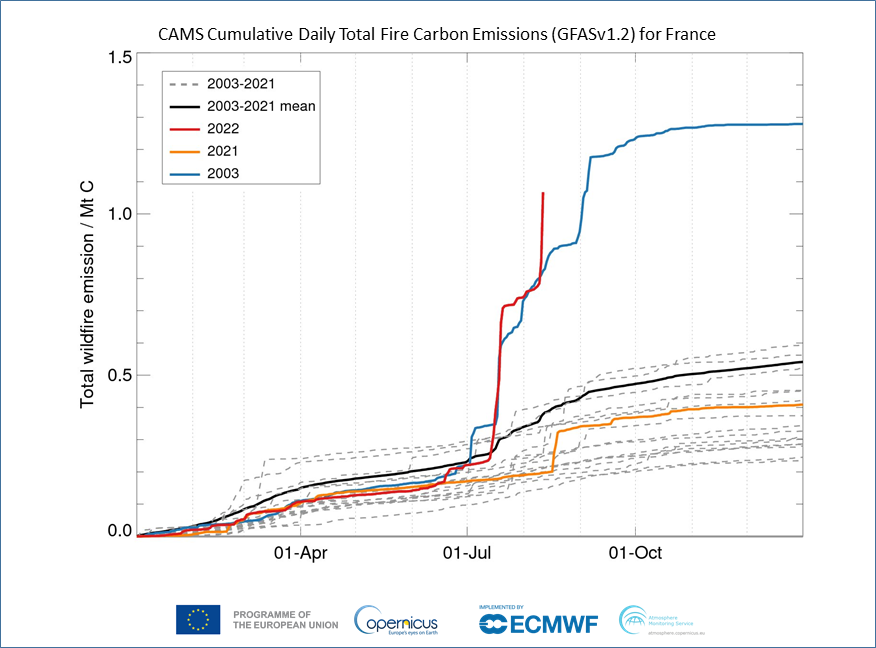 Already in July, Copernicus scientists warned of very high ozone pollution as the heatwaves continued across Europe. In mid-July, the daily maximum values of surface ozone, which peak during the middle of the day, reached unhealthy levels in Portugal and Italy, while Spain at the time registered the highest wildfire carbon emissions in the dataset.
Related News
Globally the summer of 2022 is the fourth in terms of estimated carbon emissions due to fires, so far, and according to the fire danger forecasts from ECMWF supporting (EFFIS), the worst is yet to come. As of Friday 12 August, a large proportion of western Europe is in "extreme fire danger" with some areas of "very extreme fire danger."