It may be over 30°C in Belgium today, but the race is on to fill gas reserves before the winter chill comes around. There's nothing new in setting stocks aside for the colder months, it's a basic element of energy planning and would once have meant building a big pile of logs to keep the home fires burning.
The good news is that Belgium is on track to have its reserves fully replenished by winter – they are currently 85% full. The bad news is that the reserves are far from sufficient to guarantee energy security – even with the tanks filled to the brim, far less than 10% of the country's gas use would be covered.
The gas issue illustrates how structural short-termism is the cornerstone of almost all EU supply chains – even if individual Member States had shortages, their needs could be supplemented from elsewhere in the Union. Yet with scarcity confronting the entire continent, shortages are becoming unavoidable.
Some nations have more sizeable reserves – when full (they're currently at 90% capacity), France should have enough gas to provide a quarter of its energy needs. Though this is more favourable than the situation in Belgium, it doesn't take an energy consultant to see that France too will have its troubles.
Belgium can at least be grateful that Russian gas accounts for only 6.5% of its consumption, though with international demand growing with each passing day, astronomic gas bills are all but inevitable.
Belgium in Brief is a free daily roundup of the top stories to get you through your lunch break conversations. To receive it straight to your inbox every day, sign up below:
Belgium has stored around 85% of the gas it needs for the winter, while across the border in France, gas reserves surpassed 90% on 25 August, according to the European Aggregate Gas Storage Inventory (AGSI) platform. Read more.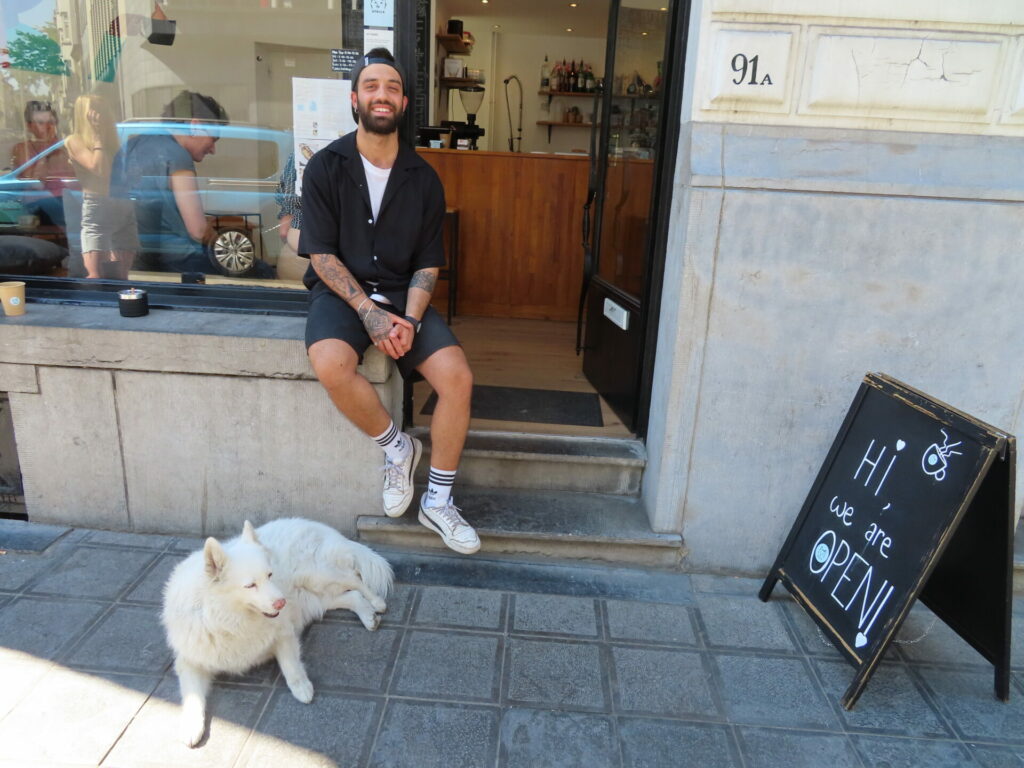 When walking down Chaussée de Charleroi in Brussels, you may be lucky enough to bump into a fluffy white shepherd dog outside a welcoming coffee bar, just a few minutes from Place Stéphanie. Read more.
Restaurant Le Falstaff on the Place de la Bourse in Brussels was vandalised by football hooligans on Wednesday evening, as surveillance footage shows about 30 masked men throwing tables and chairs through the window of the eatery. Read more.
In comparison to other EU countries, Belgium experiencing the most difficulties when it comes to attracting new employees and filling vacancies, according to an international survey by HR services provider SD Worx. Read more.
For the first time since March, the European price for natural gas exceeded the €300 per megawatt-hour (MWh) mark during trading on Wednesday evening due to fears that Russia will further cut gas supplied to the EU. Read more.
While the pandemic had a negative impact on the mental wellbeing and education of many children, foreign-speaking pupils in Belgium, who often have no social network and have little to no IT knowledge, were particularly badly affected. Read more.
It's maybe not for everyone, but fearless walkers can follow the 22-kilometre Boucle Noire trail through the industrial wasteland around Charleroi. Read more.