As of Wednesday, Brussels residents can now book traditional taxis through the Uber app. The move comes after the Brussels Parliament's approval of the controversial Taxi Plan in June.
Uber is launching Uber Taxi, a new feature which integrates the taxis into Uber, with all taxis now being available to book through Uber. The new feature could mean shorter waiting times for users and more opportunities for drivers.
Brussels' Taxi Plan was designed to give equal statutes for both Uber drivers and traditional taxi drivers, minimum rates for rides and the enforcement of quotas. Following the approval, Uber is now unifying the taxi drivers with its ride-sharing app in the capital.
"With the new 'Taxi' feature, more drivers will have access to the flexible earning opportunities that the Uber app offers," said Laurent Slits, Belgium's Uber chief, in Bruzz.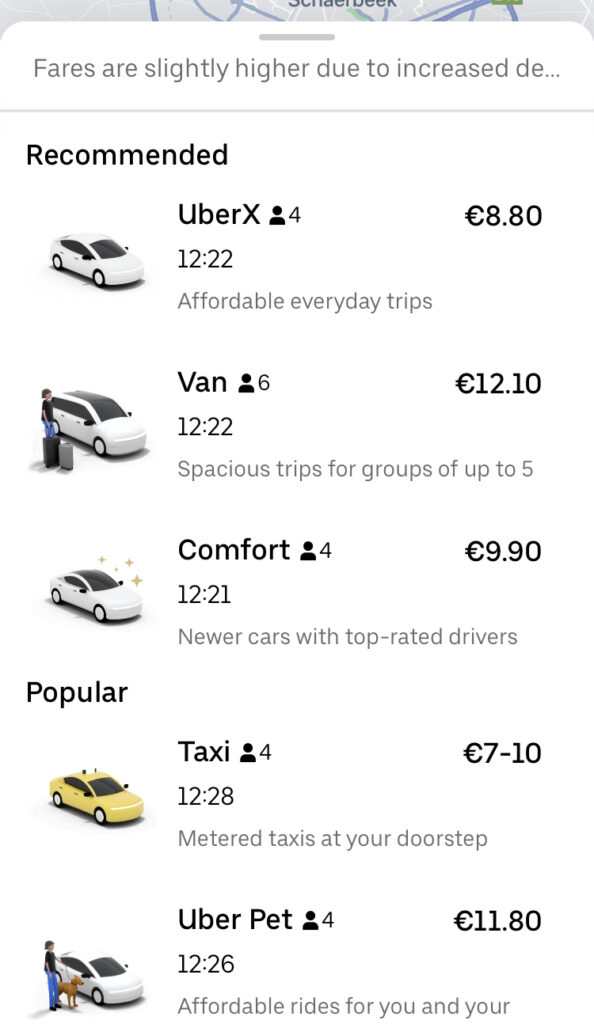 "Uber's matching technology allows drivers to spend less time driving around looking for passengers or waiting at taxi ranks, allowing them to spend more time with a passenger in their car. It also allows them to offer their services to a new group of customers, both local and international, that they may not be able to serve before."
Truce with the taxi industry
Uber has not been shy of controversies, both in Brussels and globally.
The leaked Uber files revealed how the company broke the law, duped police and regulators, exploited drivers and secretly lobbied governments across the world. This was also the case in Brussels – implicating the Brussels minister Pascal de Smet.
At the start of September, European taxi drivers gathered in Brussels to protest the revelations of the Uber Files. The taxi drivers called for action against Uber due to the threat the company posed to their social security.
Despite the current integration, Uber and the taxi sector in Brussels have been at odds since the app first opened in the capital in 2014. Questions remain on whether this unification with the taxi app will spell the end of the longstanding confrontation.
Related News
Uber has fought off previous attempts to level the playing field for traditional taxis in Brussels and conform to local regulations. The company was even temporarily banned from operating in Brussels at the end of last year.
The launch of the taxi feature in Brussels follows Uber's global push to integrate taxi services into its platform. The company aims to make taxis available on its app everywhere by 2025.
The company called the launch "an important step in its ambition to become a multimodal platform that offers users different ways to move around the city."