For three years, Julie Pirenne and her family have been trying to reduce how much waste they create, by all means available. They have scrupulously noted their expenses and have seen great savings in their shopping budget — but under certain conditions.
While great strides have been made, they said that there is no way to replace everything they previously bought with more sustainable alternatives. However, the family has made significant changes.
Pirenne first participated in a "zero waste" program where, for several months the city of Mons supported 12 volunteer families with workshops, meetings and tips and tricks aimed at helping them reduce their ecological footprint.
"It was very nice, it taught us new things," she said. "It was also good to be able to exchange our experiences."
Related News
The family had begun their own zero waste challenge in the summer of 2019 when they began testing bulk stores and new recipes which could help them reduce waste. The holiday period gave them the opportunity to take stock.
"The idea was to bring in nothing new, and no more plastic either," Pirenne said.
Her children did not resist. On the contrary, they became very motivated and drove the initiative in the home as they were getting. exposed to sustainability on the internet. They began to look with slightly judgemental expressions whenever their parents brought home over-packaged products.
"I also remember small remarks about certain fruits or vegetables, because they were not in season," Pirenne said.
Good for the environment and the wallet
She also began keeping a precise account book to see if more climate-conscious decisions were saving the family money or made life more expensive. The verdict is clear: "We have reached between 15 and 35% savings," she said.
While this sounds like a dream scenario, especially in these times of soaring inflation, Pirenne experienced some challenges with organic brands and bulk suppliers charging more than traditional supermarkets.
"Be careful, if you want to save money, you should not replace the contents of your usual shopping cart with the same thing, the same products bought organically and in bulk," she said. "That's totally unworkable. Review your consumption, globally."
For the Pirennes, this meant they stopped buying certain products. Now, the family instead of buying snacks either makes them themselves or replaces them with a slice of bread or a piece of chocolate. It is in the bathroom and in household products that the difference is obvious.
"Yesterday, my daughter and I made solid shampoos," Pirenne said. "With three shampoos, between the five of us, we have enough for several months."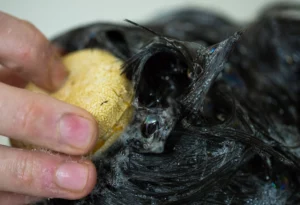 Elsewhere, white clay is used to scrub the sinks, the dishwashing product is homemade. The laundry detergent is also homemade. This is all well and good if you have the time, but what about those with very busy lives?
Pirenne said that if you count the time it takes to shop for all these products and unpack them with the multiple layers of plastic, the time invested in the products is not much more. Once the habits are established, zero waste is less time-consuming than we imagine.
Unavoidable waste
When it comes to the packaging that cannot be avoided, the family tries to recycle and separate as much as possible.
"There is some waste that is impossible to do without, or very difficult," Perenne said. "Drug packaging, some school supplies like ink cartridges, a tube of glue. The bag of the vacuum cleaner. And then there's the cat. His food is sold in packaging that is absolutely not recyclable."
If the "garbage balance" is far from being "perfect," it still impresses: a PMD bag and a small bag of residual waste every four or five months are not much. Yet, the family pays the same garbage fee as their neighbours. Perenne said reducing the garbage tax for families who embark on a waste reduction approach could be a great incentive. Though, three years after starting their adventure, going back to their previous way of life is not on the agenda.