Faced with rising coronavirus infections, regional and local authorities in Belgium have moved to take their own measures on top of those applied at a countrywide level.
As part of a push to avoid a lockdown, these mounting new measures aim to address localised problems to halt the further spread of the virus - with rules even changing drastically at a border.
So can door to door salesmen work in Wallonia? Where is public drinking allowed? Is the hospitality sector struggling countrywide? Let's look at the state of play in Belgium today.
Wallonia takes extra measures as figures are doubling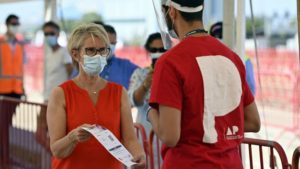 The number of new infections in all Walloon provinces has doubled compared the week before, said virologist and interfederal Covid-19 spokesperson Steven Van Gucht during a press conference on Monday.
Worst-hit are the provinces of Liège, with an average of 623 new cases per day over the past week, and Hainaut, with an average of 586 new ones.
"If we continue with such figures, there will be a general lockdown. At some point there is no other solution," said the Governor of Walloon Brabant, Gilles Mahieu, on RTL-TVi on Sunday. "We need to take immediate and deliberate measures to prevent the country from collapsing, and people ending up in hospital. We have to change our behaviour."
On top of the federal measures announced last week - which see bars across the country closing at 11:00 PM - some Walloon provinces decided on Friday to implement additional measures, even though they differ from province to province. They came into force on Saturday 10 October, and will last for one month.
Related News
The provinces of Luxembourg and Walloon Brabant have imposed a curfew, prohibiting residents from being outdoors from 1:00 AM to 6:00 AM. The measure takes effect in the early hours of Wednesday 14 October (the night from Tuesday to Wednesday) and is set to remain in force for at least two weeks.
In the provinces of Hainaut, Liège, Namur and Luxembourg, cafeterias of sports clubs and all sports infrastructure have closed.
In Hainaut, Liège and Luxembourg, door-to-door sales are also banned, and Luxembourg has now also made it mandatory to wear a face mask at all times when outdoors.
The provinces of Liège and Luxembourg have also banned alcohol consumption in public places and on public roads from 11:00 PM to 6:00 AM.
Brussels remains the focal point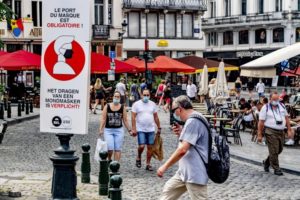 The Brussels-Capital Region remains the main focal point of the epidemic in Belgium, with an average of 817 new cases per day over the past week, according to health officials.
The region saw 759 confirmed cases per 100,000 inhabitants over the past two weeks, which is about double the rate in the whole country - currently at 387.
From 8 October at 7:00 AM, the Capital-Region shut down all bars, cafés (also those serving food) and cafeterias of sports clubs, regardless of whether they serve alcohol or not, as well as party and event halls.
Additionally, drinking alcohol in public has been banned in the entire territory of the Brussels-Capital Region.
Amateur sports events and competitions will be allowed to continue but without a public.
Virus also gains strength in Flanders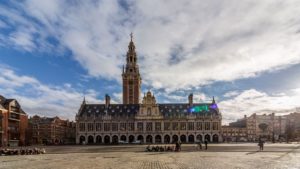 In Flanders, too, the virus also seems to be gaining strength, according to Van Gucht.
"We are now also seeing a doubling of the figures in Limburg, and there is once again a significant increase in the number of new cases in the city of Antwerp," he said.
However, only one city in the Flemish Region has so far taken additional measures on top of the federal ones.
In Leuven, restaurants will have to close at 11:00 PM, like bars and cafés. For restaurants, however, the measure is only in force during the week. Additionally, the consumption of alcohol in public will also be banned after 10:00 PM, and changing rooms in sports complexes (except swimming pools) will also remain shut.
In the rest of Flanders, that measures currently in force are a reduced social bubble of 3 close contacts outside of your household, private gatherings with a maximum of 4 other people, bars closing at 11:00 AM and a maximum of 4 people at a table, and a recommendation to work from home if possible.
Additionally, the Flemish Minister for Education, Ben Weyts, wants to keep all school in the region open and avoid sending students back to distance learning, saying that schools are "safest" for pupils. Weyts said schools were doing "an excellent job" in terms of capping the appearance of new infections, "especially when compared to the rest of society."
Weyts - who is also in charge of Sports in Flanders - also announced that the sports sector throughout Flanders will move to code orange from Wednesday, meaning that indoor sports activities in which a 1.5 metres distance cannot be kept, will be banned for anyone over 12 years old.
Organising competitive basketball matches, for example, is no longer possible, but contactless games, such as singles tennis, can still take place.
Fitness and training activities where 1.5 metres distance can be kept are also still possible. Showers and changing rooms will close, except in swimming pools.
Another lockdown?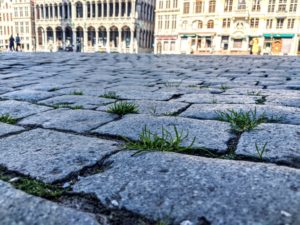 In the meantime, the possibility of a new lockdown cannot be ruled out, several experts and ministers have said.
According to the European Centre for Disease Prevention and Control (ECDC) data, Belgium is now the second-worst country in Europe in terms of coronavirus infections per 100,000 inhabitants.
Furthermore, figures continue to rise, with over 4,000 additional people per day testing positive for the virus over the past week. "The coronavirus figures in Belgium continue to rise alarmingly," said Van Gucht during a press conference, adding that a record number of over 6,500 cases were recorded on one day on Wednesday.
"Currently, the number of new infections is doubling every eight days. If this trend continues, we will see days with more than 10,000 new infections by the end of this week," he said.
Update: This story was updated to include the curfew measure in two Walloon provinces announced on Monday evening.
Maïthé Chini and Jules Johnston
The Brussels Times