Today sees nationwide strikes disrupt much of Belgium's transport networks – in particular, the aviation sector as action by various airlines coincides with those of G4S security staff. After much discussion about which flights would or would not be affected, it turns out that all departing flights from Belgium's principal airport have been cancelled.
Yet it isn't only airline passengers who have been impacted; public transport operators have also seen swathes of employees protest against the cost of living crisis that has greatly hit household budgets as wages struggle to keep up with inflation. In Brussels, only one metro line is running and buses and trams have also been affected.
The demonstration itself is also causing roads to be closed and bus routes diverted as a procession of over 80,000 (according to organisers) marches through the streets of central Brussels.
Yet despite making their voice unmistakably heard, it is not clear whether the demands of protesters will be met. Prime Minister Alexander De Croo has called attention to Belgium's automatic wage indexation law and argues that this has already seen wages increase far more than in neighbouring countries.
Indeed, the government is under pressure from employers' organisations who argue that the automatic wage increases are a serious financial burden to businesses, many of whom are putting off other investments as they struggle to keep up with rising inflation and salary costs. They have warned that this poses a threat to Belgium's ability to compete on the international market.
Have you been affected by the strikes? Let @Orlando_tbt know.
Belgium in Brief is a free daily roundup of the top stories to get you through your lunch break conversations. To receive it straight to your inbox every day, sign up below:
The e-commerce giant Amazon is planning to set up a fully-fledged Belgian webshop service by the end of September, according to documents that were leaked via Business Insider. Read more.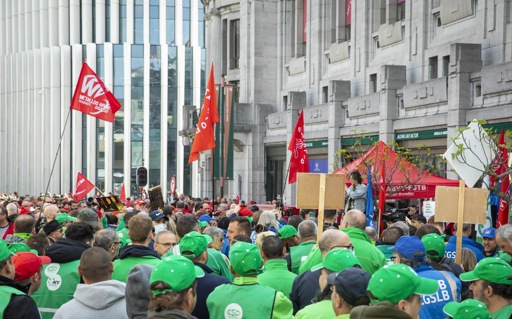 Thousands of people have joined the mobilisation outside the Gare du Nord station in Brussels on Monday morning for the national demonstration against the cost of living crisis and the loss of citizens' purchasing power. Read more.
A man died on Saturday after receiving several stab wounds in the centre of Ixelles, according to the spokesperson for the Brussels public prosecutor, Martin François. The search for the perpetrator is ongoing. Read more.
Brussels Airport has been significantly impacted by the widespread strikes that are seeing employees of various sectors take action in Brussels on Monday. A large number of the airport's G4S Security Staff going on strike. Read more.
French President Emmanuel Macron, German Chancellor Olaf Scholz and Italian Prime Minister Mario Draghi arrived in Kyiv on Thursday by train. The leaders of the EU's three largest economies expressed support for immediately granting Ukraine candidate status at the European summit next week. Read more.
Belgium will be hit by various strikes in the next few days, from a national strike on Monday to various airlines carrying out actions later in the week. Here is a run-down on the disruptions you can expect and on what days. Read more.
A narrow cobbled lane next to the Théâtre du Parc in Brussels leads to the forgotten Vaux Hall. Read more.