The human rights situation in Belgium remains problematic according to Amnesty International, who published on Tuesday a new report on the human rights situation worldwide.
In its annual report, the organisation stressed that much progress needs to be made in Belgium regarding the rights of migrants and refugees. Amnesty highlighted the lack of adequate shelter, as well as limited access to health care and education.
"We have to repeat it all too often, but Belgium can and must do much better in the field of human rights," Wies De Graeve, director of Amnesty International Flanders, said in a statement.
Other key issues affecting Belgium's record on human rights also included the issues of overcrowding and inhuman conditions in prisons, allegations of racial profiling by the police, gender-based violence and sexual violence against women.
Vandaag publiceren we met Amnesty ons #jaarrapport. Voorbije jaar had een jaar van verandering & vooruitgang kunnen zijn. Het werd een jaar van meer ongelijkheid & meer instabiliteit. Een jaar met conflicten, (vaccin)ongelijkheid & repressie. (1/5) 👉 https://t.co/VM6cwEhojo pic.twitter.com/2KKdVwCg6a

— Wies De Graeve (@DeGraeveWies) March 29, 2022
Tweet translation: "Today we publish our annual report with Amnesty. The past year could have been a year of change and progress, but instead it became a year of more inequality and more instability. A year of conflict, (vaccine) inequality & repression."
Migrants, refugees and asylum seekers
In its report, which covered the human rights situation in 154 countries in 2021, Amnesty also noted the hunger strike in Brussels this summer, an action taken by 400 irregular migrants and refugees, known as "sans-papiers" (without papers), who were demanding for collective regularisation. The situation this summer was described as "very alarming" by the UN Special Rapporteurs after a visit.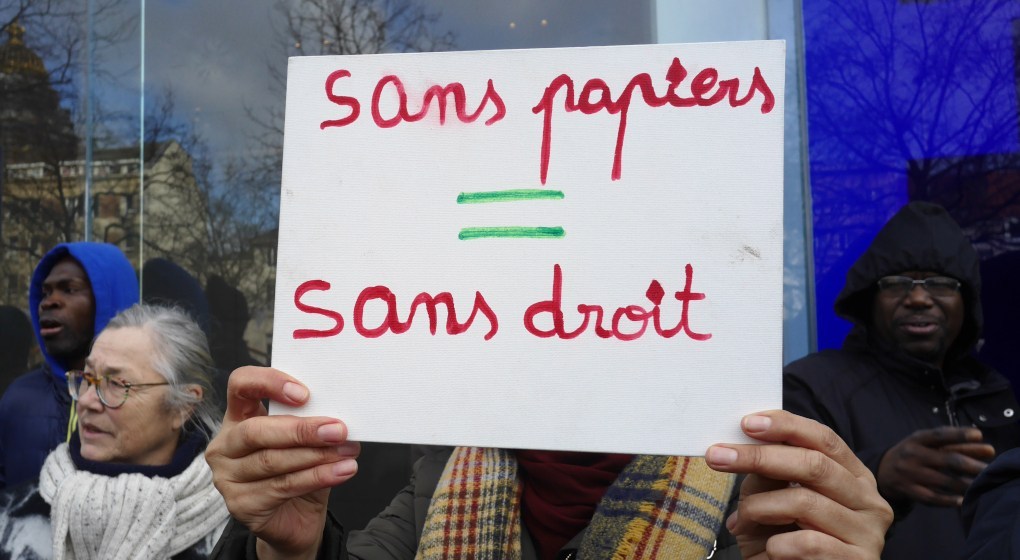 "The UN Rapporteurs talked about abuse, discrimination in work in the informal sector, insufficient access to housing, health care, education and justice," Amnesty's De Graeve said. They estimated that some 150,000 irregular migrants in Belgium were exposed to such abuse and discrimination.
"Especially now that there are new and different challenges, this group of people should not be forgotten. Belgium must ensure their rights and has not yet worked out structural solutions."
Amnesty also highlighted the recent reception crisis for asylum seekers, which led to people having to sleep on the streets almost every day since last autumn and not being able to apply for asylum.
"The heartwarming solidarity with Ukrainian refugees, threatens to conceal the fact that Belgium started this crisis with a government-created backlog and shortage of reception," De Graeve said.
Racial and gender inequalities
The charity in its latest report once again reiterated its concern about ethnic profiling by the police, as civil society groups reportedly continue to receive allegations of racial profiling by the police and of excessive use of force against demonstrators.
Various UN committees called on Belgium to take measures to combat this phenomenon in the police, and to investigate police mistreatment and excessive use of force. However, in May, the government rejected recommendations to explicitly prohibit racial profiling.
Related News
In previous months, sexual violence and gender-based violence have also made headlines in the country, with studies showing that 81% of women and girls aged 16-69 reported having been victims of such violence.
However, De Graeve recognised that Belgium is taking steps to combat such incidents, with the establishment of new care centres after sexual violence, the agreement of a National Action Plan to combat gender-based violence and the strengthening of the sexual criminal law, which are "very welcome and necessary steps."
Finally, the organisation stressed that more decisiveness is needed on other human rights challenges.
"Belgium received a lot of homework from various UN Committees and mechanisms last year. The government knows best where the obstacles lie, and what they have to do. It is now a matter of making human rights a real priority, both in domestic and foreign policy," De Graeve concluded.