While the new Good Move traffic plan for the Brussels-Capital Region has drawn much criticism since its implementation, the Flemish far-right party Vlaams Belang has now decided to get involved and is sending out targeted social media ads to play on people's dissatisfaction and push its own anti-Brussels agenda.
The Good Move framework prioritises pedestrians and cyclists over cars and is being introduced across Brussels in waves. While the plan is generally well-received, it has also caused confusion and frustration in certain areas, with the municipality of Anderlecht even withdrawing its current plan to start from scratch.
Now, Vlaams Belang calls the new traffic plan "organised chaos" and said that the Brussels Regional Government is neglecting "important liveability issues" such as crime, in favour of implementing Good Move "with false promises and lies about a liveable city."
"The one thing they did accomplish was to make the already dire traffic situation in our city worse, if possible. The so-called Good Move has turned into No Move," the party states in a Facebook ad, offering people a free stress ball if they sign up.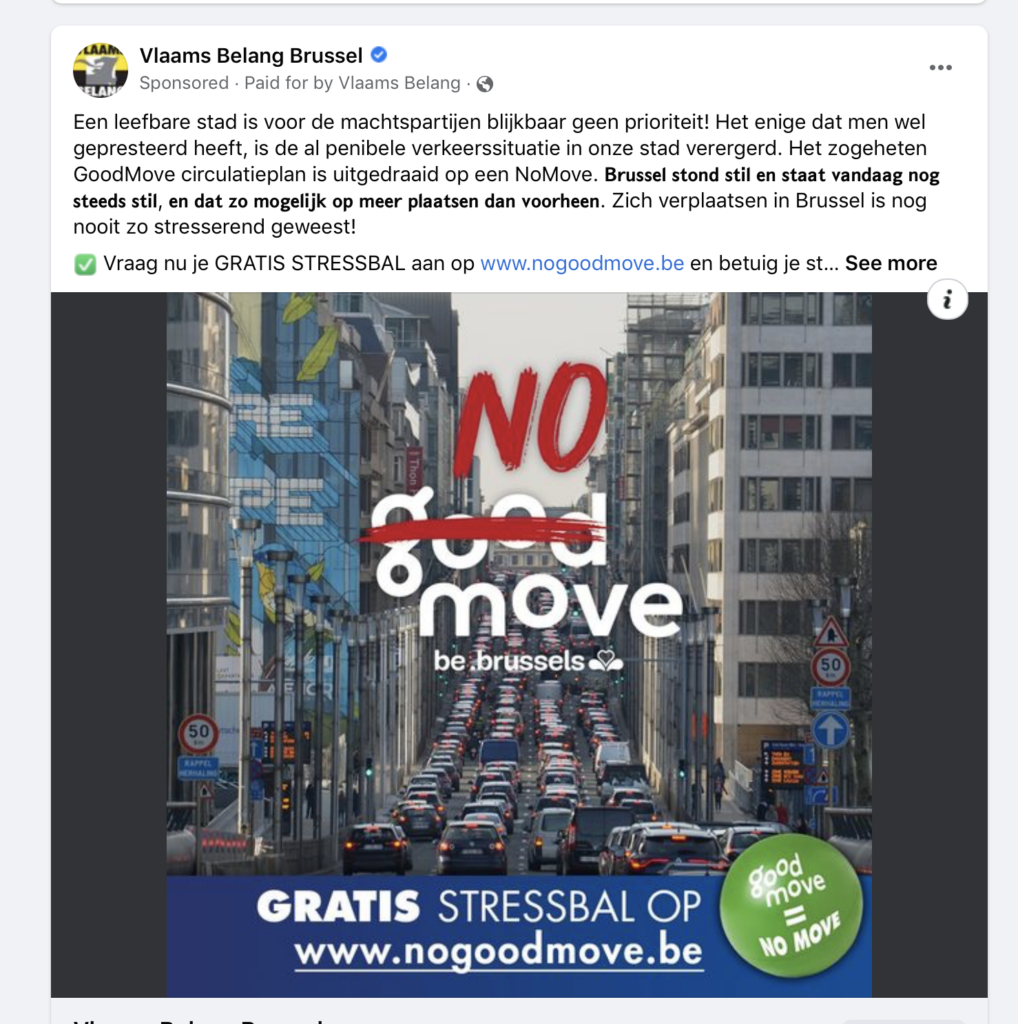 "Brussels was at a standstill and is still at a standstill today, and in more places than before," Vlaams Belang said, adding that traders who rely on customers coming by car are no longer accessible, drivers are in traffic longer than before, and a 30 km/h speed limit was introduced throughout the region, "even in places where it is of no use."
Figures published this summer showed that the implementation of Zone 30 drove a drop in accidents and improved the life and health of residents across the Brussels-Capital Region, confirming previous evaluations.
Additionally – and contrary to what Vlaams Belang is claiming – the speed reduction has had no significant impact on the overall time people spend in their cars, according to measurements by Brussels Mobility. "Travel times remained more or less stable on every route measured, regardless of the time of day (peak or off-peak)."
'Too complicated'
Still, unjust criticism of Brussels' Good Move circulation plan not only comes from the far-right, but also from a restaurant owner and from the conservative Flemish nationalist N-VA party.
On Wednesday, a famous fine-dining restaurant Le Rabassier in the Brussels' Sablon district announced it will soon leave the area, as the owner told BX1 that his clients can no longer reach the premises because of Good Move.
"My customers tell me they will no longer come to my restaurant as it is too complicated," said Christophe Durieux, owner of the restaurant, which is located on the Rue de Rollebeek – the middle point of at least six bus and tram stops in the well-connected area and less than a 10-minute walk from the Brussels Central train station.
Related News
From 31 October, Durieux will relocate to other premises near the Wolvendael park in the wealthy commune of Uccle, which is a 15-20 minute drive from Brussels city centre.
On Tuesday, former State Secretary for Asylum and Migration and current Federal MP for N-VA Theo Francken took to Twitter to incorrectly blame an hours-long traffic jam during rush hour – caused by a car on fire in the Belliard tunnel – on the Capital Region's new traffic plan.
In a series of now-deleted but screenshotted tweets in Dutch, Francken asked why he had been stuck in traffic for two hours and why the Brussels tunnels were closed, while insulting the Brussels authorities behind the Good Move plan.
"Is this the last phase of your anti-car policy plan that nobody knows about? Brussels, beautiful city, governance of losers," he tweeted, addressing his messages to Brussels Mobility Minister Elke Van den Brandt and State Secretary for Urbanism Pascal Smet.
"Pretending to be important with a few hundred votes. The bankruptcy of Belgium can be found right here," Francken added, ignoring several messages on Twitter advising him to make use of Brussels' extensive public transport network instead of taking the car.
On Thursday, Francken again tweeted to say that he was frustrated by the lack of information on the radio while stuck in traffic two days earlier. "However, my reaction was exaggerated and I deleted it. With apologies."