The use of e-scooters in Brussels has soared in recent years, and with it, the number of accidents. The region has now launched an awareness campaign when the use of e-scooters rises as the days get warmer.
In the Brussels Capital-Region, the number of accidents involving e-scooters has risen insistently in recent years. Especially between spring 2021 and spring 2022, the number of such accidents tripled. The region has identified spring and summer as being the most dangerous periods since the use of the two-wheeled vehicles rises at this time.
The growing number of accidents can partly be explained by the greater number of journeys: in June 2022, Brussels counted a peak of 1.5 million scooter journeys while in 2021 it was only 100,000 per month.
However, some of these accidents are a direct result of risky behaviour, Brussels Mobility warned: 8% of people on e-scooters who are involved in an accident tested positive for alcohol.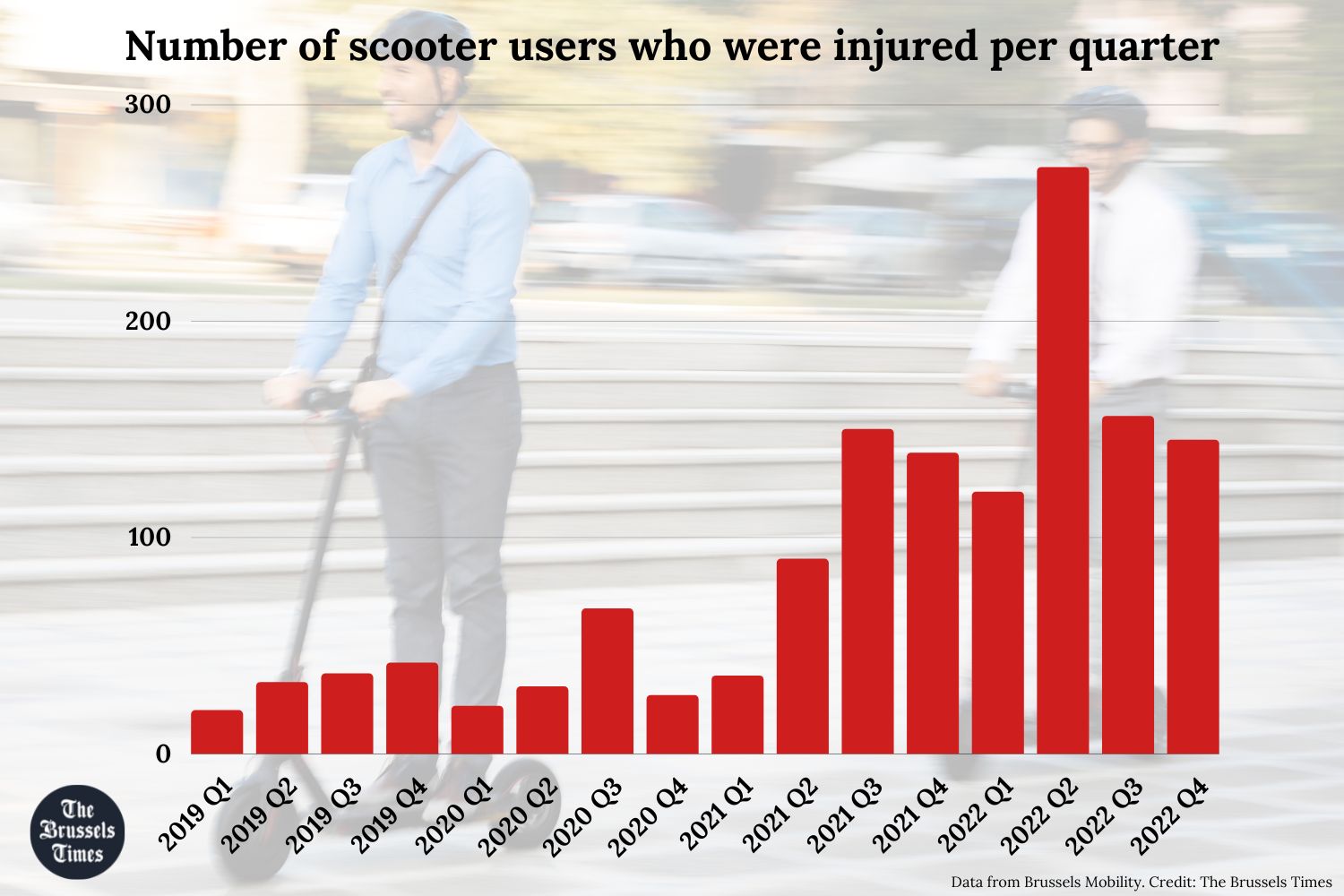 New traffic rules for e-scooters have been in place since July 2022, for example banning users from riding on the pavement or with two people on a single scooter. Brussels Mobility now wants to tackle the issue of accidents with an awareness campaign to remind users of the rules.
The campaign highlights the obligation to stop at red lights; use bicycle lanes and not ride on the pavement. It also calls attention to the dangers of drinking and the need to stay in one lane and avoid weaving through traffic.
A quiz to test people's knowledge of the rules will also be displayed for a fortnight on the home page of the various scooter sharing mobile apps. Those who answer five questions correctly will obtain a 'scooter certificate' which entitles them to a discount code for their next ride.
Related News
Police will also be extra vigilant to penalise offences by handing out fines. Riding on the pavement is a first-degree offence for which people can be fined €68; breaking a red light is a third-degree offence, resulting in a fine of €184.
"When used correctly, e-scooters are a very practical alternative for getting around town. Proper use means riding safely, in the right place and with respect for other road users and traffic rules," Elke Van den Brandt, Brussels Minister for Mobility.
The region will also launch a campaign to improve co-existence between the electric vehicles and other means of transport, especially as users of e-scooters are vulnerable, especially when they collide with motorised road users.